| | | | | | |
| --- | --- | --- | --- | --- | --- |
| Vladimir Schmelev | | | | 921,000 | |
| Sirious Jamshidi | | | | 638,000 | |
| Michael Mizrachi | | | | 544,000 | |
| Nikolay Evdakov | | | | 543,000 | |
| Steve Billirakis | | | | 448,000 | |
| Joe Cassidy | | | | 410,000 | |
| Men Nguyen | | | | 302,000 | |
| Dan Heimiller | | | | 222,000 | |
| Eric Buchman | | | | 142,000 | |
| Ray Dehkharghani | | | | 132,000 | |
| Brandon Adams | | | | 115,000 | |
| Todd Barlow | | | | 85,000 | |
Event #10: $10,000 Seven Card Stud Championship
Day 2 Completed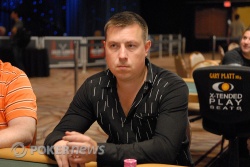 It's not often that you can say a day of seven-card stud was an exciting day of poker, but today was one of those days. 85 players started the day eyeing a final table berth for this $10,000 championship event, the vast majority of them "known quantities". They started busting right from the word go, not stopping until there were 17 players left. Barry Greenstein, Tony G, Daniel Negreanu, Todd Brunson, and Phil Ivey were but a few of the names that didn't reach the money. Last year's champion, Freddie Ellis, made an inspired run to the final three tables but came up just a little short.
At 17 left, the money bubble, things came crashing to a halt. The last three tables played for 90 minutes without losing a player until finally Dario Alioto, short of chips, made a stand and got deep-sixed by Men "the Master" Nguyen.
Because of the extended bubble, play was shortened by one level for the night. When the chip bags finally came out just after 3:30am local time, 12 of the 150 players who put up "a dime" to play this tournament remained. Those 12 players are led by Vladimir Schmelev, who bagged 921,000 chips at night's end. Everyone will come back at 3pm tomorrow to play out the rest of the tournament, however long it takes. We'll be right there with them, reporting all of the action live from the tournament floor.
Until then, you can find us at the bar.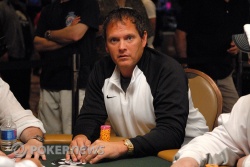 Vladimir Schmelev completed and Shane Douglas two-bet to 20,000. Nikolay Evdakov made it three-bets and once Schmelev folded, Douglas made it four-bets.
Evdakov put Douglas all in for his last 56,000 and the respective boards ran out as follows.
Douglas:
/
/

Evdakov:
/
/
With Evdakov taking the leading with aces, and then improving to two-pair, he sent Douglas to the rail for a $28,623 payday for his 13th place finish.
The Tournament Director has pulled a card to decide how many hands we will play out from now.
Thankfully they pulled a three and we will shortly be at the end of play.
Cassidy: (X) (X) /
/ (X)
Mizrachi: (X) (X) /
/ (X)
A resurgent Joe Cassidy, who seemed near death after the bubble burst, has rebuilt his chip stack to a respectable level after a series of hands. Most recently, Cassidy completed third street and was called by Michael Mizrachi and Brandon Adams. Adams dropped out on fourth street when Cassidy checked and Mizrachi bet. Cassidy used that opportunity to raise.
Cassidy then bet every remaining street. On the river, with an open pair of sixes against Cassidy's open pair of eights, Mizrachi elected to fold.
Cassidy: (X) (X) /
/ (X)
Jamshidi: (X) (X) /
/ (X)
Joe Cassidy completed third street, then called a raise from Sirious Jamshidi. Cassidy took the lead on fourth street, and every street after that. He bet every step of the way until the river, where both he and Jamshidi checked. Cassidy opened
for two pair, tens and sixes. That was the winner.
Dan Heimiller completed for 10,000 and Nikolay Evdakov two-bet to 20,000. Heilmiller made the call before calling bets on fourth and fifth street only to raise sixth.
Evdakov called and then check-called 20,000 on seventh to see the following boards tabled.
Heimiller:
/
/

Evdakov:
(X) /
/ (X)
After taking down this pot - and the one previous against Eric Buchman - Heimiller is now sitting pretty on 320,000 after being the shortest stack on the bubble for several hours.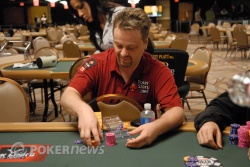 Pat Pezzin got all in on fifth street against Men Nguyen. Pezzin's
, a pair of deuces and a flush draw, was drawing against Nguyen's pair of jacks,
. Nguyen made trip jacks on sixth street, while Pezzin caught a brick. Pezzin needed to improve to a flush on the river, and couldn't do it. He caught the
to finish the tournament in 14th place. He earned $28,623 for his performance.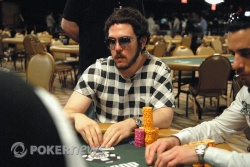 With the bursting of the bubble, the short stacks are taking their chances. Yuval Bronstein got his last chips in the middle against one of the biggest stacks, Vladimir Schmelev. Schmelev made trip aces by the river, good enough to send Bronstein packing in 15th place.