Event #24: $1,000 No-Limit Hold'em
Day 1b Completed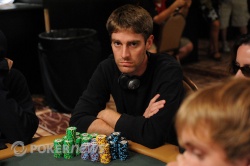 With eight and a half levels in the books, Day 1b has come to a close.
Today the Pavilion Room welcomed 1,358 players to add to yesterday's field of 1,931 and we played all the way down to 222. Add yesterday's 290 survivors and we will return tomorrow for Day 2 with 512 players, just 70 spots away from the money.
We saw many players come and go today. Some went quick like Phil Ivey who shoved his pocket kings into an old lady's pocket aces on the first hand he played. Others lasted the entire day only to bust in the final minutes like Paul Wasicka and Brandon Cantu. Still there were some who not only survived Day 1b, but steamrolled it acquiring heaps of chips.
David Wilkerson is one of those individuals who finished today as our unofficial chip leader of Day 1b with 66,400 chips. Following him were Chris Adams (56,325), Adam Reynolds (54,400) and Laura Cantero (52,850).
There are still many familiar faces in the field including Eric "EFro" Froehlich (47,325), Tom "durrrr" Dwan (37,525), Liv Boeree (22,400), Tony Dunst (36,250), Chad Batista (34,000) and Isaac Haxton (15,325).
Craig Marquis may still play the $2,500 six-max at noon tomorrow, but he did survive to tomorrow with 9,025 chips.
Event #24 will resume tomorrow at 2:30 p.m. PST where we are scheduled to play ten levels. We hope you join us then and throughout the rest of the 2010 World Series of Poker right here at PokerNews.com!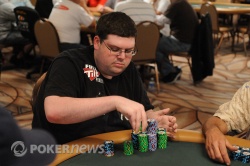 A ton happened in the last few hands and here's what we were able to grab:
Over at Table 19 a player raised to 1,375 in early position and the action folded to a player in the small blind who moved all in for 6,825. Craig Marquis isolated from the big blind and the original raiser folded.
Showdown
Marquis:

Small Blind:
The dealer dealt three cards face down and when he went to fan them only the
and the
opened. Hiding under one of them was the
which, after a moment, the dealer was able to expose. Marquis didn't receive any more help from the turn (
) or river (
) and was crippled down to 4,000 or so.
"I think I'm going to play the $2,500 six-max tomorrow," Marquis joked.
Just as he said that a tournament director informed the players that we will be playing one more hand. Marquis was elated.
The dealer shuffled the cards and spun them to the nine players left to right. Action folded to a player in late position who raised to 1,500. Eric "EFro" Froehlich re-raised to 4,500 on the button and Marquis called all in blind from the blinds. The original raiser folded and EFro tabled
. Marquis turned over
and the table erupted.
"Let's chop," Froehlich joked.
A chop would have been in his favor, because after the dealer wrapped the table he delivered the flop with the
in the window followed by
. Froehlich couldn't find a king on the turn or river and Marquis doubled to 9,025 to end the night. Froehlich still finished strong with 47,325.
A few tables over at Table 23 Tom "durrrr" Dwan had an opponent at risk holding
. His opponent was racing with
but was counterfeited and eliminated when the board ran
. Dwan ended the night with 37,525.
Still there was more action in the last couple of hands, but unfortunately we missed it.
While rushing around to grab end of the night counts (coming soon) we noticed that Seats 5 and 6 were empty on Table 25. Evidently both Paul Wasicka and Brandon Cantu bowed out during the last few hands.
We bet you'll see them tomorrow in the $2,500 six-max.
Action folded to a player in the small blind who shoved for his last 2,000 or so. Eric "p3achy_keen" Liu instantly called from the big blind.
Showdown
Liu:

Small Blind:
The board ran
and Liu eliminated his opponent chipping up to 13,200.
Level:

9
Blinds:

300/600
Ante:

75
Level 8 has come to a close and we are going on our last 20-minute break of the night.
When we return there will be approximately 30 more minutes of poker until the end of the night.
Andrew Feldman open shoved for 2,750 from under the gun and the action folded to the big blind who only had 1,750 and called all in.
Showdown
Feldman:

Mr. Big Blind:
The board ran
and the shorty doubled through Feldman.
Feldman hit the rail soon after.
The board read
when Maria "Maridu" Mayrinck checked to her opponent who bet 1,500. Maridu check-raised all in to 7,475 and her opponent called.
Showdown
Maridu:

Opponent:
The
on the river was no help to Maridu and she was eliminated.