Event #24: $1,000 No-Limit Hold'em
Day: 3

Player
Chips
Progress

J.D. McNamara

2,393,000

Kiet Tran

2,311,000

Blake Kelso

1,166,000

David Tolbert

925,000

David Cai

844,000

Denis Murphy

789,000

Greg Pohler

660,000

Michael Gross

535,000

Jeffrey Tebben

466,000
Event #24: $1,000 No-Limit Hold'em
Day 3 Completed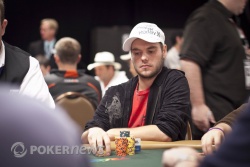 A very short Day 3 is in the books now as the 30 returning players were whittled to nine in under five levels. JD McNamara started as one of the shorter stacks with 230,000 but ran hot, played aggressively, and surged into the chip lead by the end of the day. He brings nearly 2.4 million with him to the final table. Thanh dat Tran started the day in the middle of the pack and chipped up to finish the day just behind McNamara.
Christophe Benzimra, who won EPT Warsaw last October, started the day as one of the shortest stacks and couldn't get anything going. He was eliminated in 27th place. Joseph Grenon began the day at the opposite end of the counts but fell from chip leader to out very quickly. He ran jacks into aces to finish in 23rd place. Holger Kanisch, who finished second to Sandra Naujoks at EPT Dortmund in 2009, didn't make it quite as deep here. He was sent packing in 21st. Bulgarian hotshot Yordan Mitrentsov followed soon after in 19th place.
A few speedy eliminations left the group with 11 players at the dinner break, and they left no time in busting Anthony Damore in 11th place. Alexis Belanger-Lebel was one of the larger stacks returning from dinner but made a painful mistake, losing nearly all of his chips when he failed to notice another player had moved all in in front of him. Belanger-Lebel was eliminated soon after in 10th place, setting the official final table. The players will sit down to the following seats and stacks when they resume their quest for the title:
Seat 1: Blake Kelso - 1,166,000
Seat 2: JD McNamara - 2,393,000
Seat 3: Thanh dat Tran - 2,311,000
Seat 4: Greg Pohler - 1,660,000
Seat 5: David Cai - 844,000
Seat 6: Michael Gross - 535,000
Seat 7: Denis Murphy - 789,999
Seat 8: Jeffrey Tebben - 466,000
Seat 9: John Tolbert - 925,000
With nine fresh faces earning a spot around WSOP final-table felt, we'll crown a brand new bracelet winner in eight short eliminations. Which one of these players will make his mark? Tune in Wednesday at 2:30 p.m. to find out along with us.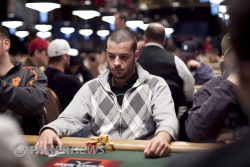 After his huge mistake in a very inopportune spot, Alexis Belanger-Lebel was left with 156,000. A few hands later, David Cai raised to 90,000 from middle position, and Belanger-Lebel moved all in from the cutoff. Cai called the extra few chips with
, and Alexis was going to need to improve with his
. The
board wasn't what he needed, and Belanger-Lebel was out in 10th as the final-table bubble boy.
Blake Kelso opened the action by moving all from early position in seat one. The table folded around to Alexis Belanger Lebel in the small blind who turned to Jeffrey Tebben in the big blind and asked for a count. Tebben shrugged and counted out about 535,000. Lebel then announced, "I'm all in". Tebben quickly folded and Lebel got the shock of his life.
"You didn't realize I was already all in, did you?" laughed Kelso, as Lebel dropped his head in dismay at his huge error.
Perhaps he didn't see the bet from the other side of the dealer, but there was no turning back now as the cards were tabled.
Kelso:

Lebel:
It would be a cruel blow for Kelso if he lost it in this fashion as he turned and ran away from the table, unable to watch. He didn't have to worry as the board ran out
missing both players.
Kelso doubles through to 1.2 million in extraordinary circumstances as Lebel is now on the short stack with just 156,000.
There hasn't been much noteworthy action, but here is how the stacks have been affected by the passing around of blinds:
Player
Chips
Progress

Kiet Tran Tuan

2,400,000

-150,000

JD McNamara

2,300,000

-105,000

David Tolbert

920,000

-130,000

Alexis Belanger Lebel

790,000

-176,000

David Cai

680,000

35,000

Greg Pohler

670,000

165,000

Michael Gross

600,000

228,000

Denis Murphy

585,000

180,000

Jeffrey Tebben

540,000

46,000

Blake Kelso

530,000

-87,000
The unofficial final table has kicked off with mostly "raise and take it" hands with Denis Murphy, Greg Pohler and David Cai each moving all in preflop in the first orbit to take down the blinds and antes uncontested.
The short stacks are definitely under pressure from the rising blinds so we're going to see a big collision here sometime very soon.
The bags are out and the pens are at the ready, in anticipation of one more elimination. That means it looks like we'll be stopping for the night as soon as we reach our final nine, with the finale of this event set to take place tomorrow afternoon.
Here are the seats and approximate chip counts as the top ten take their seats:
Seat 1: Blake Kelso - 617,000
Seat 2: JD McNamara - 2,405,000
Seat 3: Thanh dat Tran - 2,550,000
Seat 4: Greg Pohler - 505,000
Seat 5: David Cai - 645,000
Seat 6: Michael Gross - 372,000
Seat 7: Denis Murphy - 405,000
Seat 8: Alexis Belanger-Lebel - 966,000
Seat 9: Jeffrey Tebben - 494,000
Seat 10: John Tolbert - 1,050,000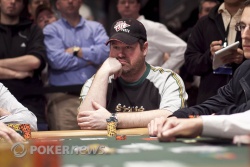 Action folded to Anthony Damore on the button, and he shoved for the three big blinds he had left. David Cai called from the small blind, and Thanh dat Tran called in the big. Cai and Tran checked all three streets as the board fell
. Cai tabled
for sevens and fours, and Tran mucked. Damore tossed his cards as well and said his goodbyes, leaving ten players remaining.
As Damore left to pick up his first WSOP cash, the rest of the players paused to redraw to the unofficial final table.