Seebs Slips

Level 3 : 150-300, 0 ante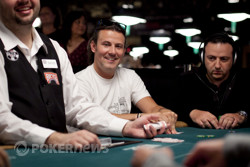 A player raised from under the gun to 700 and got four callers -- Joe Sebok (hijack), the cutoff, and both blinds. The flop came
, and it checked to Sebok who bet 2,200. His neighbor to his left then raised to 6,600, forcing folds all around. Sebok thought a moment then called the raise.
The turn was the
, and both players quickly checked. The river brought the
. Sebok gathered some chips and without waiting very long fired a bet of 13,000. His opponent immediately counted off what he needed to call and did so.
Sebok tabled
for busted straight and flush draws turned trip sevens, but his opponent had
for sixes full.
Sebok drops to about 45,000 after that one.