The Money Bubble Bursts

Level 16 : 2,500-5,000, 500 ante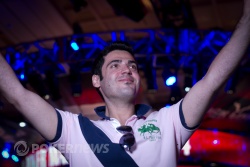 Level 16 was exciting as poker gets for 693 players. For the handful that busted before it's the worst day of the year. 2010 November Niner Joseph Cheong knocked the 694th player, Reza Kashani, with quad queens, guarenteeing the remaining players are at least $19,359 richer.
It's not all bad news for Kashani, he'll have his 2012 WSOP Main Event entry fee paid for.
Kashani wasn't the only player eliminated in the round. Phil Hellmuth, Berry Johnston, who failed to set a record for most Main Event cashes, Andrew Chen and Kenny Nguyen.
Following the break the field will return to play one hour, then take a two hour dinner break and return and play for three more hours.