Event 51: $1,000 Ladies No-Limit Hold'em Championship
Day: 2
Event 51: $1,000 Ladies No-Limit Hold'em Championship
Day 2 Completed

Level 19 : 4,000/8,000, 1,000 ante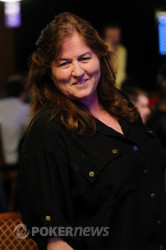 Like Day 1, which saw the original field of 936 trimmed to 117 players in just 10 one-hour levels, Day 2 of Event 51, the $1,000 Ladies No-Limit Hold'em Championship also moved at a quick pace. After just eight levels plus another 18 minutes of Level 19, just nine players were left with chips, with Debbie Pechac of Phoenix, Arizona the leader heading into tomorrow's final day of play.
Among the first cashers on Day 2 were Amanda Wheeler (105th), Annie LePage (93rd), Felicia Johnico (88th), and PokerNews's own Sarah Grant (86th). As the afternoon wore on the field was cut down to less than 50 players, with Mandy Baker (76th), last year's ladies event champion Marsha Wolak (74th), Lisa Parsons (73rd), and J.J. Liu (45th) among those cashing early on.
Jana de la Cerra enjoyed the chip lead for part of the late afternoon, but found her ladies event run stopped short in 34th place after flopping a full house in a hand in which Yen Dang had made quads. She was followed shortly thereafter by Della Jones (33rd) who had also spent some time among the leaders earlier in the day.
The field was cut down to just 21 by the dinner break, with Erica Schoenberg (28th), Stacey Lynn Nutini (23rd), and Leo Margets (22nd) leaving us just before the end of Level 16. Coming back from the break, Jamie Kerstetter fell in 20th. And a couple of other players who had enjoyed the chip lead earlier in the tournament went out shortly thereafter, with Monica Hinojosa exiting in 18th and Gaelle Baumann in 15th.
Yan Deng was responsible for a number of knockouts today, and she picked up the last one, too, by eliminating Lisa Santy in 10th. She'll return to a healthy stack of tomorrow, good for third position behind Pechac and Candida Ross-Powers. Here's how the counts look for all nine players heading into Sunday's final day:
| Position | Player | Chips |
| --- | --- | --- |
| 1 | Debbie Pechac | 630,000 |
| 2 | Candida Ross-Powers | 548,000 |
| 3 | Yen Dang | 483,000 |
| 4 | Lesley Amos | 352,000 |
| 5 | Anna Lundholm | 218,000 |
| 6 | Rae Rocco | 203,000 |
| 7 | Angela Moed | 145,000 |
| 8 | Janet Howard | 132,000 |
| 9 | Freda Lawrence | 99,000 |
Play resumes at 1 PM local time tomorrow. Thanks for following our coverage of the ladies event thus far, and be sure to come back to see who among the final nine emerges as the next World Series of Poker bracelet winner.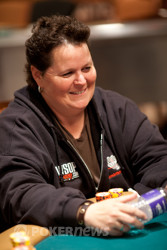 It didn't take very long after the final 10 players got situated in their new seats when a hand arose in which it folded around to Yen Dang in the small blind, and she raised to 24,000. Lisa Santy checked her cards, then announced she was reraising all in with the 140,000 or so she had in front of her. Dang made the call.
Dang:

Santy:
Santy stood by her chair to watch the dealer burn a card and spread the
flop, a look of acceptance on her face. The turn was the
and river the
, and with a nod Santy said "good hand" and "nice job" to Dang before making her way to the cashier's desk.
With 42 minutes still left in Level 19, the tourney clock has been paused and the bags brought out. The final table is set!

Here's how the final 10 players are seated, with chip counts below:
| Seat | Player |
| --- | --- |
| 1 | Angela Moed |
| 2 | Freda Lawrence |
| 3 | Debbie Pechac |
| 4 | Janet Howard |
| 5 | Candida Ross-Powers |
| 6 | Anna Lundholm |
| 7 | Rae Rocco |
| 8 | Yen Dang |
| 9 | Lisa Santy |
| 10 | Lesley Amos |
Player
Chips
Progress

Debbie Pechac

530,000

-50,000

Candida Ross-Powers

481,000

116,000

Lesley Amos

440,000

130,000

Yen Dang

342,000

38,000

Ida Lundholm

260,000

80,000

Angela Prada-Moed

221,000

35,000

Jan Howard

166,000

31,000

Lisa Santy

139,000

51,000

Rae Rocco

136,000

16,000

Rosemary Lawrence

112,000

-8,000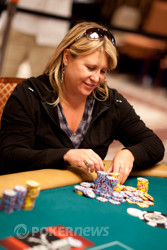 Soon after returning from the break, Amber Chatwin was pushing her short stack of 93,000 with
and getting a caller in Debbie Pechac who held
. The board rolled out
, meaning Pechac's jacks and kings were best and Chatwin was out in 11th.
The remaining 10 players are redrawing for seats around the not-quite-final final table. We'll get you those seat assignments and updated counts for all 10 in just a moment.
Level: 19
Blinds: 4,000/8,000
Ante: 1,000

Level 18 : 3,000/6,000, 500 ante
The final 11 players are now taking the last scheduled 20-minute break of the night. The plan will be to play two more one-hour levels, or stop when just nine players remain, whatever comes first.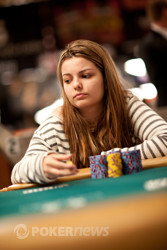 Laurie Tournier was down to just 51,000 when she open-pushed from under the gun and got a single caller in Yen Dang from one seat over.
Tournier had
and Dang
. The flop came
, pairing Dang, and after the
turn the river
was no matter.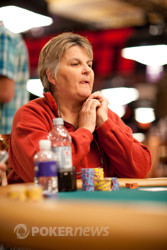 Debbie Pechac opened with a raise to 20,000 from under the gun, and it folded to Peg Ledman in the cutoff who reraised to 50,000. The action back on Pechac, she reraised all in and Ledman called for her entire stack of 155,000.
Pechac:

Ledman:
The flop came
, pairing Pechac's queen though actually giving Ledman an extra out. But the turn was the
and river the
, and just a dozen players remain.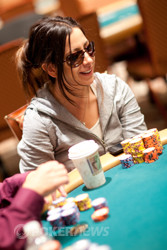 We're seeing a rush of eliminations here as Level 18 comes to a close, with the short stacks putting their chips at risk frequently.
Just now Mona Harb opened for 15,000 from under the gun, then Candida Ross-Powers reraised all in from the cutoff. It folded back to Harb who called right away, turning over
. Ross-Powers had
, and five cards later —
— her sevens were still best.