Event #14: $1,500 Limit Omaha Hi-Low
Day: 1
Event #14: $1,500 Limit Omaha Hi-Low
Day 1 Completed
Level 10 : 400/800, 0 ante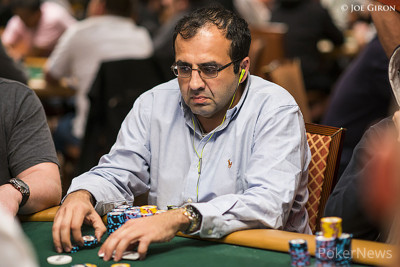 Kal Raichura bagged up 68,100 to notch a slim chip lead over Konstantin Puchkov (65,800) here at the conclusion of Day 1 of Event #14: $1,500 Limit Omaha Hi-Low. Puchkov already has a World Series of Poker bracelet and more than $2 million in live cashes to his name, while the Canadian has $122,000 in cashes.
The winner of this one will take home $283,275 for outlasting a total field of 1,036 runners, a very slight increase over last year's field of 1,014, topped by Calen McNeil. McNeil returned to defend his title, and he had a very swingy day, ultimately gasping to the finish and bagging just 7,400. He'll certainly have his work cut out for him tomorrow.
Other notables bagging stacks included Eric Baldwin (43,000), George Danzer (39,300), Allen Cunningham (36,200), the legendary Phil Ivey (33,500), Stephen Chidwick (32,100), former WSOP Player of the Year Frank Kassela (31,600), Erik Seidel (29,600), David "Gunslinger" Bach (20,300), and former Main Event champion Greg Raymer (10,800).
A total of 220 survivors made it through the 10-level grind today, and they'll return for Day 2 tomorrow at 1 p.m. in the Amazon Room. Be sure to tune back in to PokerNews as we let you know what happens as the field is pared down and the money starts flowing.
Level 10 : 400/800, 0 ante
Player
Chips
Progress

Kal Raichura

68,100

-5,900

Konstantin Puchkov

65,800

65,800

Brian Margettes

63,000

63,000

Alexander Kuzmin

51,900

51,900

Donald Dablaing

51,500

51,500

Michael Roeseler

50,700

50,700

Nicholas Kost

48,600

48,600

Lance Dodd

48,100

48,100

James Richburg

47,500

47,500

Salim Hanna

45,800

45,800

Chris Viox

45,500

45,500

Guillaume Rivet

45,000

45,000

Kyle Miaso

43,200

43,200

Eric Baldwin

43,000

Robert Mizrachi

43,000

17,000

Adam Stone

42,800

42,800

Gary Benson

42,200

42,200

Jordan Cossette

41,900

41,900

Susan Genard

41,000

41,000

Saul Becher

40,300

40,300

Grzegorz Trelski (Greg Trelski)

39,800

39,800

Andrei Kaigorodtcev

39,800

39,800

Joshua Pender

39,500

39,500

George Danzer

39,300

10,500

Marc Durand

38,600

38,600
Level 10 : 400/800, 0 ante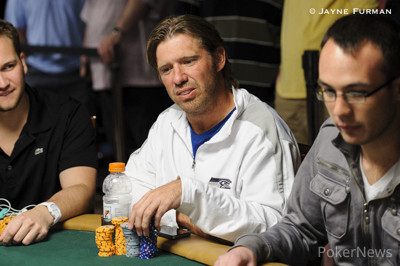 On one of the last hands of the night, six-time bracelet winner Layne Flack busted out at the table right by the media table in a hand we didn't see.
Player
Chips
Progress

Layne Flack

Busted
Level 10 : 400/800, 0 ante
Four more hands will be played until the day is done.
Level 10 : 400/800, 0 ante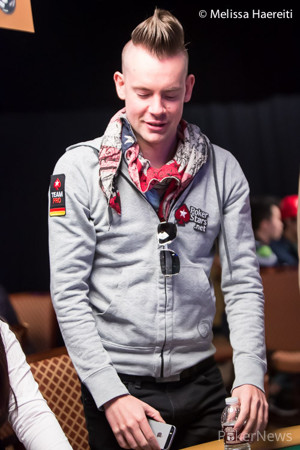 Yuebin Guo got his last 3,000 all in before the flop against a player who was under the gun and George Danzer in the big blind.
By fourth street, the board read
, and Danzer got the rest of his live opponent's stack in the middle.
Danzer:

Guo:

Under the gun:
"I've got the freeroll," Danzer said, since he and the under-the-gun player both had wheels but Danzer had a higher straight draw. Guo, meanwhile, held the nut flush draw.
The dealer burned and turned the
to give Danzer the nut straight to go with his nut low, quartering the under-the-gun player.
"Don't write that he played that hand," one of the players at the table joked of the sponsored pro. "He'll lose his sponsorship. Next time we see him, he'll be a free agent!"
The table erupted with laughter as Danzer stacked his chips.
Level 10 : 400/800, 0 ante
Level 10 : 400/800, 0 ante
We found Kal Raichura considering a preflop raise from an opponent who was short-stacked.
"You can fold now," Raichura's opponent joked. "I would not be mad if you folded now."
Raichura called though, and the flop came
. Raichura's opponent bet, and Raichura raised. His opponent called off the remainder of his stack.
Raichura:

Opponent:
Raichura's opponent had seen one of the worst possible flops for his baby-filled hand, and the
turn and
river did not bring enough improvement to overtake Raichura. Raichura appears to be the chip leader with about 30 minutes left.
Level 10 : 400/800, 0 ante
Player
Chips
Progress

Greg Trelski

63,300

Kal Raichura

53,800

Allen Cunningham

40,000

1,000

Stephen Chidwick

36,000

17,500

Phil Ivey

33,500

16,500

Michael Mizrachi

27,600

24,100

Erik Seidel

17,000

2,000

Calen McNeil

15,000

-7,000

Greg Raymer

13,000

3,000

Layne Flack

13,000

-4,600

Iori Yogo

12,500

-3,500

George Danzer

12,300

8,700

Barry Greenstein

8,000

500

Allen Kessler

Busted
Level: 10
Blinds: 400/800
Ante: