Event #55: $1,500 No-Limit Hold'em
Day: 1
Event #55: $1,500 No-Limit Hold'em
Day 1 Completed

Level 11 : 500-1,000, 100 ante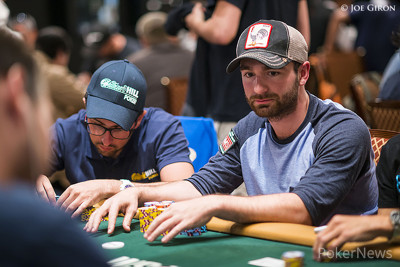 Event #55: $1,500 No-Limit Hold'em started rather slow, with nearly half the entrants posted on the board taking at least half a level to take their seats.
As the day wore on, more and more turned up leading to a grand total of 2,396 entrants by the time registration closed. What that meant is a $3,234,600 prize pool was created with some $582,321 and a shiny World Series of Poker gold bracelet reserved for the winner. In all, 243 players will get paid and that number was almost reached by the time they played 11 levels.
In the end, they did get down to 268 players, meaning the money bubble should burst soon after the 1 p.m. restart Sunday.
While a number of players picked up steam and built big stacks in the late levels, most seem to dip as the day did, leading to a flurry of activity in the last half of the last level of the night to decide who the chip leader was.
It literally came down to the last hand of the night, but it appeared Canadian Michael Malm grabbed that lead over names like Zo Karim, Aaron Massey and Brandon Cantu.
No matter how you slice it, this tournament is tight at the top and it should take the good part of the day Sunday to separate the wheat from the chaff.
They will pay another ten levels or down to a final table of nine then and as always, the PokerNews Live Reporting team will endeavor to follow all the action as it happens. Of course, you're all welcome to come along for the ride as well.
Player
Chips
Progress

Michael Malm

127,000

Zo Karim

117,400

-4,600

Erkut Yilmaz

116,000

Aaron Massey

108,600

6,600

Jack Salter

106,400

Kaspars Kazaks

105,200

Mark Schmid

100,200

Brandon Cantu

96,000

-24,000

Fernando Diaz

93,100

Alen Bilic

92,100

James Dorrance

88,700

Franck Yenigotchian

87,600

Scott Blackman

85,700

Jonathan Andero

85,100

Georgios Kapalas

82,800

James Gladwell

82,800

Shechter Ofer

81,400

Davide Suriano

80,700

700

Greg Feirman

80,400

Gilles Huet

79,000

Anthony Gaglione

78,500

DID NOT REPORT 3

78,500

Kyle Ho

78,400

Zhenghua Lei

77,900

Nicholas Nowak

77,500

Level 11 : 500-1,000, 100 ante
The dealers have been told to deal five more hands before play will end for the night.

Level 11 : 500-1,000, 100 ante
Jonas Ten Cate bet 12,500 into a pot of about the same size on a board reading
. His heads up opponent called.
The river came the
and Ten Cate checked. His opponent bet out 20,000 and without much hesitation, Ten Cate mucked. Add that to the fact he doubled one shorty a little earlier and he's dropped a hefty amount of chips over the last few minutes.

Level 11 : 500-1,000, 100 ante
Player
Chips
Progress

Jonas Ten Cate

160,000

George Kapalas

126,000

47,000

Zo Karim

122,000

31,000

Brandon Cantu

120,000

26,000

Rick Dugger

119,000

3,000

Aaron Massey

102,000

1,000
Level: 11
Blinds: 500/1,000
Ante: 100

Level 10 : 400-800, 100 ante
After cashing out in 300th place in the Monster Stack earlier today, Duy Ho registered for this tournament on the dinner break.
He figured why not, since he'd made 6th place in a $1,000 event earlier this summer for $51,198. Sure enough, he's run it up from 4,500 to 75,000 in just a few levels.
Moments ago he raised with
from the button and got called by the big blind. The flop came
with two clubs and when the big blind shoved for almost 18,000, Ho figured he was bluffing.
He called and was wrong, the big blind had
and looked good to double. That is until Ho hit an
on the turn and sent him home hungry.
Player
Chips
Progress

Duy Ho

75,000

-3,000

Level 10 : 400-800, 100 ante
Bryan Micon got it in with
on a
flop and looked to be headed to the exits against
.
The
turn had him half way out of his chair, but Micon spiked the
on the river to make a straight and survive.

Level 10 : 400-800, 100 ante
Eddy Sabat just busted another short stack at his table making quad sixes.
It was only 4,700 chips but Sabat had to take a photo and spread it all over the various social media outlets. How often does one really get quads anyway?