Who Will Make the Money in Event #57: $1,000 Tag Team NLHE?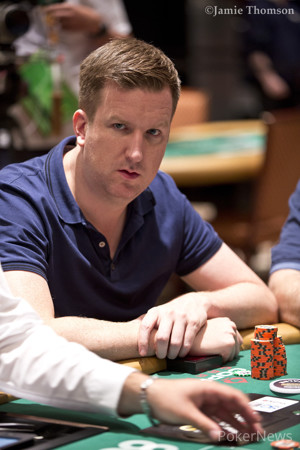 Welcome back to Day 2 of Event #57: $1,000 Tag Team No-Limit Hold'em which might be one of the few events which constantly has a huge rail on the sidelines. The tournament prompted 976 teams to sign up and play, 278 of them made it through the hurdles that Day 1 brought them.
When they return at 1 p.m. local time, they will be racing against each other to claim their share of the $878,400 prize pool. Just under half of them will be doing so as 147 teams will be getting paid in this event for at least $1,498 while the winning team will walk away with $168,395.
Leading the relay is Team Jaffee with Jared Jaffee, Ralph Massey, and Aaron Massey with 255,000 chips. They are followed by Team Gerrits (Martijn Gerrits - Preston Lee - Kane Kalas) who bagged 236,100 chips and Team Stillwagon (Skylar Stillwagon – James Browning) with 205,000 in chips.
Other teams to keep an eye on as they bagged and tagged an above average stack include Team Wang (Michael Wang – Dan Zack – Ajay Chabra), Team Hinds (John Hinds – Anthony Zinno), Team Trofimov (Dragos Trofimov – Mihai Niste – Alexandru Papazian – Florian Duta), Team Gera (Nikhil Gera – Craig Chait – Jared Griener – Adam Swan), Team Dunst (Tony Dunst – Ben Yu – Scott Baumstein), Team Koon (Jason Koon – Sosia Jiang), Team Riess (Ryan Riess – Phil Hui), Team Wheeler (Jason Wheeler – Matt Iles), and many more.
Each team consist of at least two players and has four at a maximum, every player has to have played at least a small blind and big blind at one point during the tournament before it's over. Not everyone has done this yet as some of the teammates could have been playing other events here at the 50th Annual World Series of Poker. Players can tag each other out and in whenever they're not in an active hand and the payouts will be distributed evenly amongst the teammates once the tournament gets down to the money stage.
When the players return to the Rio All-Suite Hotel & Casino, they will continue with Level 11 which features a small blind of 800, big blind of 1,600, and a big blind ante of 1,600. Another ten levels of 60 minutes each are scheduled with a color-up break after Level 14 and 18. The PokerNews live reporting team will be following along all day to bring you all the latest updates from the action on the floor.