Event #42: $1,500 Razz
Day: 3
Event #42: $1,500 Razz
Day 3 Completed

Level 32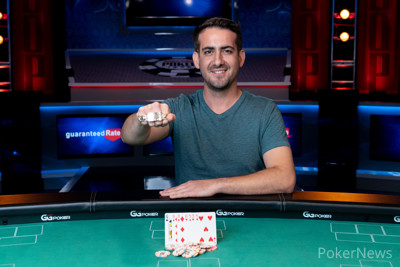 In what appears to be a year of thirds at the World Series of Poker 2021, Bradley Ruben has earned his third career WSOP gold bracelet in Event #42: $1,500 Razz for $99,188. He defeated a final table including Charles Sinn, Yuri Dzivielevski, David "ODB" Baker, and Matt Grapenthien. He conquered a field of 311 entrants on his way to victory.
Ruben's first bracelet came in 2020 when he won the $1,500 Pot-Limit Omaha GGPoker Online Event #63 for $220,160, while his second came earlier this year when he won the WSOP Online Event #21: $600 Pot-Limit Omaha for $69,148. This victory represents Ruben's first bracelet captured on the live felt, as well as his first victory not in Pot-Limit Omaha.
Event #42: $1,500 Razz Final Table Results
| Place | Player | Country | Prize |
| --- | --- | --- | --- |
| 1 | Bradley Ruben | United States | $99,188 |
| 2 | Charles Sinn | United States | $61,303 |
| 3 | Matt Grapenthien | United States | $41,758 |
| 4 | Yuri Dzivielevski | Brazil | $29,089 |
| 5 | David "ODB" Baker | United States | $20,732 |
| 6 | Brett Feldman | United States | $15,127 |
| 7 | Alex Livingston | Canada | $11,305 |
| 8 | Hassan Kamoei | United States | $8,658 |
Razz Natural?
Ruben claimed victory in the tournament despite saying it was probably only his third ever live Razz tournament. One of those was in 2017, when he finished third in this very event. While he said he has played some Razz and other mixed games online, he recognized his achievement is special.
"My theory is, if you play a game that you haven't played much before, it's more enjoyable. You're kind of like a kid, you're in awe of it. That's helped me a lot in this tournament, and the one I got third in, in 2017."
Ruben the Comeback Kid; Sinn Falls Just Short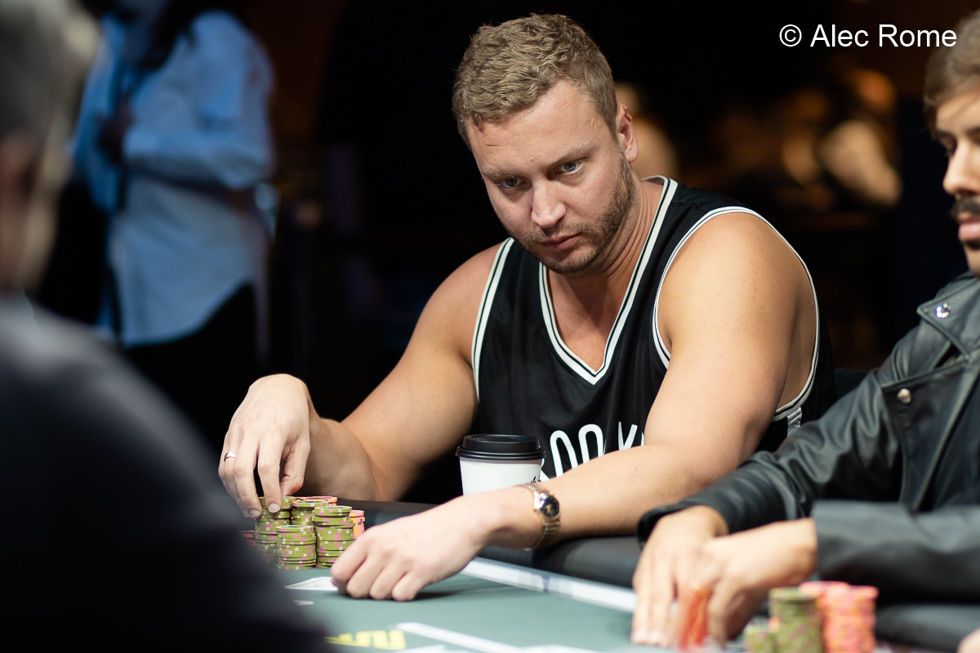 Ruben's path to the title was far from easy, as he spent a lot of the day on a short stack chasing Sinn, who held the chip lead most of the day.
"I think I had like 300K in chips, and I just ran like God pretty much from then on, doubled up a couple of times, so it's really just running good at the end."
While skill is obviously a factor, in a game like Razz, timely card-catching is crucial, and Ruben had no reservations in saying he caught more than his fair share at key points of the final table.
"It's a lot of it. Getting big hands, a lot of times equities run close, so it's who catches better. But it's also a lot about picking your spots and waiting and being patient when you're short-stacked and getting it in okay, so there's a skill in that, but a lot of it is catching.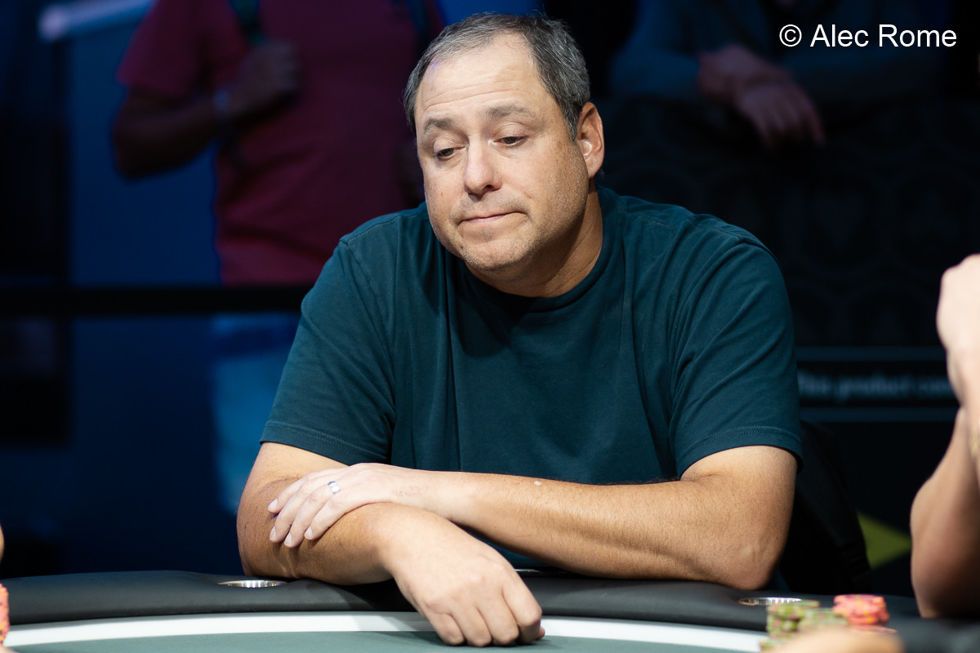 As mentioned, Sinn's aggressive style propelled him into heads-up play, as the rest of the final table fell throughout the day. A pair of key back-to-back hands rendered Matt Grapenthien short, and he ended up finishing in third place for $41,758, while Yuri Dzivielevski (4th place - $29,089), and David "ODB" Baker (5th place - $20,732), rounded out the top five.
As for Ruben, we can expect to see him in the $10,000 Razz Championship in a couple of weeks, but for now, he'll be jumping into Event #45: $10,000 8-Handed Pot-Limit Omaha, the game in which he won his first two bracelets in WSOP online events. That said, neither of these games is where his ultimate motivation lies for bracelet number four.
"I've always had the motivation, like after winning the first one, I wanted to win a second one to legitimize it, and then I'm like all right, I've gotta win a third one, and I need to win my first live one, so I always had that motivation, and I'll keep finding ways to motivate myself. I haven't won a Hold'em one, so that's next."
Congratulations to Bradley Ruben on his victory, and best of luck on his quest for bracelet number four.
That brings an end to our coverage of Event #42: $1,500 Razz. Stay tuned to PokerNews for continued coverage of all the World Series of Poker Action from the Rio All-Suite Hotel & Casino.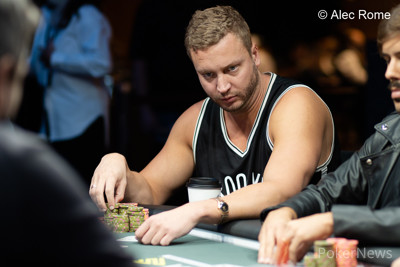 Charles Sinn was trailing on fifth street when he called a raise from Bradley Ruben and all of the chips were in the middle.
Charles Sinn:
/
/

Bradley Ruben:
/
/
Ruben caught a 9-8-6-5-3 on sixth street, and Sinn could not catch up ending his run in second place.
Bradley Ruben raised, and Charles Sinn called to see fourth street.
Charles Sinn:
/

Bradley Ruben:
/
Sinn called on fourth street, before check-raising on fifth. Ruben then called two more bets and turned over his 7-6-5-4-A, only to see Sinn's winning 6-5-3-2-A to cut into the chip lead.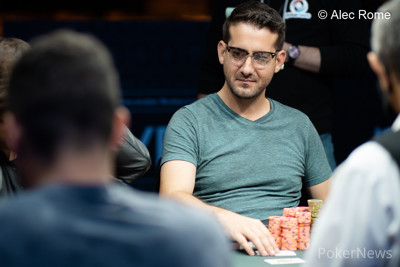 Despite both players showing kings on third street, that didn't stop them from playing a big pot that has seen Bradley Ruben regain a sizeable chip lead after Charles Sinn had crept within two-to-one.
Betting alternated on each street with Ruben leading fourth, then Sinn betting his advantage on fifth, before Ruben took over the lead again on sixth then also bet seventh, which Sinn called.
Charles Sinn:
/
/

Bradley Ruben:
/
/
Once the cards were revealed, Ruben declared, "I got it", showing
in the hole to make
, which Sinn couldn't beat given his board.
Bradley Ruben and Charles Sinn have exchanged pots over the last several hands, with Ruben maintaining his chip advantage.
Level: 32
Ante: 30000
Bring-In: 50000
Completion: 150000
Limits: 150000-300000
After three bets each went in on third street, Charles Sinn got the last of his chips in on fifth versus Bradley Ruben, with both players holding relatively ugly boards.
Charles Sinn:
/

Bradley Ruben:
/
Sinn's draw was better than Ruben's but neither improved on sixth street as Sinn paired his nine and Ruben made trip tens.
Ruben revealed his seventh street card first for the sweat, picking up a jack to make
.
Sinn needed any non-pairing card jack or better and drew a
to make
and double up to 1.5 million chips.
After taking a series of smaller hands to increase his chip lead, Bradley Ruben's run of cards continued.
Bradley Ruben:
/

Charles Sinn:
/
- fold on sixth street
Following Sinn's fold to a bet on sixth street, and both players revealing their down cards, Ruben remarked "I'm kind of embarrassed, I keep catching and you don't." The latest exchange left Sinn very short on chips.
Charles Sinn got to heads-up play with a very aggressive style, but a recent hand has put him in trouble versus Bradley Ruben.
Charles Sinn:
/

Bradley Ruben:
/
After Sinn bet fifth street and got called by Ruben, Sinn continued firing on sixth despite picking up a
and Ruben a
. Ruben raised Sinn's bet, and Sinn folded.
Ruben now has over 75 percent of the chips in play.