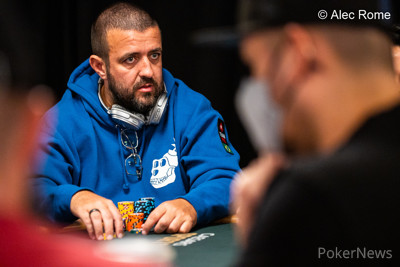 Ran Shahar made it 40,000 to go and was called by Andre Akkari. On a flop of
, Shahar check-raised from 42,000 to 125,000 and Akkari then clicked it back to 300,000 and called all-in for the rest of it when Shahar pushed.
Andre Akkari:

Ran Shahar:
The
turn failed to improve Akkari and the same also applied for the
river as Shahar prevailed with his set of fives.
Player
Chips
Progress

Alex Goulder

2,800,000

400,000

Norbert Koh

2,090,000

-470,000

Ran Shahar

1,600,000

850,000

Pete Chen

800,000

-80,000

Ambassador

Steve Zolotow

775,000

-145,000

Ken Aldridge

650,000

-50,000

Andre Akkari

Busted