Event #90: $10,000 6-Handed No-Limit Hold'em Championship
Day: 4
Event #90: $10,000 6-Handed No-Limit Hold'em Championship
Day 4 Completed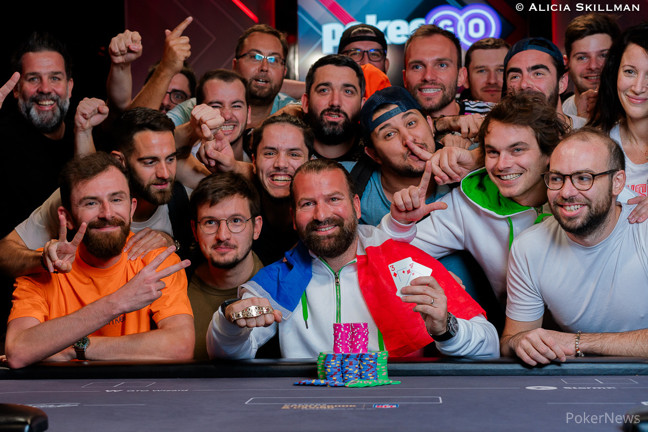 Event #90: $10,000 6-Handed No-Limit Hold'em Championship at the 2023 World Series of Poker at the Horseshoe and Paris Las Vegas attracted a massive field of 550 runners, generating a total prizepool of $5,155,000. On Monday, July 17th, just four players returned for an unscheduled fourth and final day.
While each of them had locked up a healthy minimum payday of $306,55, given the calibre of the players left, none would be happy with anything less than the $1,057,663 first place prize to go along with a much sought after WSOP gold bracelet in one of the more prestigious events on the poker calendar.
After only 90 minutes of play, Alexandre Reard of France rode a boisterous rail to victory after besting British all time money leader Stephen Chidwick in heads-up play to more than double his previous best live cash and become the first French player to win two bracelets in the No-Limit Hold'em variant.
The win is especially impressive as the Main Event Final Table was taking place in the background on the second and third days and naturally generated a great deal of noise as well as other potential distractions. Reard did not seem too affected by that as he said he had worked on his mental strength coming into the series and was "playing in his own bubble." In fact, he seemed to relish what he described as a "great atmosphere", some of which came from a large group of vocal supporters.
Although Reard entered the day as the runaway chipleader with more than half of the chips in play, things did not go his way in the early stages. First, he doubled up AJ Kelsall in a blind on blind encounter to take a hit to his stack. Not long after, Justin Liberto picked off a bluff to send Reard sinking back down into the pack.
"I did feel some pressure coming into the day because I knew that in France everyone was expecting me to be at least in the top two." Still, despite the early setbacks and the added pressure to bring the bracelet home for his country, Reard kept a level head to get the job done. "I wasn't that worried. I changed my strategy and had to adapt." Whatever adjustments he made, they clearly worked as he managed to fight back and claim victory.
The win was clearly larger than the man himself as a huge contingent of French supporters playing in a tournament series back in Paris erupted in cheers upon hearing the news. His wife, who was also playing in that series, reportedly broke down in tears when she found out her husband had triumphed.
Event #90: $10,000 6-Handed No-Limit Hold'em Championship
| Place | Winner | Country | Prize |
| --- | --- | --- | --- |
| 1 | Alexandre Reard | France | $1,057,663 |
| 2 | Stephen Chidwick | United Kingdom | $653,688 |
| 3 | AJ Kelsall | United States | $443,259 |
| 4 | Justin Liberto | United States | $306,555 |
| 5 | Eli Berg | United States | $216,319 |
| 6 | Eric Baldwin | United States | $155,809 |
Day 3 Final Table Action
The official final table of six was set fairly late into Day 3 after Michael Rossitto fell in seventh place, his king-queen dominated by Kelsall's big slick.
At that point, things did slow down significantly, with just two more eliminations in the final three levels. Eric Baldwin was the unfortunate first casualty of the final table when he ran straight into Reard's jacks. Next to go was Eli Berg after a rampant Reard made maximum use of jacks for a second time.
With big money jumps on the line, play continued to be cagey for the remainder of the night, necessitating the addition of a fourth and final day to whittle the remaining players down to a winner.
Final Day Action
Reard immediately got to work leveraging his big stack to put significant ICM pressure on his opponents. That strategy did not go according to plan, however, as he quickly saw his chiplead evaporate with the stacks flattening out. The eventual winner managed to turn things around by claiming the first elimination of the day after he put a beat on Liberto to send the latter out in fourth place.
Kelsall had been towards the bottom of the chip counts for much of the final table but managed to win several crucial all ins at various points to stay alive. His luck eventually ran out when he doubled up Chidwick to leave himself with dust before seeing his remaining chips shipped over to the same opponent a couple of hands later.
That elimination set the stage for a heads-up showdown between Reard and Chidwick. Reard entered that portion of the tournament with a 3:1 chiplead and never looked back. On the last hand, Chidwick flopped top pair but it was bested by the turned straight of Reard to bring matters to a conclusion.
While Chidwick came up just short in his bid for a second WSOP bracelet, he can add another large score ($653,688) to further cement his status as one of the best players in the world and get close to cracking the top three on the global all time money list.
Be sure to stay tuned to PokerNews as it wraps up coverage of the 2023 World Series of Poker.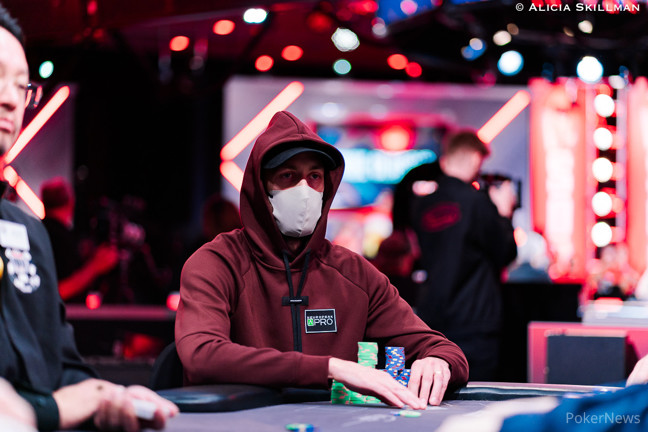 Alexandre Reard limped on the button and then called after Stephen Chidwick raised to 1,200,000 in the big blind.
Chidwick continued for 1,800,000 on the 8♦5♥2♥ flop and Reard made the call.
The turn came 6♦ and saw Chidwick move all in. Reard snapped it off with the covering stack to put his opponent at risk.
Stephen Chidwick: 8♠3♣
Alexandre Reard: 4♦3♦
Reard had turned a straight with a redraw to the flush to leave Chidwick hoping for an off suit four for a chop. It did not happen with the 2♣ rolling off the deck on the river instead to eliminate Chidwick in second place and crown Reard the champion of Event #90: $10,000 6-Handed No Limit Hold'em Championship.
Stay tuned for a winner's interview plus full tournament recap to follow.

Level 32 : Blinds 150,000/300,000, 300,000 ante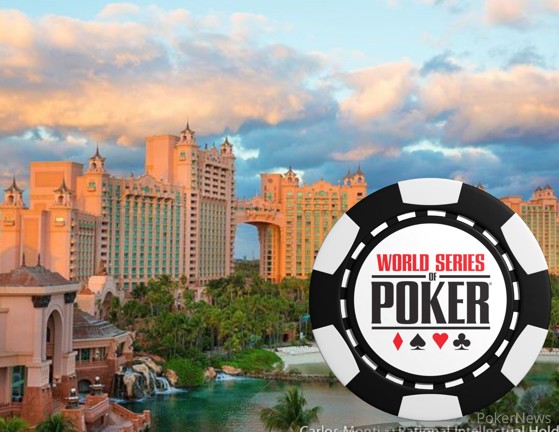 The 2023 World Series of Poker (WSOP) in Las Vegas is winding down, but the action will heat up again come December with the first ever WSOP Paradise at the Atlantis Paradise Island in the Bahamas.
In partnership with GGPoker, the winter series will include 15 bracelet events from Dec. 3-14. Via a Twitter video, GG's top ambassador Daniel Negreanu shared some details about the upcoming major event.

Level 32 : Blinds 150,000/300,000, 300,000 ante
Stephen Chidwick limped in on the button and Alexandre Reard raised it up to 1,000,000 which was called by Chidwick.
The flop came 4♥7♣4♦, Reard continued with a bet of 400,000 and Chidwick called.
The turn was the A♠ and Reard fired another bet into the pot, this time for 850,000 and Chidwick called.
The river completed the board with the 7♥. Reard looked over and barreled a bet of 2,800,000 over the line. Chidwick folded.
Alexandre Reard opened to 750,000 on the button and Stephen Chidwick defended in the big blind.
The flop came 5♠7♥5♦ and Chidwick checked. Reard led out for 400,000 only to see Chidwick raise to 1,200,000. Reard came back over the top with 3,100,000 and was called.
The A♦ turn saw Chidwick check-fold to a bet of 2,500,000 from Reard to hand some of the chips he had just won back to his opponent.
Stephen Chidwick opened to 700,000 on the button and then called after Alexandre Reard three-bet to 2,300,000 out of the big blind.
Reard continued his aggression with a bet of 1,700,000 on the J♥3♠5♠ flop but could not continue in the hand once Chidwick responded with a raise to 3,400,000.
Level: 32
Blinds: 150,000/300,000
Ante: 300,000

Level 32 : Blinds 150,000/300,000, 300,000 ante
Alexandre Reard limped on the button and Stephen Chidwick opted to check.
The flop came K♠K♦3♠, Chidwick check-called the 250,000 bet of Reard.
The turn was the 5♠ and Chidwick checked again. This time, Reard bet 725,000 for him to call.
The river completed the board with the 8♠ and Chidwick took over the initiative and led out with a bet of 900,000. Reard folded.

Level 31 : Blinds 125,000/250,000, 250,000 ante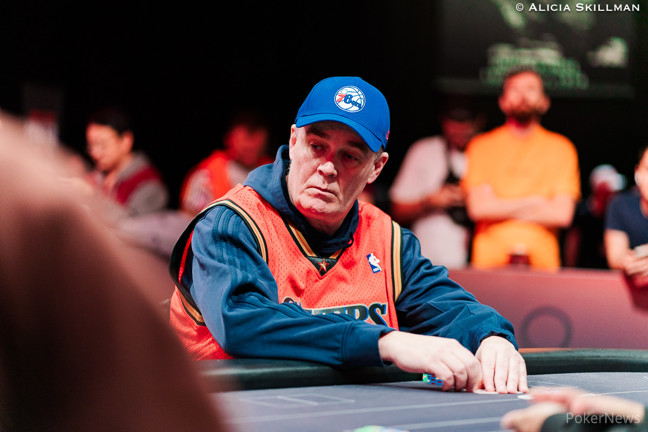 AJ Kelsall called for his last 125,000 on the button and Stephen Chidwick completed his small blind before Alexandre Reard opted to check in the big blind.
Both Chidwick and Reard checked through the whole 5♠Q♣K♣6♦J♥ board.
Kelsall revealed the A♦2♦ for Reard to table the A♣4♠ but Chidwick showed the 8♣8♦ for the pair of eights and the elimination to his name. Kelsall finished in third place for $443,259.