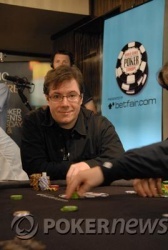 This is probably the busiest hand we'll see all night, my wrist is sore from scribbling.
Jamie Gold has just joined James Keys' table.
From the button he raises to 3,000 into Keys' big blind, Keys sits and thinks for a while.
"Just a call right?" Gold asks him.
Keys calls.
Flop is:
Keys checks, Gold bets 7,000, Keys raises to 13,000.
"I guess you're the guy that's taking me out right?" Gold tells him, as he flat-calls.
Turn:
Gold gets his remaining chips to make sure Keys can see. "I have about 40,000."
Keys thinks for a while.
"Either you put them in or I do," Gold says.
"I promise if you put them in I'll call. Gentlemen's agreement."
Charles from Harrah's comes over and tells Jamie not to talk to Keys about future action.
"Jamie, its a rule we made up just for you," he tells Gold.
Gold apologies to the table.
Keys puts Gold all in.
Gold calls.
Gold:
Keys:
Kenny Tran (from the table next door) comes over and shouts "King!"
Gold starts arguing with Tran. "Why would you do that? Why would you come and wish that on me?"
The James Keys fan club start shouting at Gold.
Charles from Harrah's gives them a warning.
Patrik Antonius walks over laughing, asking why it took so long for the money to get in the middle.
River Card:
Gold doubles up. The Keys fan club continue to hurl abuse (but the soberer members calm the rowdier ones down).
Keys behaves like a perfect gent and tells Jamie "Nice Hand".
Keys' fan club ask me to berate Gold online. No way, he played it brilliantly.
Gold is up with the leaders.