Tomb Raider Slot Machine: Free Game to Play Online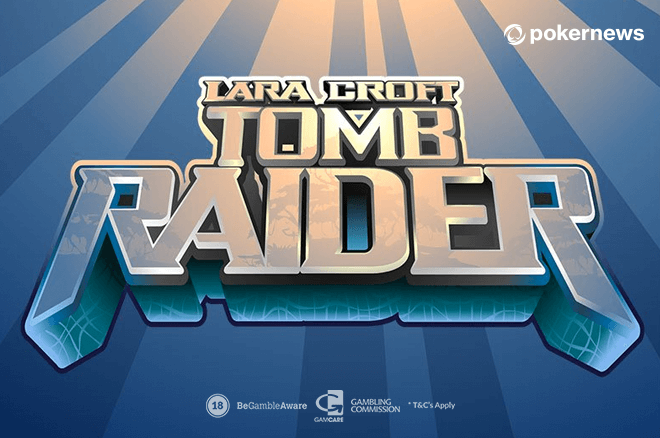 Let's face it: We can't get enough of Tomb Raider. The movie was a box-office darling when it first came out, and over a decade later it still holds a special place in our hearts.
We know you want a piece of that action.
Are you ready to step into a whole new world of adventure starring everyone's favorite heroine, Angelina Jolie?
The Tomb Raider Slot could be your ticket to gaming paradise.
Immerse yourself in a mystical land of titillating treasures, terrifying tigers, and of course, the lovely Lara Croft in this classic Slot.
The Tomb Raider Slot game is:
A classic Slot by Microgaming released back in the early 2000s and still wildly popular today.
A dynamic 5-reel video Slot spinning 15 paylines along 3 rows with an RTP of 95.22%.
Packed full of themed bonus features, exciting gameplay, and tons of extras to hunt for.
Theme & Graphics
The Tomb Raider Slot machine is based off the popular video game and movie series franchise, Tomb Raider.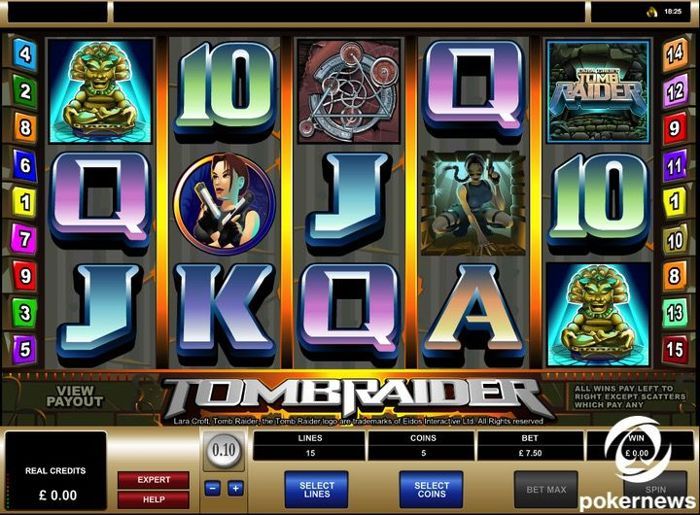 The game was an instant sensation, with players all across the world drawn to the magic of exploration and adventure.
The subsequent movie was also an overnight success, debuting at number one the weekend it hit the box office. Fans of the first loved the sequel and begged for more.
Microgaming delivered it to them back in 2004, when they released what would be one of the most iconic online Slots of all time.
Now, gamers like you can explore new and exciting horizons as you make your way through ancient pyramids and past glorious creatures to get at the treasures within.
Despite being released over a decade ago, this Slot still holds massive appeal for Tomb Raider fans.
The graphics are surprisingly modern, and Microgaming's ahead-of-the-curve technology ensures that you get all the features you've come to expect from their games.
This means good graphics, a decent soundtrack, and awesome payout potential are all part of the experience.
Gameplay & Symbols
Ready to play Tomb Raider online? You'll need to know the basics first.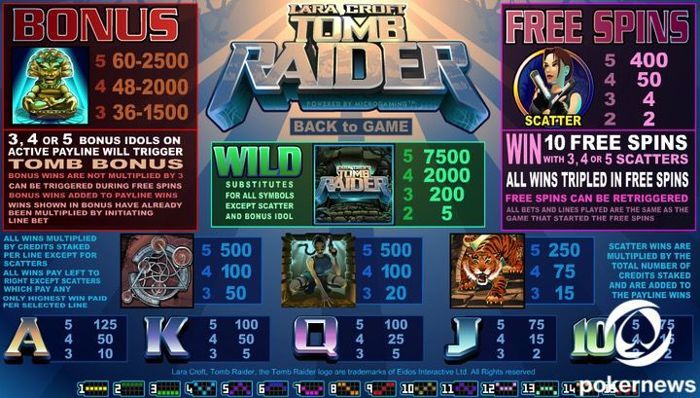 Whether you want to lay your money down or you're just looking for an entertaining free Slot to while away the hours on your computer or mobile device, you should definitely check it out.
Betting
Betting is simple, but different than other Slot machines you may have encountered recently.
That's because it has just 15 paylines, which may take some getting used too.
However, it might be a good thing if you want to make higher wagers.
If you don't, that's ok too—the minimum bet is set at £0.05 per line, while the maximum tops out at £37.50.
Coin size, payouts, and paylines are all easily adjustable and the controls are simple to navigate.
Keep in mind that currency and wagering may vary depending on which online casino you choose to play with, so read the fine print at your casino of choice to find out more.
Symbols
Symbolism isn't complicated and resembles that of many other online Slots.
The playing card numbers 10 through Ace represent the lower-paying denominations, while others reveal bonus features and give higher payouts.
You'll see a tiger symbol as well as an ancient map gracing your screen, but pay closer attention to your scatters, wilds, and potential bonuses.
The Tomb Raider logo acts as the game's wild symbol. It's able to replace any standard symbol on the board, upping the excitement and your chances for a win.
Be on the lookout as well for Lara Croft herself.
This marvelous maven of all things adventure acts as a scatter symbol and triggers a bonus round of free spins.
You'll also need to pay attention to the golden idols.
These symbols are a throwback testament to the video game, and will trigger a bonus round when appearing on your active paylines.
Bonus Features & Extras
As far as online casino games go, the Tomb Raider Slot has more than enough bonuses and extra features to keep you occupied.
Free Spins Round
The free spins feature isn't unique to Tomb Raider, but we still love it—and so will you. Land on 3 sexy Lara Croft icons and trigger the free spins round.
You'll get ten free spins, as well as an added twist: you can retrigger the bonus round while playing it.
That means if you land on three more more Lara symbols in your bonus round, you get another ten free spins. This really comes in handy if you trigger several in a row.
Additionally, winning on a free spin in the bonus round comes with a multiplier of 3 times your original wager.
All these aspects make the free spins round really stand out, and contribute to the 'classic' status of this Microgaming masterpiece.
Golden Idol Bonus
Free spin bonus not enough for you? Don't sweat it. Landing on three or more golden idol symbols will trigger the golden idol bonus, a "pick your prize" style bonus round in which many idol symbols are displayed across the board.
You'll then have the chance to choose which hidden bonus you want, and the game will reveal it.
Three golden idols on the board allows you to pick three idols in the game, while four allows you to pick four and landing on 5 idols gives you 5 bonus prizes to choose from.
Playing Tomb Raider Online
Now that you know what exactly you're dealing with here, you're probably all amped up to play the Tomb Raider Slot.
Make sure choose a reputable casino site which is licensed and regulated by the gambling commission in your home country.
That way, you won't have any problem claiming your bonuses and cashing in all those entombed treasures you uncover.
Final Thoughts
Tomb Raider might be an oldie, but it's certainly a goodie. They say you shouldn't mess with perfection, and that's why this Slot is still standing today.
If you love Tomb Raider, check out Microgaming's sequel, Tomb Raider II: Secret of the Sword.
You may love it just as much, but there's something so special about the classic game you'll come back time and again to play it.
Why not get started today?
The promotion presented on this page was available at the time of writing. With some Casino promotions changing on daily basis, we suggest you to check on the site if it still available. Also, please do not forget to read the terms and conditions in full before you accept a bonus.