Online Poker Spotlight: Jonathan "xmonsterxdongx" Karamalikis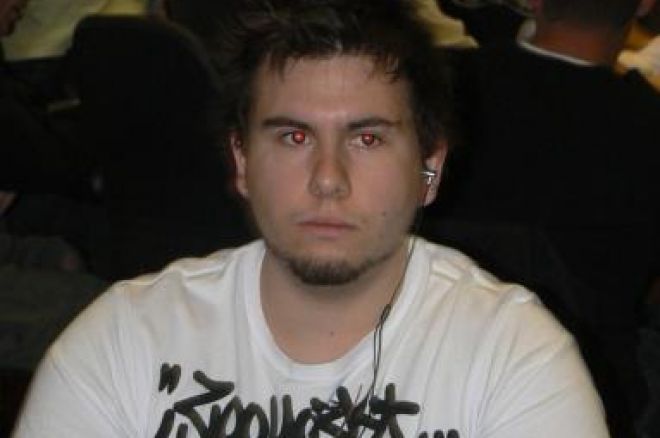 Pokernew: Hey, Jonathan! What's been going on in your poker life lately?
Karamilikis: Not too much actually. I've been taking a break from the online poker for the last few weeks but I'm hitting up Melbourne Champs/ANZPT next Sunday.
PN: Good deal. I take it your getting prepared for the WSOP?
Karamilikis: Yes indeed. I'm really excited about it! I wish I could play the whole series but I'm only legal for it on the 26th of June. Luckily, I still get to play the main event and a few other tournaments.
PN: It's complete bullshit that you have to be 21 to play events; it should be 18 for sure. Are you sure you are going to make it to the events, or are you going to be celebrating pretty hard for your 21st?
Karamilikis: I am sure I will be partying hard for my 21st, which is why I am taking the day off from poker on the 27th. Also because it is a 50k horse tournament. Ha-ha.
PN: Well if I see you out, I will buy you some Jager bombs for sure.
Karamilikis: I will be throwing up from the smell of Jager before I drink it.
PN: Well I'll buy you whatever you want then when were out there. Ok, tell us with whom and where you are staying within Vegas. Gives us the details of the roomies, prop bets, etc.
Karamilikis: Sounds good! I'm staying in a suite at the Venetian with my mate, Matt, who I will be staking for WSOP events. I haven't had a chance to think of any prop bets yet but I am sure the guys will come up with some ridiculous ideas.
PN: Alright, how do you adjust from online to live? What do you feel are the key differences?
Karamilikis: Playing live you're able to stereotype people a lot easier as you can see them, observe them and get to know them. It helps a lot when you are put to a big decision against them. Also it generally takes me a couple of hours to adjust to peoples' hand ranges after having a long break from live. People don't really consider fold equity as much live because tables are mostly filled with recreational players and it is harder to work out stack sizes.
PN: Do you prefer playing live or online more?

Karamilikis: That is a tough question. I'd have to say live for the reason that it's really social and winning big pots is a hell of a lot more fun. I still stack my chips like an online player, so I can keep a count. Lol.
PN: Ha-ha nice. Alright, onto the "H2H" questions: When you are not playing poker, what are your hobbies?
Karamilikis: Partying, hanging out with mates, traveling, gym/boxing, and music.
PN: I like your style sir! If you make a final table what is the one clutch song you will put on to pump you up?
Karamilikis: Oh that is a tougher one. I change all the time but right now it would have to be Paperthin Hymn by Anberlin. I recommend everyone to download it immediately!
PN: What is your fantasy dream team or entourage to hang out with on a night in Vegas at Tao?

Karamilikis: Honestly, I don't really care too much about hanging out with celebrities. I would way rather be out with my mates who get really loose. Ha-ha.
PN: Fair enough. Ok - Jessica Alba, Scarlett Johansson, or Megan Fox?

Karamilikis: Oh mannnn! Megan Fox is such a minx!
PN: Yes, she is my good friend. She definitely made Transformers worth watching.

Karamilikis: Jessica Alba is the winner though.
PN: She is everyone's favorite, that's for sure. Ten years from now where do you see yourself?
Karamilikis: Being ridiculously rich and just as ridiculously good looking as I am atm.
PN: Jonathan, we wish you the best of luck and I'll see you at the WSOP, GL buddy!

Karamilikis: Thanks, Ryan, the interview was great!