Online Poker Spotlight: Tom "titantom32" Braband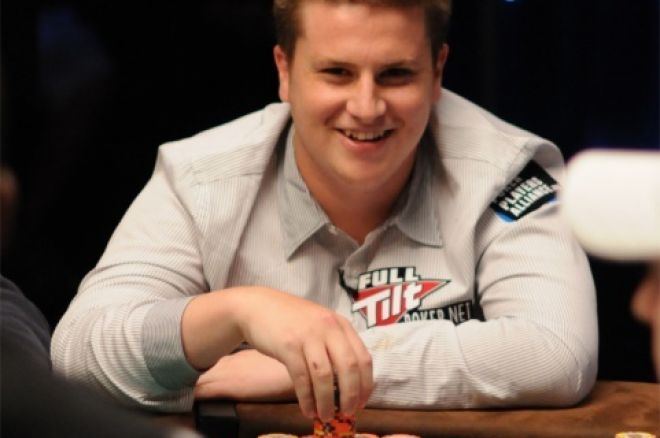 Pokernews: Hey, Tom! Congrats on your big win a couple weeks ago in the $1K on Full Tilt.
Braband: Thank you, sir.
PN: What's been going on in your poker life these days?
Braband: I have just been playing a few days a week online and taking it easy before WSOP. I am going to Iowa this weekend with my family and then driving out to Vegas with a buddy. I'm staying there through July and then moving to Newport Beach, Ca in August.
PN: Good deal. It seems that everyone is resting up before the WSOP and playing less poker. Newport Beach is a great place to live, what brings you there?
Braband: I have friends in the Huntington Beach area and my girlfriend lives in Long Beach. Plus, I just love that area of the country. The weather is great, the golfing is great and I've been fortunate enough to succeed in poker to allow me to live almost anwhere. That is just a gorgeous area that's also close to Vegas so it makes a lot of sense. A new friend of mine, Jamie, ( "pokerjamers" ) lives in Irvine which is very close so that's another added bonus to have another great poker mind close by.
PN: Yes, you cannot beat golf and good weather. Well, I wish you the best of luck with your move. Ok, back to playing less volume. Do you usually play everyday and grind out tons of MTTs like most people or do you just play certain days? Also, some players believe it is better to play only a couple of times a week and bring your A+ game for those days instead of draining your body 6-7 times a wk for 10+ hrs a day. Whats your thoughts on this?
Braband: I used to be a grinder playing 5-6 days a week, but I've tried to take a page out of Doc Sands book, and lower my volume and find other ways to enjoy life. Balance my life out a little bit. Dave (Doc Sands) has been instrumental in some of my recent successes because he has always had a balanced life. He puts in by far the least volume of anyone in the p5s top ten plb right now. He plays a ton of golf, likes to work out a lot and has other hobbies. I have tried to learn from him. I can't wait to move in with him in Newport this upcoming August. I think life balance leads to a happier life and a clearer mind. When you can play poker happy and thinking clearly, you can be much more successful than having the stresses of grinding everyday and living a sedentary lifestyle.
PN: It sounds like you have everything figured out and you definitely have some good names around you! Ok, so what tournaments are you looking forward to at the WSOP?
Braband: I'll be playing as many NL events as my schedule can hold. I'm especially looking forward to the 2500 and 5k 6 max events, as I feel short handed deep stack events are my greatest strength. The 1k stimulus special will also be a fun one, as well as the 2500 HA event.
PN: How do you adjust from online to live? Any key differences?
Braband: In general, the play is more passive and the fields are weaker so you can pick up a lot more smaller pots than you can in a typical online tournament. I feel like live poker suits my strengths the best. I am very good at focusing on one table at a time, focusing on each player, their thought process, tendencies and exploiting them individually. There are a lot of situations you face in live tournaments that are so unique to that arena. I feel like a lot of times in online tournaments, people play so many hands that if your hand is beat in a certain situation, people just chalk it up to a cooler. In live tournaments you are really able to make some monster lay downs because you have a precise read on a player's betting tendencies. You are able to make some hero calls that you normally wouldn't make in an online tournament and play marginal hands against players that you wouldn't in an online tournament just because you feel you can exploit them preflop or postflop.
PN: What is your living situation out in Vegas (roommates, prop bets, etc..) ? I'm going to be living in a house sponsored by pokerpwnage. As far as I know its going to be me, ghettofabolous, assassinato and the operator of the site, Hershel W.
PN: Any prop bets lined up?
Braband: I'm sure I will definitely get into that. Dave and I are throwing out some action 1 to 1 that one of us final tables a WSOP event this year. I also usually swap with a small group of guys that I play events with.
PN: Cool... Onto the "H2H" questions. When you are not playing poker, what are you doing in your spare time?
Braband: I like to play golf, go out with friends, travel, and watch movies. I also like to go out to eat a lot. I'm really excited about moving to California for all the restaurants options.
PN: The day before an event, do you have certain rituals or specific guidelines you follow to prepare yourself for the tournament?
Braband: It really depends on what's been working for me. This summer it looks like before I play I'm gonna be getting out for early morning rounds of golf and alternating with hitting the gym in the morning. Other than that I'm not too superstitious when it comes to playing. I just try not to wake up late. I try to get to the tournament a little bit early so I don't feel rushed. I usually don't play well if I've been rushed to get there.
PN: What mtt player would you least like to have on the left of you and why?
Braband: Wow, there is a couple.
PN: Shoot!
Braband: Probably gboro, moorman, gator93 and breeth. Seems like those guys always beat me in pots somehow and some way. They are always a level ahead of me for whatever reason. I have trouble with guys who flat a lot in position and try to outplay you like gator93. That's why he might be the surprising one on that list.
PN: Who would be in your fantasy dream team or entourage for one night out in Vegas(celebs)?
Braband: Phil Ivey, comedian Louie C.K., Lebron James, Barack Obama, and "the most interesting man in the world" from those Dos Equis commercials.
PN: You have the radio blasting, and are singing in the shower to one song. What are you singing to when you think to yourself, "I'm really glad nobody is here to catch me singing this song?"
Braband: LOL! Probably the Fresh Prince of Bel Air theme song.
PN: That's too funny.
Braband: Haha yea, I can still sing that whole song by heart.
PN: Tom, it was pleasure. Thanks for doing the interview and we wish you the best of luck at the WSOP!
Braband: Thanks a lot, Ryan. I appreciate the recognition.