Actor Kirk Acevedo on Dawn of the Planet of the Apes, The Walking Dead & Playing Poker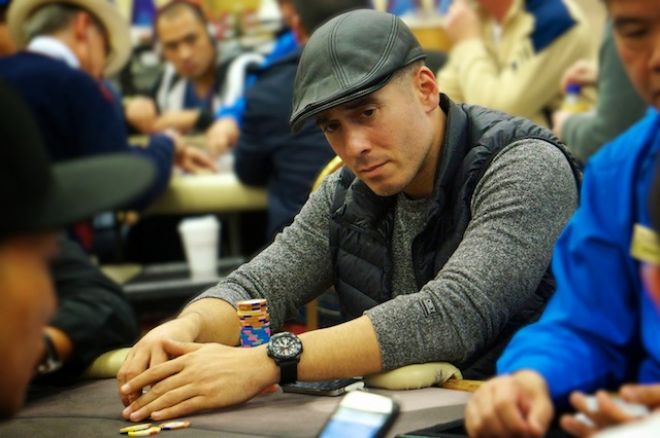 On July 11, 20th Century Fox will release Dawn of the Planet of the Apes, the sequel to James Franco's Rise of the Planet of the Apes from 2011. The new film, which tells the story of a growing nation of genetically evolved apes that threaten a band of human survivors, doesn't star Franco, but has does feature a new cast that includes Jason Clarke, Gary Oldman, and Keri Russell.
It also stars Kirk Acevedo in a supporting role. Acevedo may not have as much star power as the aforementioned performers, but even if you don't know him by name, you'll know doubt recognize him from roles in The Thin Red Line, Band of Brothers, Oz, Fringe, and The Walking Dead. You might also recognize him from the felt, because Acevedo is an avid poker player.
Born November 27, 1971 in Brooklyn, New York, Acevedo, who is of Puerto Rican and Chinese descent, started on his acting career early. He received a BFA from State University of New York Purchase, and then went on to found The Rorschach Group, a theater company. That eventually led to a role in Sam Shepard's "Tooth of a Crime (Second Dance," which earned him a Drama Desk Award nomination for Outstanding Feature Actor in a Play and a future in the business.
"There have been many, many breaks. Many steps that lead to another step. I can't really pinpoint one thing," Acevedo said when asked about his first big break. "If I had to say one thing, I'd probably say theater. That gave me opportunities like Oz and The Thin Red Line. I was doing a Sam Shepard play, and he knew Terrence Malik, who saw the tape of me in the play and offered me a part in The Thin Red Line]. For me I'd say it all started from theater."
As for poker, that was something Acevedo, known for his deep raspy voice, discovered just before 2003's poker boom.
"I first picked it up about 2002, and played online," Acevedo told PokerNews. "I had success early and then started playing live. There was a huge learning curve that didn't go my way, and I started losing, so I started reading books, watching poker on TV, and asking questions. You literally learn by losing, you can't get any more honest than that."
In 2006, Acevedo notched his first tournament cash, which was a tenth-place finish in a $230 no-limit hold'em event at the Legends of Poker, good for $1,825. It wasn't a huge score, but it was the first of many. To date Acevedo has amassed $98,850 in tournament winnings, with his largest score of $19,865 coming from a runner-up finish in a $150 No-Limit Hold'em Double Stack Turbo at the L.A. Poker Open in 2013. However, it was his victory in a $75 no-limit hold'em event for $3,200 at the 2012 Winnin' o' The Green in Los Angeles that meant the most to him.
"It did feel good," Acevedo says modestly of the win. "The thing is, most people who play tournament, like a pro, play hundreds of events a year. They play way more than what I play. I haven't played now since January because I've been working. I go months without playing, so I get rusty, but it felt great to win. I don't play as much as everyone else, so for me in my mind, if I played more tournaments consistently, I would have a few more wins, know what I mean?"
So what kind of poker player is Acevedo? He's not quite sure, but he knows what he's not. "You have to figure out what style best suits you because there are many styles that work for certain individuals," he says. "I tried that super-tight aggressive, but it doesn't work for me, especially not in tournaments. You've got to see way more hands, the clock is against you, yadda, yadda, yadda."
With a flourishing acting career and a family, Acevedo doesn't get to play as much as he'd like. As for the World Series of Poker, he's played it in the past but his scheduled hasn't made a return visit feasible. So where does the thespian scratch his poker itch? Perhaps on set with other actors and crew members?
"I can't do it, they don't know how to play [laughs]. It's not fun for me, it's just no fun," Acevedo says. "Can you imagine playing with people that don't know how to play? It's not fun. You want people that are better than you. Professional grinders want to play with amateurs, but for me I want to play with better people so that I can beat them. That's as honest as I can be with you about playing poker."
When Acevedo talks about poker it's clear that what he cherishes the most is the competition, a topic he was more than happy to elaborate on.
"There are a few pros that I've run over when playing, and it's the best feeling," Acevedo says with a big smile. "It's the best because they're supposed to be better than me. When they know I'm an actor, they assume I don't know how to play. They also assume I wouldn't fire in three bullets on a stone-cold bluff, they never assume I would do these things. That's what I love about it. I shouldn't even be telling you this because I'll lose my advantage. It's fun when you get away with it."
Acevedo clearly likes to be pushed by the best on the poker felt, and it's something that extends to his day job. In Dawn of the Planet of the Apes, that came in the form of Oldman.
"When you work with people that are on that level, that are more established than you are, it makes the acting easier," Acevedo says of his costar. "It makes it easier when you have two people who know what they are doing. That's why you want to play with poker players and act with actors that are better than you. When you play poker with people that are better than you, it takes you game to the next level. It's the same thing with acting it makes the acting easier."
As for his role in the Planet of the Apes franchise, Acevedo plays Carver, a former mechanic that finds himself among the human survivor of a virus-ravaged planet (and you thought the apes were the only threat).
"I don't want to say he's the bad guy, but he's definitely misunderstood," Acevedo says of his character. "He basically causes a lot of problems between him and the apes."
As for being a part of such a storied franchise, Acevedo admits: "I've seen every single one. Growing up I was a fan of the original Planet of the Apes, and of course the Mark Wahlberg and James Franco ones. I was a huge fan, and excited to be a human in the movie and not an ape."
However, being a part of such a big production wasn't all roses. When asked about the most challenging part of filming, Acevedo didn't hesitate.
"There was one part for four days where we were in a national park in Vancouver, which is elevated up by 2,000 feet. It's not snowing in Vancouver, but up there it's like 35 degrees and snowing, it's wet. We had on like three layers of clothes, and they had to make us these special thermal suits. We had to be hosed down, soaking wet for four days, 16 hours a day. Let me just tell you brother, I paid my dues. That was brutal."
Speaking of paying his dues, Acevedo has done so with a résumé that dates back to 1996 and includes such roles as Private Tella on The Thin Red Line, Staff Sergeant Joseph Toye in Band of Brothers, Miguel Alvarez on Oz, D.A. Investigator Hector Salazar on Law & Order, Charlie Francis on Fringe, and Mitch Dolgen (the tank operator aligned with the Governor) on The Walking Dead. So will Acevedo ever combine his passions for acting and poker, perhaps by starring in a poker movie?
"Sure, but there are so many actor poker players, they might be ahead of the list," Acevedo says humbly. "Don Cheadle, Ben Affleck, Toby McGuire, there is a big pool to choose from, but yes, I would love to do a poker film, but only if they do it right."
With numerous poker-themed flops – Lucky You, The Grand, and Deal, just to name a few — in the last decade, Acevedo has serious doubts a well-off movie about the game can be made.
"I don't know if a film can actually capture the subtleties and nuances, because isn't that what poker is really about? I've had these conversations with people. It's going to take someone who is a genius with the camera," he explains. "You can get an actor to do what you need him to do, but the camera is going to have to tell the story of what I'm doing, what I'm thinking, and how I'm trying to get you to think I have something other than what I really have. That's the true key of poker, telling the story and making you buy into it whether it's a lie or the truth. I don't know if they'll ever be able to do that."
He went on to add: "Every poker film is about winning money and getting out of a jam, but people know if you break even you are light years ahead of poker. Most poker players can be on the losing side. Why don't we tell that story? That is a more interesting story, and more people will be able to relate to that, even people who don't play poker. Because they relate to what they want and what they don't have."
Catch Acevedo is Dawn of the Plant of the Apes opening on July 11. In the meantime, check out the trailer for the film here:
*Lead photo courtesy of the LAPC.
Get all the latest PokerNews updates on your social media outlets. Follow us on Twitter and find us on both Facebook and Google+!
Executive Editor US, PokerNews Podcast co-host & 2013 WSOP Bracelet Winner.