Poker Player Garrett Adelstein Second Player Voted Off Survivor Cagayan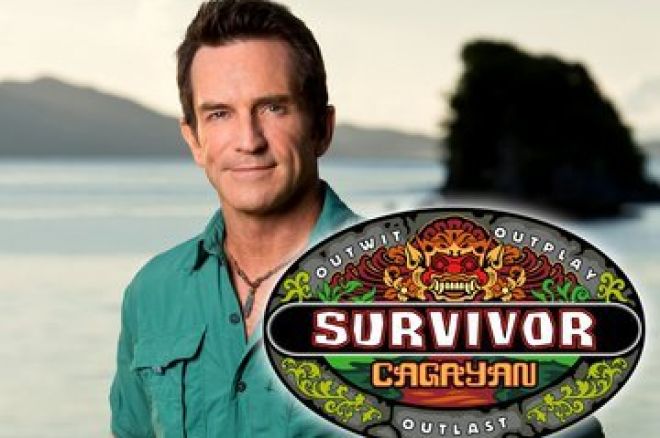 Last night, the 28th season of the hit TV show Survivor kicked off on CBS. The new season takes place in Cagayan — a province in the Philippines — and features 18 new players divided into three tribes based on brawn, beauty, and brains.
The cast for this season includes former NBA player Cliff Robinson, president of the MLB's Miami Marlins David Samson, and 27-year-old poker player Garrett Adelstein.
Being both a poker and Survivor fanatic, I was looking forward to watching Garrett's progress throughout the season. I had planned to write a weekly recap of his gameplay and how it inevitably overlapped with poker strategy, but alas he was the second player voted out in last night's two-hour premiere.
Let's Break It Down
Adelstein follows in the footsteps of noted poker pro Jean-Robert Bellande, who was a contestant on Season 15 of Survivor, which took place in China. Adelstein doesn't quite boast the poker résumé of Bellande, but according to HendonMob he's amassed $122,766 in lifetime tournament winnings including a 24th-place finish in the 2008 PokerStars Caribbean Adventure Main Event for $48,000; 222nd in the 2010 World Series of Poker Main Event for $48,847; and 25th in the 2011 WSOP $5,000 No-Limit Hold'em Triple Chance for $25,919.
Our first introduction to Garrett on Survivor was him being elected by David as the weakest member of the "Brains" tribe, which is ironic considering he was clearly the most physical member of that tribe. In poker parlance, it was a clear-cut case of David identifying the toughest player and attacking him. It's an aggressive move, and one that set the tone for that tribe.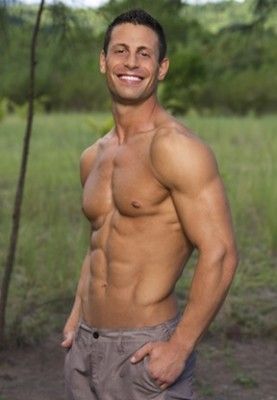 Being singled out, Garrett was immediately flown back to their beach where he was presented with a choice — help his tribe or help himself. If he chose the former, they would begin the game with an extra bag of rice. If the latter, he would be given a clue to the location of a hidden immunity idol.
Garrett realized that everyone was gunning for him, and he made the wise decision to help himself. Like any poker tournament, there can only be one winner and Garrett realized this early on. It was a high-risk, high-reward choice, but in my opinion it was the right one to make.
"Anything I do in my life, I go all in," Garrett said just as soon as he revealed to the cameras that he was a high-stakes poker player. I like a player who goes big or goes home, but as any poker player can tell you, more times than not that approach will get you broke.
Garrett Strikes Gold in the Hidden Immunity Idol
"I've been in situations at the poker table playing for huge amounts of money, and I didn't get stressed out about it," Garrett bragged while trying to locate the idol. Amazingly, he found the hidden immunity idol which — when used properly — is akin to having a rebuy chip when everyone else is firing a single bullet. Being chosen by David seemed detrimental at first, but there was a silver lining for our poker-playing man.
When the rest of the tribe arrived at the beach, Garrett played his cards close to the chest. He welcomed them back with open arms and immediately set about being the workhorse. It reminded me of a short-stacked player recognizing his situation, not tilting, and adapting accordingly.
I was hopeful for Garrett's chances, but then the Brains tribe got blown out in the first immunity/reward challenge. Garrett wasn't responsible for the loss (it was just a pitiful performance all around), though the fact he was singled out at the start put him at risk of being the first voted out.
Garrett's Game Begins to Unravel
It was at this point in the game that Garrett showed his first sign of weakness. The general consensus on the tribe seemed to be to get rid of J'Tia, and given his start Garrett should have been all over that. Instead, he lobbied for David to be the one to go. It seemed to me like Garrett was scorned by David selecting him at the start of the game, and just like in poker, making decisions that are emotionally based is a dangerous thing to do. Why him and David were intent on playing big pots with one another so early on, I do not know. They should have been focused on eliminating the short stacks and laddering up.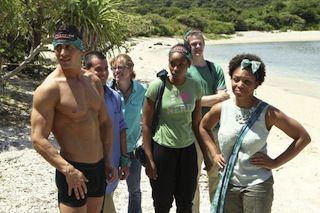 I have to admit, I was surprised at tribal council. Garrett's plan worked and David became the first player voted out. This was a huge move, especially since it happened in the first three days of the game. Not only did Garrett successfully eliminate the one player who was gunning for him, he established himself as the table captain, and with the immunity idol in his back pocket, he was the clear chip leader. It was an exciting start for our man, but just like pulling out to a chip lead on Day 1 of a multi-day tournament, it doesn't really mean much in the grand scheme of things.
Case in point, the broadcast kept its focus on the Brains tribe, and once again Garrett showed signs of weakness. He admitted he wanted to play the game to outwit and outmaneuver his opponents – just like any good poker player would – but he didn't want to play the game to live in the wilderness and survive. He cited tableside food service at the poker tables as an example of the luxury he was accustomed to, and it just seemed as if he was having a tough time dealing with the elements and lack of sustenance.
Strong-Arm Tactics
Garrett then hitched his wagon to Spencer, who in promos was being billed as this season's villain, and the two approached Kass, who was the swing vote in the tribe of five. Garrett seemed demoralized, but at least he was aware of the numbers. The problem was he was at the mercy of other players, a position he could have avoided.
"Do not get confident," that's what Garrett said when his tribe pulled out to a big lead in the second immunity challenge. You have to admire that train of thought; in fact, I'd say that's a maxim for any successful poker player. Not getting overconfident allows you to think logically, and in games like Survivor and poker, that's crucial for success.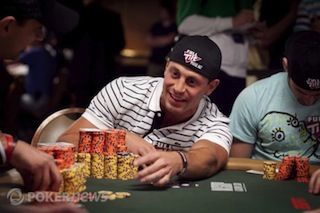 Despite the lead, the Brains blew it and ended up losing once again, though this time it was strictly J'Tia's fault. It seemed like another easy vote, but then conversations began to happen at camp. Kass realized she would need to choose between going with the guys or the girls.
To his credit, Garrett tried to eliminate the short stack this time, though he did so in a peculiar manner. In an attempt to quash strategy talk among the girls, he called an open forum to discuss whom they should vote out (which history has shown is a dangerous move in the game of Survivor). This was another high-risk, high-reward strategy. On the one hand, it was like dictating the terms of a chop, but on the other it pissed off those who weren't used to being told what to do. "Boston" Rob Mariano, who is a poker player himself, adopted a similar strategy. It won him $1 million dollars in Survivor: Redemption Island, but then again that was his fourth time playing the game.
Anyway, that high-risk strategy, well, it makes people hate you and retaliate. J'Tia did just that by dumping out all the tribe's rice. It was like a poker player who had given up, moved all in blind, and then pointed out the strongest player at the table.
"It just brings me to a new rock bottom," Garrett admitted. Clearly it had the effect J'Tia was hoping for. Garrett continued to govern the tribe, but the other players weren't having it. Instead of taking his foot off the gas, Garrett kept the pedal to the metal and before long his strong-arm tactics backfired and he became the second player voted off after all three ladies cast their votes for him.
Conclusion
Some good things happened to Garrett in the first episode. He found the hidden immunity idol, he eliminated his biggest threat, and he established himself as a workhorse. Unfortunately all of that was nullified by his misguided strategy of trying to run over the other players. He fell victim to the classic tournament adage — you can't win it on Day 1, but you can lose it.
Had things went his way in the last vote, he would probably have made a deep run; instead, he was the second to go with an unused hidden immunity idol.
"I was so blindsided, and I left a hidden immunity idol just sitting at camp, dug up that I didn't even bring because I was so sure that I knew what was going to happen tonight," Garrett said in his post-elimination interview. "It's really embarrassing in a lot of ways. Really, really embarrassing."
Lots of love to my family, friends, and supporters. The dread/embarrassment I assumed this moment would bring ceases to exist because of you

— Garrett Adelstein (@GarrettAdelstei)
Even though his time on Survivor was short lived, I expect we'll be seeing more of Adelstein in the poker world. He's already said he will be at this year's World Series of Poker (which he had to miss last year when filming the show), and he's now an instructor at Phil Galfond's Run It Once site under "G-Man."
For more on Garrett, check out the interview he did with PokerNews before the start of the season.
*Survivor photos courtesy of CBS.
Get all the latest PokerNews updates on your social media outlets. Follow us on Twitter and find us on both Facebook and Google+!