Alec Torelli: It's a Small World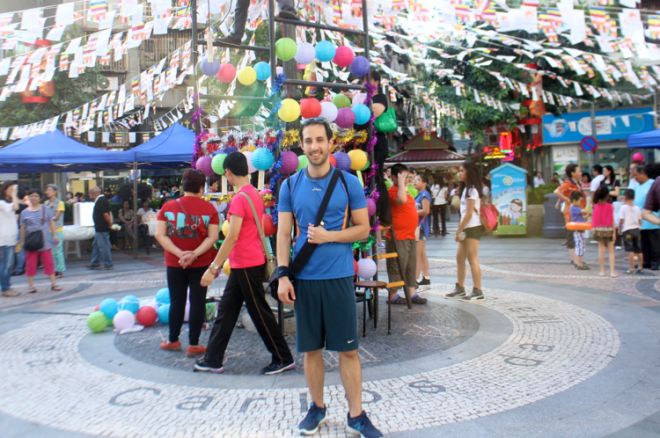 Alec Torelli is a poker professional originally from California, but regularly travels the world. Torelli has over $1.5 million in live tournament earnings and over $500,000 in online tournament earnings. On his record are two World Series of Poker final tables and two World Poker Tour final tables. You can follow Torelli on Twitter, through Facebook, or via his popular blog.
Life in Macau is convenient: the gym and pool are in my complex, the grocery store delivers, and the office (Wynn poker room) is just 100 meters away. As a result, the majority of my time here could be spent within a small radius; I could never leave the casino neighborhood and still avail myself of all the comforts I need.
Doing this though, I wouldn't know anything about what Macau really is; about how its society actually works. Going out and exploring its most remote corners makes me feel comfortable and proud to call this place home.
Just something as simple as strolling around the areas where the real Macanese people live, away from the touristy streets and the luxurious malls, is truly eye opening. It always saddens me when I travel to tournaments and see players spending all of their time in the casino or in their hotel room. It feels like they're missing the biggest opportunity that poker gives them; experiencing the variety of the world like very few can do.
During the preparation for Mid Autumn Festival, for example, I went to the Red Market District. Kids were playing soccer in the streets, all littered with lanterns and vendors selling all sorts of street food. Monks were giving away moon cakes (a typical Chinese pastry made with lotus seed paste and egg yolk), and groups of teenagers were trying to get me and Ambra to try their traditional fish ball bowls.
Too many times I've used the language barrier as an excuse to avoid the interaction with the people. Because of the effort required in structuring a basic concept with my rudimental Mandarin, it's easier to point at what I want with my fingers and just go through the motions, without really acknowledging anyone. But to do so is wrong; it takes the humanity away from one another. The more I see of the world, the more I realize how similar everyone truly is. How we're all just trying to live and love. How, except on the surface, the guys hanging out at the fish ball stalls are really no different than me.
To check out some videos about your well-being as a poker player, check out the Stay Stacked series right here at PokerNews.