All Mucked Up: The Millionaire Maker, Karma and Some Onesies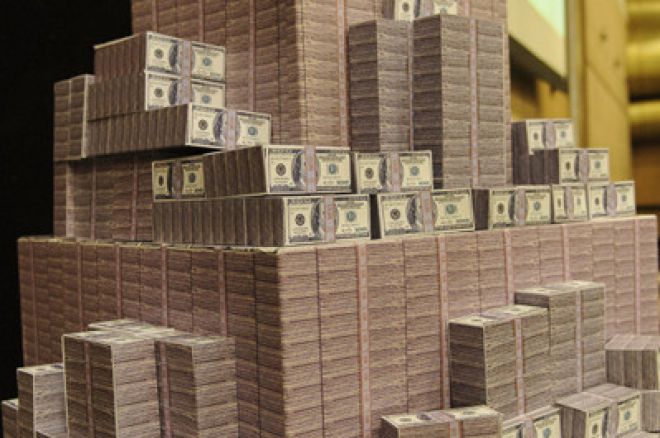 The World Series of Poker is committed to bringing back the fun this year, and PokerNews is here to help. All Mucked Up will be bringing you all the happenings on and off the felt from inside the Rio, as well as around town.
The Millionaire Maker
Saturday will find the return of the Millionaire Maker to the World Series of Poker schedule. Twitter and Instagram feeds are filled with pictures of receipts, players selling pieces and dreams of winning #justonetime.
Last year, the record-breaking field produced 6,343 players all vying for the guaranteed first-place prize of $1,000,000. Predictions from Twitter on tomorrow's turnout range from the mid-3,000s to the high-7,000s. Can the field break another record? We'll have to wait and see.
If you plan on playing tomorrow, you may want to try and buy-in as early as possible. If it is anything like last year, you can expect long registration lines. Use the hashtag #MillionaireMaker so we can follow along. Who knows, you might just make the news.
A few of our favorite tweets:
@AFeldmanESPN @wsop Let him who hath understanding reckon the # of the beast for it is a human number, its number is Six hundred&sixty six."

— Fandyman (@AndrewNeis)
In case you didn't know, the $1,000,000 first-place prize is 666 times the $1,500 buy-in.
My @Uber driver just guaranteed me that I'm winning the @wsop #MillyMaker so it looks like the rest of y'all are playing for second.

— Josh Hale (@red_stagg)
Gotta my $1500 lottery ticket for tomorrow. Good Luck to ME!!! #WSOP #MillyMaker http://t.co/RQWqksEjoj

— The Saurus (@TheSaurus831)
Karma Must Exist
By now, you probably heard that Vanessa Selbst was heads up with Jason Mo for a bracelet in The $25K Mixed-Max Event. Prior to the restart the event, Selbst tweeted:
Thank you all for all the support. Riding some good vibes here and feeling great. Plus if karma exists then I'll win for sure!

— Vanessa Selbst (@VanessaSelbst)
It turns out there is a little history between Selbst and Mo going back a few years, when Selbst and Mo were at the same table in The Ladies Event in 2012. Selbst ended winning her third bracelet earlier today, proving Karma indeed exists.
Today's win ties Selbst with Barbara Enright for the most bracelets by a woman in an open event. Joining Selbst in the winner's arena today is Brandon Shack-Harris, who won his first bracelet in the $1K PLO Event. Selbst and Shack-Harris are friends and were tweeting good wishes to each other. It's good to have friends, especially ones with Karma on their side.
Another huge GL to @Oscillator_WSOP in the PLO -- one of the nicest guys I've met in poker. Rooting hard for ya, buddy.

— Vanessa Selbst (@VanessaSelbst)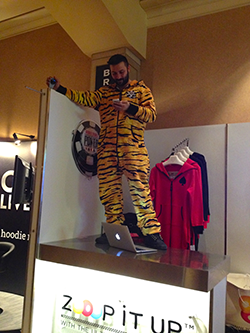 Are Onesies The New Hoodie?
Many of you are familiar with the WSOP's love of air-conditioning. Even so, every now and then hoodies are forgotten and people frantically run to the gift shop to buy something to keep them warm in the frigid corners of the Amazon room.
This year, you have an additional fashion choice to warm you up: An adult fleece jumpsuit, fondly known as "the onesie." These comfortable garments aren't just for bedtime anymore and they are making a splash in the halls of the Rio. Now, you too can get in on the new fashion trend by visiting the ZOOOP iT UP booth.
We encourage everyone to get involved with "The Muck." See something you think is Muck-worthy? Send us a tweet! We accept all media, including photos and videos.