Breaking Down the Madness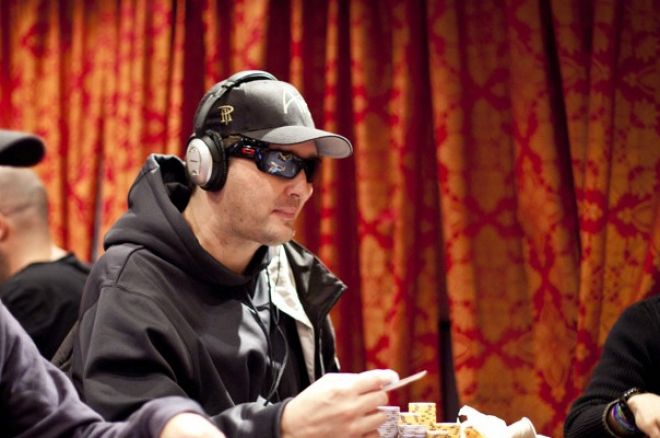 One day of voting is in the books, but we're still a long way away from crowning a champion in the PokerNews Fan Bracket (PFB). If you haven't already voted, head over to our Facebook page and let your voice be heard. Daniel Negreanu voted on all 16 of the matchups, and you should too!
Which Cinderella team has the best chance of making it to the championship game?
In the last decade, both VCU and George Mason have reached the NCAA Final Four, and I think that at least one double-digit seed will make it to the championship game of the PFB, possibly two. Currently, No. 16 Phil Hellmuth is edging out No. 1 David "Doc" Sands by more than a dozen votes. However, even if Hellmuth advances past Sands, he's going to have a very tough second-round matchup against Allen "Chainsaw" Kessler (Don't think he's popular? He has his own music video), and the two seed in that bracket is an extremely popular player; Vanessa Selbst.
If any double-digit seed is going to make a deep run, it's going to be Daniel Negreanu. Negreanu has a tough road, as well. (Chris Klodnicki is his first-round matchup; then he'll potentially have to beat Jonathan Duhamel and Bertrand "ElkY" Grospellier back-to-back just to reach the Round of 8), but he's arguably the most popular player in the game, despite his low seeding. If Negreanu can win his first three matchups, then I don't see anybody beating him until the championship game.
Which non-American player will go the furthest
When I was drafting the bracket, I was interested to see where Sam Trickett, Jake Cody, and Chris Moorman would land, because those three are going to have a massive amount of passionate supporters. Where Americans tend to choose which American players they like, the English tend to support one another. Every time a Brit makes a final table of the World Series of Poker, a party breaks out, and every other pro from across the pond is there for support.
Unfortunately, both Trickett and Cody will have to defeat Jason Mercier and ElkY, respectively, if they want to advance to the Round of 16. And, even if Cody defeats ElkY, he'll most likely have to defeat Negreanu the next round. That's going to be tough.
That leaves Moorman, who is in the most manageable bracket of the four. It has the weakest No. 1 seed (Shawn Buchanan is an incredible poker player, but does he have a fan base?), and only two "big name" players stand in his way; Sorel Mizzi, and David Williams. I think the English voters will be in full force, and we'll see Moorman make a deep run.
---ReadMore---
What matchups do you want to see?
Well, the first matchup I wanted to see was Phil Ivey vs. anybody. But no at-large bids were given (this year), so scratch that. There are three potential matchups that pique my interest:
Daniel Negreanu vs. Matt Glantz (Round of 8)
Both Negreanu and Glantz are seen as great ambassadors, but only one would advance to the Round of 4. And believe me, both players would want to win, despite how much respect they have for one another.
Faraz Jaka vs. Jason Mercier (Round of 16)
If there's anybody who can sneak up and defeat Mercier, it's the crazy shirt-wearing, caster-board–riding, arm-band–sporting man named Jaka.
Martins Adeniya vs. Chris Moorman (Round of 8)
I didn't mention Adeniya with the other Brits because he's not as well-known, but there's an outside chance that he can navigate his way to the Round of 8 to face Moorman. This matchup would guarantee that at least one English player would make the Round of 4.
Allen Kessler vs. Dwyte Pilgrim (Championship)
One time? Seriously though, both of these players (especially Kessler) can rouse up some votes and challenge anybody in the tournament. In fact, I have Kessler making the Round of 8 in my bracket.
Yes, I filled out a bracket.
Who's going to win the whole thing?
I've attached my entire bracket below. This was filled out before the first-round of voting began, and instead of choosing my favorite players, I picked the matchups based upon what I thought the voters would do.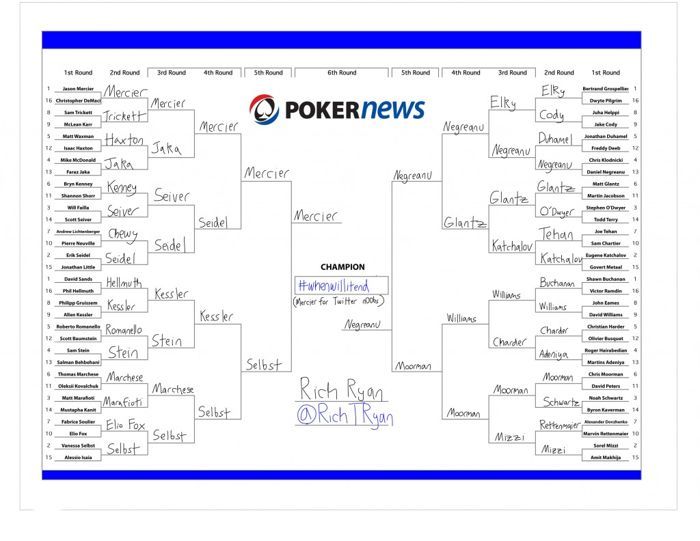 Want to fill one out too? Just print out this blank bracket and have at it. Tweet a picture of it to @PokerNews, and we'll retweet it for the world to see!
Let's get serious. Who's going to win the actual NCAA Tournament?
My final four consists of Kentucky, Missouri, Vanderbilt, and North Carolina, and I have Kentucky defeating North Carolina in the championship game. The only thing I'm certain of is that either Vanderbilt or Florida State is going to win the East Regional. Syracuse is a mess and could've already been eliminated had it not been for some awful officiating.
Follow PokerNews on Twitter for up-to-the-minute news.