Life On the Road: PokerStars European Poker Tour Prague Part II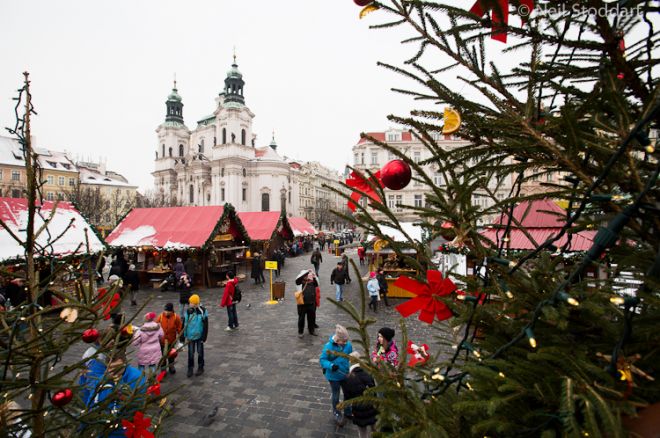 Last week, I told you about my first day in the Czech Republic for the Season 9 PokerStars.net European Poker Tour Prague. That piece actually documented the day before the Main Event, which I used to do some of the more touristy stuff in the city and attend the EPT Prague Welcome Party at Duplex Nightclub; however, since this is PokerNews, I thought it prudent to take a look at the poker action from the EPT PRague.
The festival, which overlapped with the Estrellas Poker Tour, was held in the Casino Atrium of the Hilton Prague in the heart of the city. The venue was spacious, and it needed to be in order to accommodate a record 864-player field, which was 142 players more than the previous year when Germany's Martin Finger captured the title. This was the third EPT I was covering, the others being Barcelona and Sanremo earlier in the season, and Prague's venue was by far the best. It was easily accessible, commodious, and had all the action in one room. What's more, the hotel was right across the street from a grocery store and numerous restaurants, and believe me when I say that's a big deal for players and media folk alike.
The EPT Prague started off like the dozens of other tournaments I covered, but it soon set itself apart not only by the sheer size of the field, but also by its quality. Obviously, Europe's best were in the house, but so were some online stars who rarely come out from behind their computer screens. In this case, it was Ignat "0Human0" Liviu and Gavin "gavz101" Cochrane, both of who I assumed qualified for the EPT Prague Main Event on PokerStars.
These two guys play the nosebleeds on a consistent basis and are very well respected in the poker community. To give you an idea, take a look at what Phil Galfond had this to about the photo of Liviu (below) I posted to Facebook: "My favorite hold'em player is praised by my favorite editor from the live coverage of PokerNews." While I was flattered by the kind words directed at me, I was even more impressed that one of the most respected players in the world was saying Liviu is his favorite hold'em player. What a compliment!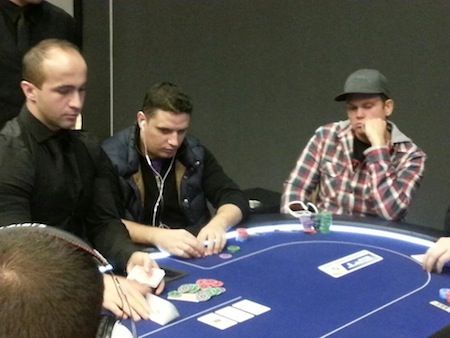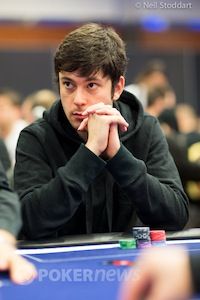 While watching dozens of pros do what they do is entertaining, during the early stages of the tournament, most of them inevitably fall to the wayside. When play was down to the final three tables, I saw some of the craziest hands I'd ever seen in my years of tournament reporting. Not only were the hands outlandish, they occurred at a crucial point in the tournament. Imagine making it deep, putting yourself in a great position for an EPT title, and then suddenly it's snatched away from you by a two outer on the river!
That's exactly what happened to Mads Amot when just 19 players left. Here's a look at the said hand from our Live Reporting Blog:
We just witnessed perhaps the most brutal beat of the tournament, and certainly the most emotionally charged.

It began when Mariusz Klosinski opened for 50,000 under the gun and Mads Amot called from the button. Both the blinds got out of the way, and it was heads-up action to the flop. Klosinski continued his aggression with a bet of 75,000, and then called when Amot raised to 210,000.

When the turn, Klosinski slowed down with a check and Amot bet 275,000. Klosinski, who held the bigger stack, took his time before moving all, and Amot leaned back in his chair. He had approximately 700,000 behind and tanked for 90 seconds before quietly announcing, "I call."

Klosinski tabled for a pair of kings, and Amot proudly slapped down for a flopped set. The Norwegian was a huge favorite to double to 3 million, but poker can be cruel as the spiked on the river. Klosinski had hit his two outer to steal the pot.

Amot was dealt a crushing blow, and all around could fell his disappointment. He immediately shot away from the table and kicked a nearby chair in angst. He also shouted to no one in particular while Klosinski was vocally celebrating at the other end of the table. Amot wasn't upset as his opponent so much as the unfortunate turn of events.

Amot vented a bit more off to the side, and then composed himself enough to return to the table and shake hands with the remaining players, Klosinski included. With that emotionally charged elimination, Amot has become out 19th-place finisher.
It was a great call by Amot, but Klosinski, who went on to bubble the final table, hit his two outer to steal the pot. Pretty sick, but I think I was even more stunned by Andreas Berggen's elimination in 11th place. He was just three spots away from an EPT final table when the following happened:
Andreas Berggren has been eliminated in a cruel blind-vs-blind confrontation.

A preflop raising war broke out between Berggren and Aleh Plauski that resulted in Berggren being all-in and a 3,676,000 pot being created! Berggren showed and was way in front of the of Plauski — but it would not stay that was for long.

The dealer put out the flop, gifting Plauski quad deuces — the second set of quads we have seen today! The turn and river completed the hand and Berggren headed to rail with an almighty bad beat story to tell his friends.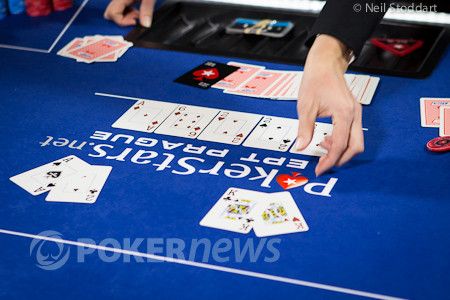 Those were just two examples of wild hands I witnessed throughout the tournament, and to say there was some great poker action would be an understatement.
For a look at various EPT Prague Preliminary Events results, click here.
While I watched most of the action, I did have once chance to actually play — the EPT Prague Media Event. After finishing runner-up to PokerNews' Editor-in-Chief Donnie Peters in Sanremo, I was intent on taking down an "EPT title". Once again I had a bit of success, making my second consecutive EPT final table, but unfortunately my run was cut short in ninth place. I started the final table as the short stack, and on the very first hand an unknown player opened, former MMA star Heath "The Texas Crazy Horse" Herring moved all in, and I called off my stack from the big blind with
. The original raiser called with
to put both Herring, who held
, and I at risk, but the
flop put a quick end to any suspense. I was hoping to eliminate Herring so I could say I "knocked out" an MMA fighter, but I had to settle with being a part of the double KO by his side.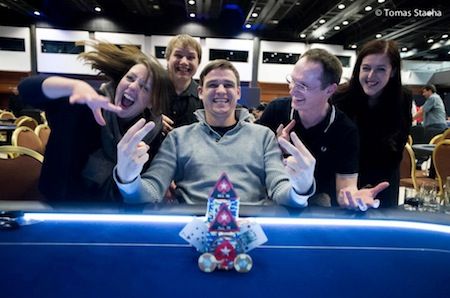 Finally, I'd be remiss if I didn't mention the €10,000 High Roller event. The tournament wasn't supposed to attract a huge field (PokerNews wasn't slated to cover it at first), but then a remarkable 113 entries generated a prize pool of €1,107,400. I won't go into too many details other than to say it drew a star-studded field and was won by German Marvin Rettenmaier, who took down the €365,300 first-place and continued his unbelievable year, which you can read about in Rich Ryan's latest Five Thoughts piece.
All in all, Prague was one of my favorite stops I've ever had the pleasure of covering. The weather was cold, but that's what I'm used to being from Wisconsin. Toss in good people, delicious food, and great poker action, and it all made for a great week. The EPT really is a premiere tour, and I look forward to the next stop in February — EPT Deauville.
Get all the latest PokerNews updates on your social media outlets. Follow us on Twitter and find us both Facebook and Google+!