Life On the Road: PokerStars European Poker Tour Prague Part I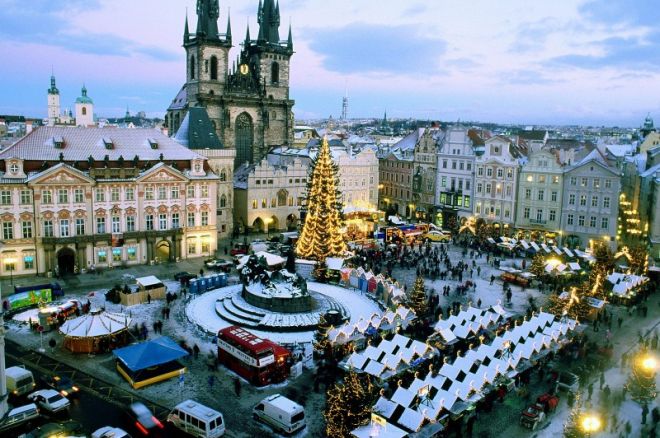 Working for PokerNews has afforded me the opportunity to see some wonderful places; however, it wasn't until earlier this year that I got my first taste of Europe when I had the privilege of covering the first stop of the European Poker Tour Season 9 stop in Barcelona. I followed that up with the World Series of Poker Europe in Cannes, France and the EPT Sanremo in Italy, but I must admit, I was most excited for my visit to Prague, Czech Republic, for the third stop of the EPT9.
One of the best parts about being a poker player, and in my case a member of the poker media, is getting to travel and experience striking locales. Granted, most of the time we're cooped up in either a hotel or casino, but every once in awhile you can make the most of your visit. That's exactly what I did by arriving in Prague a day early to tour the city, an experience I would like to share with you. I shall spare you the boring travel details and jump right into the good stuff.
On Monday, Dec. 8, I awoke early, knocked out some work, and ate breakfast with PokerNews' (Kristy Arnett, Sarah Grant and the cameramen before embarking upon a tour of the city. I was excited even more because I had arranged for Hana Čermáková, who had previously worked for PokerNews Czech Republic, to show me around. I'd never actually met Hana in person before, but she was kind enough to take time out of her day to be my personal tour guide.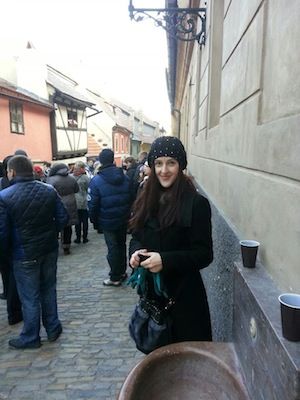 After an awkward meeting in the hotel lobby where I bungled the old kiss-on-the-cheek greeting (I never know when to do it), we braved the cold and headed to the subway, which was to take us to Prague Castle. That's where the kings of Bohemia, Holy Roman Emperors and presidents of Czechoslovakia and the Czech Republic have held their offices throughout history. It's also where the Czech Crown Jewels are kept.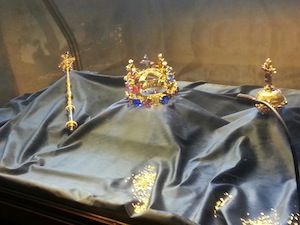 Prague Castle, which is set on a hill alongside the Vltava River, is the largest medieval castle complex in all of Europe. Believe me when I say, it's huge! The vaulted ceilings in the various halls and churches could have comfortably housed giants, and the sprawling grounds provided both wanderlust and the perfect opportunity for a walkabout.
Hana and I strolled about the compound for hours, along with hundreds of other visitors, and took in sights that included quaint shops, splendid stained-glass windows and the hourly Changing of the Guard at the front gates where we caught the special noon ceremony. All the while, I had an occasion to become familiar with Hana, who I soon discovered was easygoing, wise, and a fan of both Game of Thrones and the Big Bang Theory. Needless to say, it didn't take long for our loose affiliation to grow into a genuine friendship.
After leaving the castle, we headed to the Old Town via Charles Bridge, Prague's 600-year-old signature landmark that spans the Vltava River. The 621-meter-long bridge, constructed in 1357 under King Charles IV, is ten meters wide and lined with baroque statues of 30 religious figures. It was during our passage over the bridge that I became caught in a moment. It struck me that I, a small-town kid from Wisconsin, was crossing a bridge that had accommodated millions of travelers over the centuries. To think that the bridge was there before Columbus even discovered America, well, let's just say it was a powerful moment for a history major like me.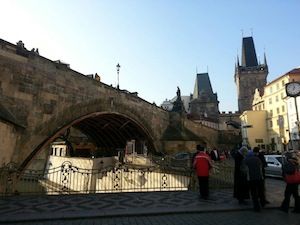 Upon reaching the eastern shore of the Vltava, Hana and I headed to Old Town Square, which dates to the 12th century. There we checked out the Gothic and baroque architecture, the Astronomical Clock, and the various yuletide stalls, including one that served Trdelnik. Hana explained to me that Trdelnik was a tube-like sugary treat — think of gigantic Bugles — served only during the holiday season. It was also in the Old Town Square that we grabbed some goulash for lunch, which was delicious but very different than what my grandmother used to make when I was a child.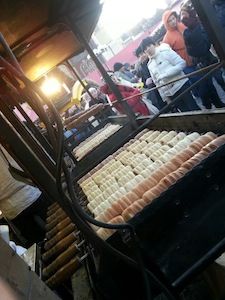 After strolling through the city a bit more, Hana and I returned to our hotels and prepared for the EPT Welcome Party at Duplex Nightclub that evening; however, before that I headed to a pub down the street to join what I consider to be the "British Mafia" of the poker media — Marc Convey, Matthew Pitt, Stephen Bartley, Rick Dacey and Howard Swains. All of those men have extensive experience in the poker world and no shortage of stories.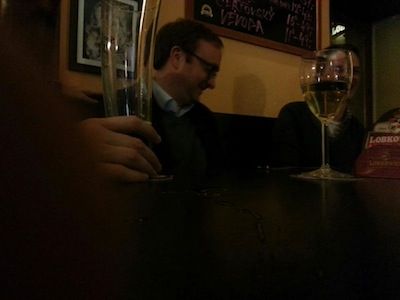 One of those stories, told to me by Dacey, involved the aforementioned Astronomical Clock, which I had seen just hours earlier. Dacey wasn't sure of the story's authenticity, but he had heard that way back in the day, a famous clockmaker had constructed the timepiece and promptly had his eyes poked out by Prague officials who didn't want him to replicate the clock anywhere else. Understandably upset, the clockmaker instructed his protégé to destroy the clock under the cover of night, knowing full well that no one was capable of fixing the clock. Apparently his instructions were followed, and that's why the Astronomical Clock is as funky as it is.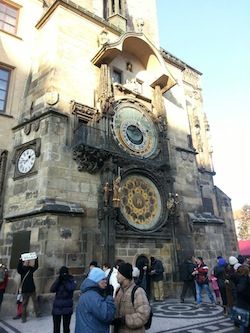 After checking off "Drinking with Englishmen" from my bucket list, our entourage hopped an overpriced cab to the party where we encountered a overabundance of notables including EPT4 Prague champ Arnaud Mattern, Team PokerStars Pro Jason Mercier, World Poker Tour champ Matt Waxman, former MMA fighter Heath "The Texas Crazy Horse" Herring; stars of the Travel Channel's I Bet My Life, Kevin MacPhee and Liv Boeree; and, of course, the entire PokerNews team.
It was a rather relaxed affair as far as parties go, but everyone had a good time. Unfortunately, most attendees, myself included, called it an early night to be fully rested for the Main Event the following day. While I wish I were playing, I was content to report the action for those at home, and doing so, required just as much rest (if not more) as the players need — after all, we bloggers are there an hour before play begins and stay about an hour after it has ended. In other words, we invest more time in a tournament than the winner does, and that proves wearisome.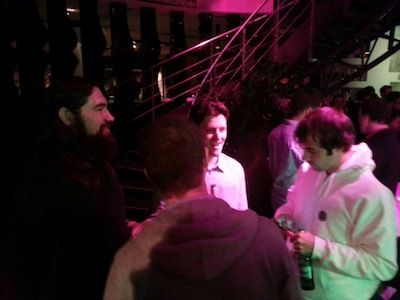 Days like my first in Prague — where I learned that hot wine is awesome on a cold day, goulash isn't what my grandma said it was and Trdelnik is one delicious sweet treat — are few and far between. I'm already looking forward to the next time, but that first day in the Czech Republic will more than suffice for a while.
The EPT9 Prague Main Event is in full swing, and you can follow the live updates right here on PokerNews. Just click here to for all the action. Also, be sure to check The Muck after the Main Event's completion for Part II of the EPT Prague Life on the Road.
*Lead picture courtesy of 1.bp.blogspot.com.
Get all the latest PokerNews updates on your social media outlets. Follow us on Twitter and find us both Facebook and Google+!