What the Pros Think: Unlimited Re-Entries at WPT Five Diamond World Poker Classic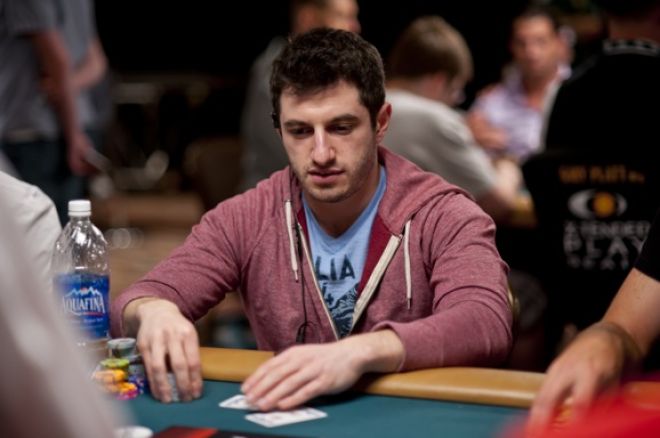 Twitter has quickly become the main source of digital debate. It is the safe haven of exchanged words without having to dispute face-to-face but still getting points across and stirring buzz with various topics.
This week, a major Twitter discussion among poker players is the reentry format at the $10,000 buy-in World Poker Tour Doyle Brunson Five Diamond World Poker Classic. For the first time, players can reenter the prestigious event after being eliminated and can do so as many times as they wish before the end of Level 8. Former WPT champ Curt Kohlberg fired three bullets on Day 1 alone.
Two participants in the heated topic were poker pros Matt Glantz and Vanessa Selbst, both of whom provided compelling arguments and giving players enough ammo to form opinions.
Stop complaining. No rule that u have to play every event. Make ur voice heard by choosing to play only the events u like u dummies!

— Matt Glantz (@MattGlantz)
@MattGlantz normally I agree with you but here I don't. Problem is almost every WPT is now a re-entry and its terrible for poker longevity

— Vanessa Selbst (@VanessaSelbst)
@VanessaSelbst how many times have you re-entered more than once in a day in a main event? I am guessing zero.

— Matt Glantz (@MattGlantz)
@MattGlantz the festa 10k that JUST happened I bought in 4 times, 3 in day 2. So, the last 10k. & then went pretty deep before punting!

— Vanessa Selbst (@VanessaSelbst)
@VanessaSelbst You would like to see 1 re-entry per starting day, 1 re-entry total, or no re-entry at all?

— Matt Glantz (@MattGlantz)
@MattGlantz personally I think no re entries is far better for everyone in the long term

— Vanessa Selbst (@VanessaSelbst)
PokerNews caught up with some players at Bellagio this week to get their take on the issue.
Phil Galfond: "It's something that definitely makes tournaments tougher and maybe bad for the game, but I think any tournament should be allowed to have any structure they want, and players can either play or not play."
Matt Giannetti: "Whenever it will increase the prize pool, I like it. It also encourages players to take more risks early, which you can choose to take advantage of or you can choose to be one of the players that has taken more risk with a reentry. I really don't have a problem with it at all."
Thomas Marchese: "I prefer rebuys in tournaments like this. I mean, right now while American poker is kind of dead and there aren't huge prize pools, it's really good if you have tournaments with reentries because you get 400-500 people instead of 300. I'd rather keep rebuys."
David "Doc" Sands: "I think it's probably bad for the longevity of poker in the long run just because the good players are going to win more money more often and the bad players are going to lose more money more often. From a self-interest standpoint, I like it because I am prepared to fire as many bullets as I need as it gives me a better chance to win a tournament. I think my equity in a tournament is bigger than my chip equity because I think I have an edge on the field, but if I bust and rebuy for $30K chips for $10K that might instantly be worth $13K to me by factoring the scale. So basically, from a long-run prospective I don't think it's good for poker but from a self-interest, I don't mind it."
Justin Young: "I don't really have a huge opinion on it. In the long run, it's a bad thing because it will make a lot of players go broke quicker."
Carlos Mortenson: "I really like the rebuy system because you always have another chance, like me today. I'll buy in again."
When asked, Selbst declined to comment.
Follow PokerNews on Twitter for up-to-the-minute news.