Not Like a Boss: Finishing Runner-Up in the EPT Sanremo Media Tournament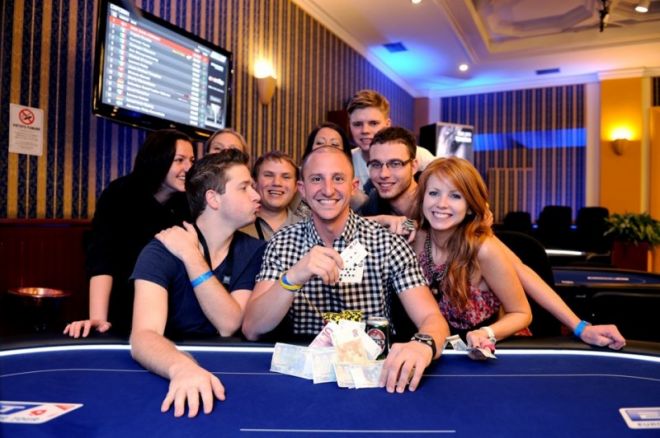 Have you ever wanted to put your boss in his or her place? I recently had the opportunity to do just that in the Season 9 European Poker Tour Sanremo Media Tournament — but I failed to take advantage. Instead, my boss, Donnie Peters, shamed me with a runner-up finish and went on to capture the title and accompanying €460 prize. Not only that, he got bragging rights, and that's what it was really about.
Before I talk about Donnie's incredible run of luck, let me set the stage. EPT Sanremo, which takes place on the Italian Riviera, was my second visit to Europe in as many months. I went to live report the Main Event for PokerNews, and usually live reporting gigs are all work and no play. With that said, the EPT knows and appreciates all the media's hard work and rewards us with a Media Tournament at most stops.
Such events, which are scheduled when everyone is free, are either freerolls or feature a low buy-in, and they're more about getting to know your colleagues outside the media room than winning paltry sums of money. No one takes it too seriously; instead, everyone discards their inhibitions and enjoys drinks and laughs. That was the case on Monday, Oct. 8, 2012, at the Casino Sanremo when the €20 buy-in Media Event took place.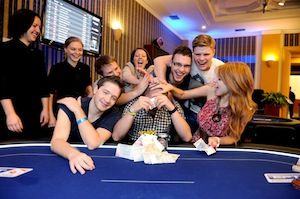 The tournament attracted 39 players, which included an eclectic mix of media such as local Italians, the PokerStars Blog team, photographers, videographers, etc. Representing Team PokerNews were myself and Donnie, as well as bloggers Emilis Pakenas, Josh Cahlik and Marc Convey; hostesses Lynn Gilmartin and Sarah Grant; and PokerNews.NL's Frank Op de Woerd. We wanted to represent, but there was also quite a bit of foolish pride on the line to be the last PokerNews player standing.
Players began with 4,000 in chips and there were four starting tables. I ended up being seated at the same one as Lynn and Josh, with the latter being to my direct right. I got off to a hot start by eliminating Lynn with
when she moved all in holding
on a
flop. It was a turbo tournament with the blinds going up every 15 minutes, so I don't blame her for taking a chance. Plus, it was still within the rebuy period, so I didn't feel too bad.
I continued to run well and built a big stack, which allowed me to survive the rapidly increasing blinds and antes. Cahlik fell a short time later, also at my hands, but not before I three-outed him on the river in one memorable hand. I don't recall the preflop action, but I do know I held
on a
flop. He check-called a bet, and then we both checked the turn, which was a blank. The
river completed my straight and Cahlik check-called a bet of 900. I had no idea he held
and had flopped the nuts with the nut redraw. Talk about getting lucky.
Eventually I made the final table and had my sights set on finishing in the money, which was the top six. My stack dwindled a bit, but then I hit some cards at the right time and coasted into the money. It was there that an interesting hand developed against PokerStars PR magician Scott Collins, who I had observed raising without looking at his cards earlier in the tournament. He put out a big preflop raise, and I was 100 percent sure he hadn't look at his hand. I picked up
and put in a three-bet, and then action folded back to Scott. We had both been drinking and I couldn't help but laugh. "I know you didn't look at your cards," I told him. Maybe he didn't believe me, but I was the one who couldn't believe what happened next — Scott moved all in, and he still hadn't looked. I was second in chips with five players left and he was third, so it was a huge pot. I'm glad to say his
did not improve.
Shortly thereafter, Donnie eliminated two players in the same hand and we were heads up. I held a 2-1 chip lead and could taste victory. Neither of us wanted to chop, there was just too much pride on the line. He may run the show off the felt, but this was my chance to show him who the real boss was at the poker table.
I managed to cut Donne's stack in half with my superior play before he moved all in with
and I called with
, making me a 59.69 percent favorite according to the PokerNews Hand Calculator. I got it in good and was safe on the flop, but then a
on the turn gave DP the lead and his first double. I was still up 2-1 when I raised with
and he moved all in. I decided to go with it and was ecstatic to see I had his
crush; in fact, the PokerNews Hand Calculator says I was a 68.66 percent favorite to win the hand and the tournament. Unfortunately the luckbox caught a
on the flop and doubled into the chip lead.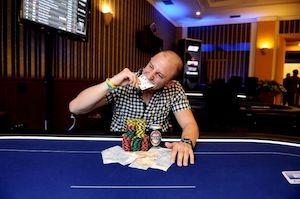 Now I was playing from behind and saw a flop of
holding
. DP checked, I bet, and then he check-raised all in. I decided to go with the open-ended straight and was up against DP's
. Unfortunately I didn't get there and Donnie became the media champion, notched his first cash since 2010, and got to pose for the winner's photo.
Of course I wanted to win, but if it wasn't me I'm glad it was DP. We like to give each other a hard time, but I figure he'll be hard pressed to talk too much smack knowing he put his money in bad on two occasions and sucked out. Plus, we had swapped 10 percent so he had to fork over a little extra dough. It was definitely a highlight of the trip, and one day I'll assuredly have my revenge.
European Poker Tour Season 9 Sanremo Media Tournament
| Buy-in | Entrants | Rebuys/Add-ons | Prize Pool |
| --- | --- | --- | --- |
| €20 Entry | 39 | 21 | €1,200 |
| Place | Player | Country | Prize |
| --- | --- | --- | --- |
| 1st | Donald Peters | USA | €460* |
| 2nd | Chad Holloway | USA | €300 |
| 3rd | Antonio Sapio | Italy | €200 |
| 4th | Frank Op de Woerd | Netherlands | €100 |
| 5th | Scott Collins | England | €80 |
| 6th | Neil Stoddart | England | €60 |
* - For his win, DP also earned a €50 EPT Concierge gift certificate. For Season 9, EPT Concierge is there to help players find just about anything you need on tour. The service can set you up with almost anything you need while at an event, so take advantage of it. As examples, EPT Concierge can help you book restaurants, tours and activities, spa treatments, golf outings, VIP night club service and hotels. For more information, send an email or call one of the team members at info@eptconcierge.com or (0034) 93 352 10 10.
Get all the latest PokerNews updates on your social media outlets. Follow us on Twitter and like us on Facebook now!