Pigskin Diaries: A Super Rematch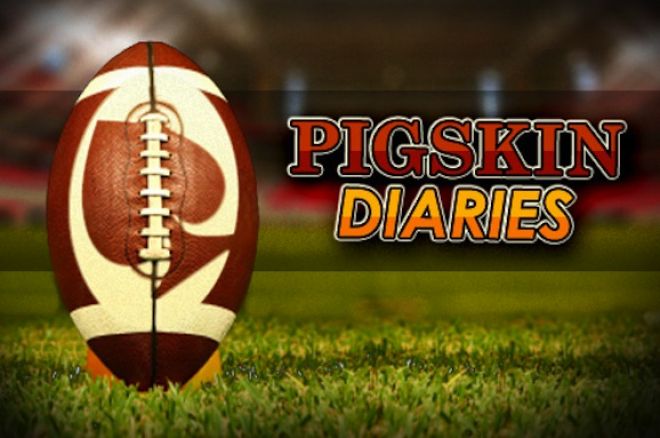 When I was in high school, a good friend of mine, Tim, suggested I start reading Bill Simmons' column on ESPN. I obliged and soon became fascinated with his Friday columns because he picked every National Football League game against the spread. It was during that same time period that Tim, I, and a handful of our closest friends began playing poker. We were thirsty for action, even if it was only for five or ten dollars.
Enter sports gambling.
The first game I ever wagered on was the 2006 BCS National Championship Game. Tim had the University of Southern California (-7.5), and I was on the University of Texas Longhorns (+7.5). Texas won outright in a thrilling game, and I shipped a crisp $20 bill. Time to party.
Nearly a month later, the Pittsburgh Steelers were set to take on the Seattle Seahawks in Super Bowl XL. Pittsburgh, the sixth seeded team in the AFC, was favored by four points, and Tim and I decided that Seattle was the right side. It's a good thing neither of us knew how to bet online (yet), because the Steelers won 21-10, covering with ease.
Over the next six years, I, like Mr. Simmons, picked every single NFL game against the spread. During the first few seasons, I would select a side in each game and simply list my picks on AOL Instant Messenger or in a Facebook note. I then graduated to my own blog, where I elaborated on the picks, and now, because the editors here at PokerNews are apparently crazy, you can read my picks on one of the most popular poker websites in the world.
Unfortunately, despite never finishing a season under .500 ATS, I have never picked the Super Bowl correctly.
---ReadMore---
Never.
0-6. I can't even break even until 2017, and that's assuming I pick six consecutive winners. How depressing is that? Should I just stop picking after the Conference Championship games?
Remember Paul the Octopus from the 2010 FIFA World Cup? He was a perfect 8-0 picking winners straight up, AND HE WAS A FREAKIN' OCTOPUS! Maybe I can become famous for being an anti-octopus. Maybe I can officially seal the deal with a kiss of death. That sounds devious and fun at the same time.
Before I make the wrong pick give you my selection, let's take a look at the most degenerate, yet enjoyable part of Super Sunday; the prop bets.
1. How long will it take Kelly Clarkson to sing the National Anthem? Under 1 minute 34 seconds (-120)
Kelly Clarkson has sung the National Anthem at an NFL game, an NBA Finals game, and a World Series game, so the former American Idol winner is accustomed to the big stage. More importantly, all three renditions (1:29, 1:30 and 1:31 respectively) were under 1 minute and 34 seconds. Let's keep the trend going, Kelly.
2. Super Bowl XLVI Coin Toss – Tails (-105)
OK, betting on the coin toss is silly, but if you plan on parlaying the result (heads/tails) with the winner of the toss (Giants/Patriots), then know this: New York's special teams captain Zak DeOssie has called tails every time. The Giants are the designated road team, so the result will either be Giants/Tails or Patriots/Heads.
3. Which team will receive the opening kickoff? Patriots (+225)
New England is notorious for deferring, and New York chooses to receive more often then not, but Bill Belichick is far from a creature of habit, and the Giants may want to prove something by going out and getting a stop to start the game. Call it a hunch, but I have a feeling that the Patriots will receive the opening kickoff no matter what happens.
4. Will the opening kickoff result in a touchback? No (+155)
The game is being played in a dome, but both the Patriots (39.8%, 19th) and the Giants (38.3%, 21st) rank in the bottom half of the league in team kickoff touchback percentage. Plus, we're getting odds rather than laying the wood.
5. Will there be a score in the first seven and a half minutes of the 1st Quarter? No (+195)
These teams played a scoreless first half in November. We only need to fade points for a quarter of that time to win the bet, and again we're dogs. Sounds great to me.
6. How many times will Giselle Bundchen be shown on TV during the game? Peyton Manning? The David Tyree catch? Under .5 (+150), Under 3.5 (-105), and Under 1.5 (-140)
Only live pictures count. They will show Peyton a maximum of two times, they will roll the Tyree catch once, and Giselle will only get air time if New England wins, and that will still be after the final whistle.
7. How many times will "Gronkowski" and "ankle" be said in the same sentence? Over 7,000 (-25000)
WE. GET. IT.
8. First scoring play of the game — Giants Rushing Touchdown (13/2)
This bet gives you the best bang for your buck. A passing touchdown or a field goal by either team is more likely to occur, but the best odds you're going to get there is four-to-one on a Patriots field goal. A defensive/special teams touchdown is highly unlikely, and safety is nearly impossible, so it boils down to a rushing touchdown. Despite running the ball more frequently, especially in the red zone, the Giants have a little more value than the Patriots, but betting New England at six-to-one, as well isn't a terrible idea either.
9. The largest lead of the game by either team will be — Under 13.5 (+120)
This is the last NFL game for a whole seven months. I want a close game, not a blowout.
10. Total touchdowns in the game — Under 6.5 (-130)
Sensing a trend yet?
11. The first MISSED field goal of the game will be — Short or Blocked (+800)
Let's go Jason Pierre-Paul! Get your giant (see what I did there) bear claws in the air!
12. Total QB sacks by the New England Patriots — Over 2 (EVEN). Team to record the first sack — Patriots (+120)
The Patriots are averaging four sacks a game in the playoffs, and in the NFC Championship game, Eli Manning was sacked six times. All we've heard for two weeks is how amazing New York's four aces are, which pushes the public toward betting against New England on props like these. Let's fade the public.
13. Total number of penalties made in the game by both teams — Under 10.5 (-115)
These two teams committed nine penalties in Super Bowl XLVI, and 13 when they faced each other in the 2011 regular season. The zebras will swallow the whistle in the playoffs, especially in the Super Bowl, and unless one of these teams plays completely undisciplined, the under feels like a lock.
14. Total rushing attempts for Ahmad Bradshaw — Over 13.5 (-145). Total Receptions — Over 3 (-125)
It's no secret that the Giants favor Bradshaw over Jacobs. In the playoffs, Bradshaw is averaging over 15 carries and over four receptions a game, and this is the healthiest he's been all season. Jacobs has been very untrustworthy in short-yardage situations too, so Bradshaw may even see some goal line work.
15. Total rushing yards for Brandon Jacobs – Under 30.5 (-115)
Jacobs will look soft. He will look terrible. He will rush for less than 30 yards. But, for some strange, strange reason, I think he'll score the game's first touchdown (12-1) and then dance like he's actually an impact player or something. Just a hunch.
16. Total receiving yards for Hakeem Nicks, Victor Cruz, and Mario Manningham — Under 85.5 yards (-105), Under 89.5 yards (EVEN), Under 47.5 yards (-115)
If you bet all three of these, you will win two of them.
17. Total receptions for Jake Ballard — Under 2 (+120)
Ballard hasn't caught more than two balls in a game since Dec. 11, and his highest reception total in a single game this year was five. That's a low ceiling.
18. Total tackles and assists for Jason Pierre-Paul — Under 5.5 (-115)
Pierre-Paul averaged 5.4 tackles per game in the regular season, but that 16-game sample includes a very big outlier — he recorded 16 tackles in Week 15, nearly doubling his second highest total in a single game (nine). Two weeks ago, against the pass-happy Green Bay Packers, JPP had just two tackles. Against the Patriots in Week 8, JPP had just two tackles. I love Pierre-Paul, but the public loves the over here and the stats disagree.
19. From Jim (Kentucky): Will Corey Webster get an interception in the game? No (-600)
Sorry Jim. I know how much you love Corey Webster, and how much he sounds like a Cajun Elmer Fudd, but he's not going to intercept Brady.
20. Longest completion for Tom Brady — Over 42.5 yards (-115)
Brady has completed a pass 43 yards or longer in 10 games this season, including the playoffs. He failed to complete a pass 43 yards or longer against the Giants in Week 8 — his longest completion was only 28 yards — but we're not betting on that happening twice.
21. Total receptions for Deion Branch — Over 3 (-130). Will Deion Branch score a touchdown? Yes (+175)
Remember that time Deion Branch averaged more than 10 catches and 100 yards in his career in the Super Bowl?
22. Who will have more passing attempts in the game? Completions? Yards? Eli Manning +.5 (-115), Eli Manning +1 (-115), and Eli Manning (+4.5)
Contrary to popular belief, I think the Patriots will be more balanced offensively than the Giants on Sunday. Michael Lombardi hinted earlier in the week that New England may even play three tight end, one wide receiver sets to protect Brady and run the ball. Thus, Manning will be back to pass more often than Brady, and volume typically helps win props like these three.
23. What will be the highest scoring quarter? 3rd Quarter (+350)
Pure hunch.
24. Who will have more? Brandon Jacobs touchdowns or Wayne Rooney goals? Rooney (+250)
Pure degen.
25. What color will the Gatorade (or liquid) be that is dumped on the head coach of the winning Super Bowl team? Clear/Water (3/2)
Pure lock. Just look at the last two times the Patriots and Giants won the Super Bowl.
OK, that was fun, but it's time to address the game itself.
It's fitting that the final stop for New England on the 2011-2012 tour de revenge is in Indianapolis, Indiana, where in January of 2007 they lost the AFC Championship game to the hometown Colts. Peyton Manning, who could never beat the Patriots in the big game, finally got over the hump, and the game ended on — take a deep breath — a Tom Brady interception.
Oh, the horror!
The following year, the Patriots came back with a vengeance, and after dropping the hammer on everybody for five months, they were a perfect 18-0 entering Super Bowl XLVI. They met the New York Giants in Arizona for the big game, and Big Blue dominated the line of scrimmage, holding Brady and the Patriots to only 14 points. With less than three minutes remaining in the game, Eli Manning led the Giants on an epic touchdown drive that included the David Tyree "helmet catch," which is one of the greatest plays in the history of the NFL. Plaxico Burress sealed the deal with the game-winning touchdown a few plays later, and New York denied New England perfection.
Fast-forward four years, and the Patriots are back in Indianapolis to play the Giants in the Super Bowl.
New England's tour de revenge began with the New York Jets toward the beginning of the season. Last year, Gang Green went to New England and defeated the 14-2 Patriots in the Divisional Round of the playoffs. The Patriots responded by sweeping the Jets this season. In 2010, the Baltimore Ravens dominated New England in the Wildcard Round of the playoffs, defeating the Patriots 33-14 at Gillette Stadium. Last week, in the AFC Championship game, the Patriots avenged themselves once again.
Sunday, the Patriots have a chance to complete the tour de revenge. And how sweet would it be for Brady to win a Super Bowl on Peyton's home turf, while he's hurt, against his little brother Eli. Now that's what I call a trifecta.
Eli has been playing amazing however, and the Giants defense is more dangerous than ever. Their ability to create pressure using four down lineman is scary, because it allows them to commit seven players to pass coverage. Without being pressured, it's hard to throw into seven defenders. Add New York's four aces into the mix, and it's a nightmare for even the best quarterbacks.
The Giants are very good, but it's mind-boggling that nobody is picking New England. True, the Patriots defense is horrific — Julian Edelman will be on the field on defense the entire game — but won't Belichick put his players in the best position to win? Won't he find a way to exploit the Giants offense? And if he can't do that, can't New England run the ball, neutralize New York's pass rush, and control the game?
I just can't see Bill Belicheck being out-coached by Tom Coughlin. I can't see Tom Brady losing another big game. I can't see the Patriots losing the Super Bowl.
New England (-3) 24, New York 20
MVP: Rob "Ankle" Gronkowski (12-1)
Regular Season: 129-115-12
Last Week: 0-2
Playoffs: 6-4
Get up-to-the-minute NFL betting lines at Sportmoose.com.
Follow PokerNews on Twitter for up-to-the-minute news.