Top 10 Mobile Games to Play During the World Series of Poker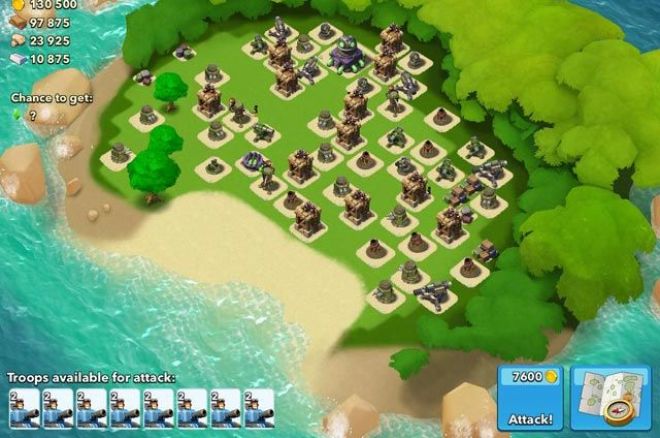 There's a reason the infamous shot clock has been a debate within the poker world. Players tend to take far too long to decide whether to call, raise or just fold. If you're not in the hand, there's no reason for you to suffer during the many minutes that pass waiting for a player to make a decision.
Instead of checking your Facebook feed, or even following the Live Reporting page from PokerNews (because you just checked it the hand before), play some mobile game instead. The best kinds of games are the ones that have quick progression, something that you can play for five minutes. Here are some of the top games to play on the mobile device while playing at this year's World Series of Poker.
1. Boom Beach – The latest game from Supercell. The game plays similar to its predecessor, Clash of Clans, but the difference is that you have troops and soldiers instead of barbarians and hog riders. The game involves building a fortifying base on an island, then attacking other islands to gather more resources. It's a game that only requires about two minutes of gameplay at a time, so it's really great to pass by the time.
2. Brave Frontier – A new take on the classic role-playing game (RPG) developed by Gumi Inc. You play with multiple units in your party, and gain experience points to level up just like a normal RPG. The game does have a very deep system when it comes to managing the party such as having the right element properties that can work together, and against enemies. Also upgrades and equipment can give endless possibilities to beating the game.
3. Bingo Blitz – A very popular bingo game developed by Buffalo Studios. It combines arcade elements, such as power ups, to the traditional bingo game style. It makes the game more entertaining to play, and it also has multiplayer. The game also updates every week, so it gives a more replay ability.
4. Candy Blast Mania – A puzzle game developed by TeamLava. It uses the simple match three-puzzle style like Puzzle Quest and Candy Crush Saga. The difference is that each level has a set goal for you to accomplish in order to progress. The flashy graphics and cute animation makes the game entertaining to watch.
5. Game of War: Fire Age – A strategy game developed by Machine Zone. The game plays similar to Civilization in which the player builds a kingdom gather resources, and sends their army to fight against other kingdoms. The gameplay is simple, and the army can do many things on its own. You can also battle against your friends online.
6. Hearthstone – A collectable card game developed by Blizzard Entertainment. It uses the characters from Warcraft in a deep strategic game that plays similar to Magic: The Gathering. You spend points to summon creatures and other cards that could tip your balance. It's a game that can get very deep as you progress through the game.
7. Immortalis – A unique card game developed by Aeria Games. It uses basic trading card game elements such as sacrificing monsters to gain stronger ones, but it also uses RPG elements such as quests and leveling up.
8. Lies of Astaroth – A card game developed by iFree Studios. It also uses RPG elements in the game, but the cards are the main focus. You, the player, gain levels by battling against foes through card battles. The game does feature a story line to help with the game progression, and online battles.
9. Minecraft: Pocket Edition – The popular addicting game on the mobile device by Mojang AB. It plays just like the PC and Console version where you are in an open sandbox world, and you just build things through the materials you gather. A simple concept with no progression like a traditional game, but it gives you the ability to build a whole castle over time, amongst other things.
10. Riches of Olympus – A slot game developed by Zynga. It has the theme of Greek myth, so it has slots like a Hercules slot or a Zeus slot. The unique feature about this game is the level progression. Once the requirement is met for each slot, the player get to progress through the ancient world of the Greeks, and eventually head up to the heavens against the gods and titans. It definitely occupies the time with progression in a small amount of time.
Other popular games to pass the time quickly include Angry Birds and Plants vs. Zombies, and they can be played in short intervals. The majority of games on the list are free to play, so that gives it the bonus option of just trying the games out, and see which works best during the long hours of waiting for a good hand during the WSOP.
Get all the latest tips, tricks, and strategies for your favorite platform games from GamerU.
ABOUT GAMERU: GamerU is home to the most concise, comprehensive and user-friendly gaming tips available anywhere. GamerU's dedicated team of gaming experts create high-quality, bite-size videos featuring the best game tips, tricks, strategies and walkthroughs to help gamers improve their skills at their favorite games. Gamers of all skill levels enjoy professionally produced content and game recommendations available in multiple languages.