WCOOP Grind Stations: Members of PokerStars Team Online Share Their Computer Setups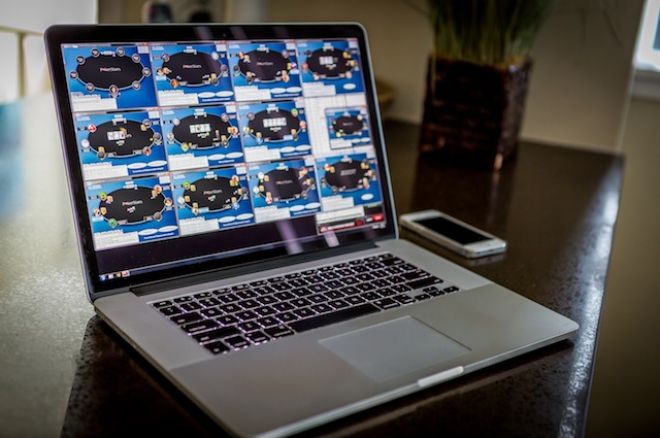 The 2014 World Championship of Online Poker (WCOOP) is happening now on PokerStars, and it's no surprise that PokerStars Team Online have turned out in force for online poker's most prestigious tournament series.
This 2014 WCOOP, which began on Sept. 7 and will host total of 66 events throughout the month, will culminate with the $10,000,000 guaranteed Main Event on Sept. 28. That tournament will award a minimum of $1,500,000 million to the winner.
With $40,000,000 in guaranteed prize pools spread out across this year's WCOOP, many pros intend to grind out all three weeks. Sitting in front of a computer screen for hours on end may seem easy, but it's a lot more grueling than you might think. Players experience boredom, isolation and monotony in their quest for poker glory, and PokerNews wanted to know where some of the game's best setup to torture themselves.
Four members of PokerStars Team Online were kind enough to share their "grind stations" with PokerNews. Check out them out below along with a setup explanation in their words:
Team Online's Randy 'nanonoko' Lew
Nowadays, my poker setup is just my 15-inch MacBook Pro laptop. It works for me while I'm travelling the world or hitting up poker tournament hotspots like the PokerStars Caribbean Adventure, Macau and the European Poker Tour because all I have to do is turn on the laptop and I'm ready to play a session.
For my old setup I had two 30-inch monitors with a desktop computer and I could easily fit 24 tables across the screens, so I had to make some adjustments to make it work on my laptop. I now have 11 tables on the screen overlapping another set of 11 tables behind it. I still prefer tiling as much as I can so I can follow the action a lot easier rather than stacking all of the tables on top of one space.
Although it's a little harder with the overlapping tables behind, I've practiced a lot on this setup and I've adjusted to it quite well. I keep a small set of tables on the right side middle in case I want to observe a table or possibly play on it. The main reason I keep that table a little smaller is so I have easy access to the PokerStars lobby so I can maintain playing a lot of tables at once! Not only do you need to adjust to your opponents, sometimes you need to adjust your grind station too!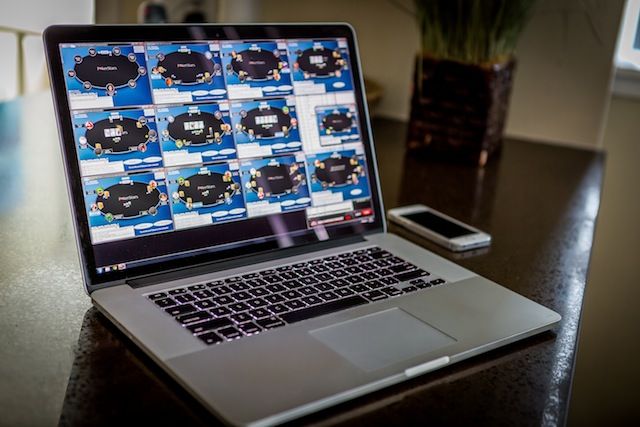 Team Online's Naoya 'nkeyno' Kihara
My setup involves me having the PokerStars lobby on my left display and all nine tables – which is the maximum I play simultaneously – on my right one. It's really good to have an empty left-side display so I can look back at hand histories.
I don't like the cascade style for multiple tables, opting for tiled instead, because I want to see how my opponents are playing even after I fold. I love to play not only no-limit hold'em or pot-limit Omaha but also mixed games or no-limit single draw 2-7, so I need to keep watching the tables when playing those games.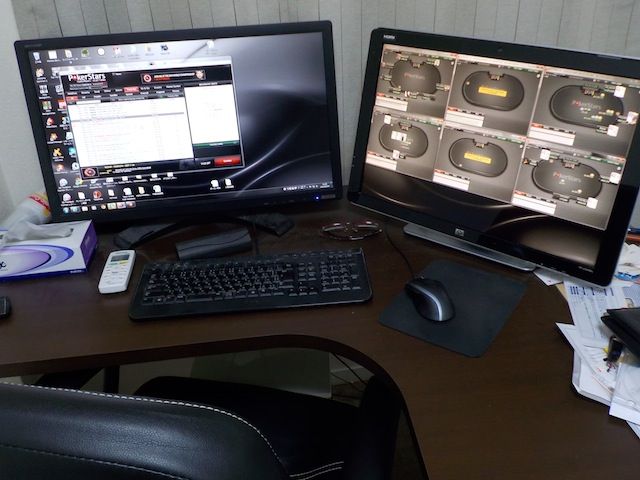 Team Online's Isaac 'Ike Haxton' Haxton
I use a Toshiba Qosmio laptop and a 30-inch Dell monitor. I like to mix up the input devices I use in order to avoid repetitive stress injuries in my hands and wrists. Right now I'm using a basic Logitech mouse with my left hand and a trackball with my right, alternating every few minutes.
A good ergonomic chair is really important for a poker player who puts in long hours, but I'm a lazy screw-up so I'm just sitting on a crummy dining chair. Do as I say, not as I do: get yourself a nice desk chair.
The really key component of my grind station, though, is the pile of debris. My wife wanted to clean up before taking this photo, but I insisted on an authentic, candid shot of my desk as it actually is when I'm playing. I don't like clean, organized spaces. I feel most comfortable, and do my best thinking, when I'm surrounded by trash.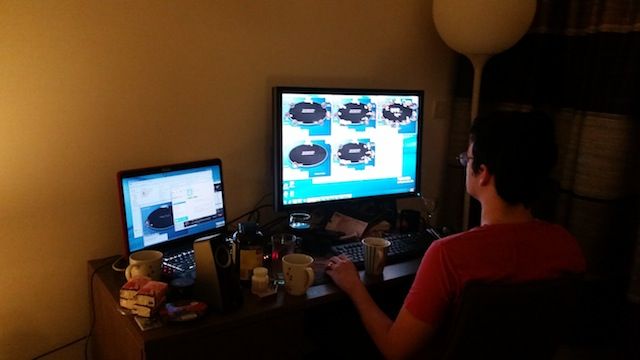 Team Online's Andre 'acoimbra' Coimbra & Katerina 'Katerina289' Malasidou
André and I work in the same room. As you can see in the photo, his corner is similar to the interior of a space station. He has three 30-inch screens, all used for different reasons. The middle one is where he keeps all the tables he's playing. The left screen is for the PokerStars lobby and poker-related software like the one that automatically registers you in tournaments. The right screen is for browsing, Skype and everything else.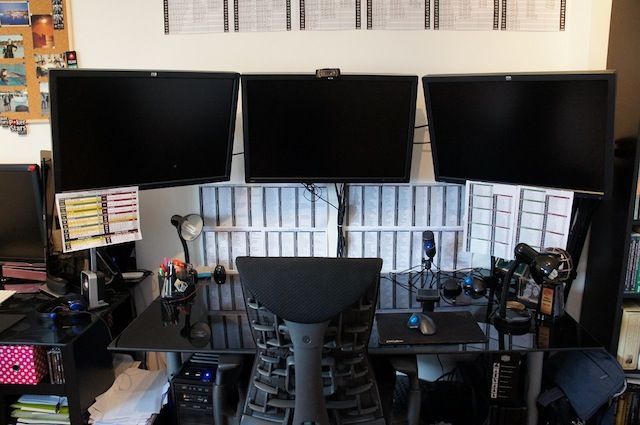 André isn't a fan of white walls, so he invested his time in creating the perfect wallpaper for a poker office: spreadsheets! Precision is the key element in the format we play (hyper-turbo SNGs) and this way he keeps all the information handy while adding to the futuristic feel of our workspace.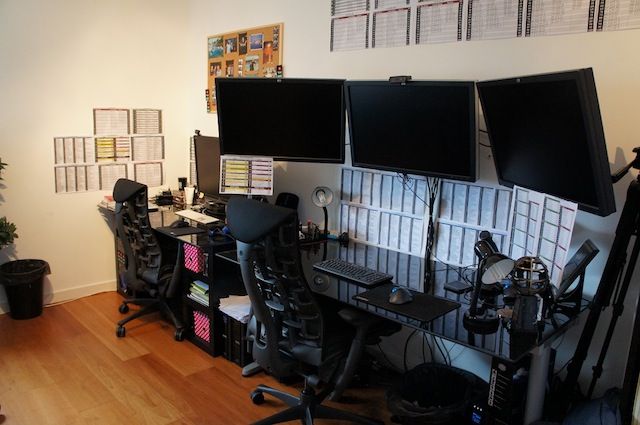 My corner is a bit more modest. I work with two screens. The main one is 30 inches and that's where I open all the tables I'm playing. The other screen is 24 inches and placed vertically on my right. That's where I have the PokerStars lobby and everything else. I do have some spreadsheets on the wall, but I keep most of mine in a folder in front of me. Unfortunately I wasn't blessed with André's perfect vision so I can't read ranges that are too far away.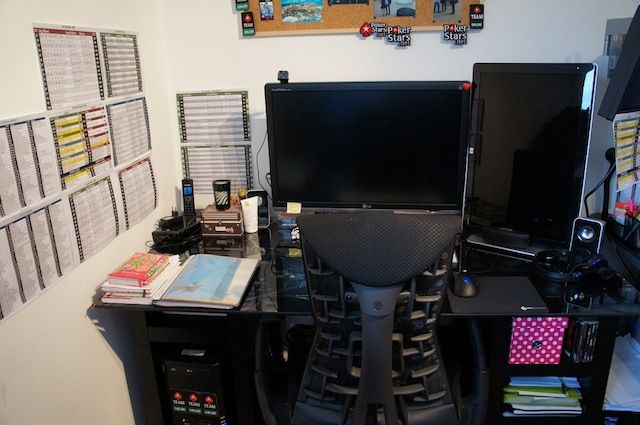 Above my main screen I have what I call my 'inspirational board.' It's filled with photos of people I've met, places I've been and things I've done that simply wouldn't have happened if it weren't for poker. Every time I get a bad beat or start feeling bad for a downswing all I have to do is look up and I get a visual reminder of the good things poker has brought to my life. It's quite motivational and a good way to improve my mental game.
Last but not least, we both use the same chair: the Herman Miller Embody. Not only is it adding to the 'spaceship theme' we have going on in the room, but it also helps us maintain a good posture all throughout the day. For someone spending as much time sitting on a chair as we do, avoiding back pain is crucial!
Our grind station is always a work in progress. That's how it looks today but we keep changing it so that it always meets our needs and provides us the best conditions to do what we love: grinding at the poker tables!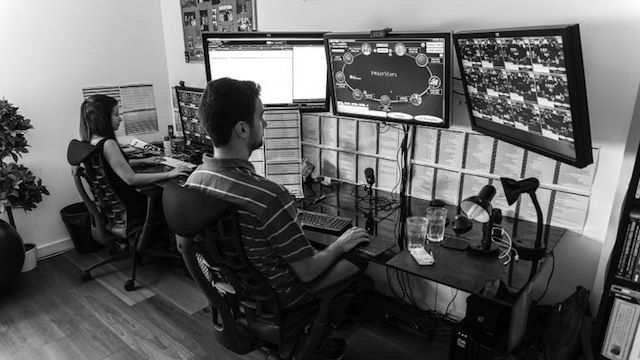 Get all the latest PokerNews updates on your social media outlets. Follow us on Twitter and find us on both Facebook and Google+!
Executive Editor US, PokerNews Podcast co-host & 2013 WSOP Bracelet Winner.