Chris Ferguson: Jesus Talks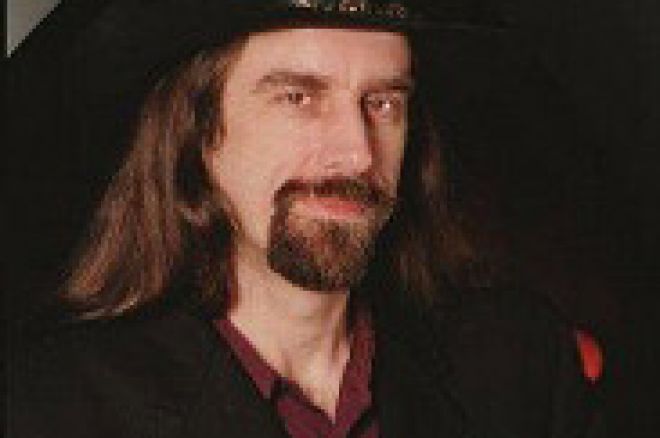 Two things normally happen in a casino when you hear the word "Jesus" uttered; one is the unbelievable bad beat that comes when someone is holding what they thought was the nuts. The other is the unmistakable form of 2000 World Champion Chris Ferguson coming to the tables.
With his trademark long hair, Ferguson has the look of an old-style riverboat gambler, and his game has proved that the comparisons to a religious figure are appropriate. He has won more World Series of Poker bracelets, had more top ten finishes, and has more cashes than any other player in the last five years of the event. He continues to be a immovable force in the poker world, in both the World Series of Poker Circuit tournaments and online with FullTilt Poker. I had the chance to speak with Chris to get his views on the game today and some of his theories on poker.
PN: You spent three quarters of your life in your academic pursuits. How difficult was it for you to make a change in careers in your thirties?
CF: It really wasn't hard at all. Even as a student, I played poker extensively in card rooms and online. When I wasn't playing or working on my Ph.D. thesis at UCLA, I was writing programs and creating mathematical equations to research poker.
PN: Was it your ambition after leaving UCLA to become a professional player?
CF: I never decided to become a professional poker player. It just sort of happened. One day I realized that I loved poker so much that I was playing most of the year, and had become very successful at it and by default had become a professional.
PN: You have done an extreme amount of work in Game Theory. How does it apply to poker?
CF: Game Theory applies very well to poker; however, the Game Theory literature out there is very weak as it applies to poker. There are only a few published applications of Game Theory to poker and they are all rudimentary at best. That will change if I ever get around to writing a Game Theory book on poker.
PN: Does Game Theory work in other aspects of life?
CF: Game theory is a field of mathematics that deals with decision making in a competitive environment. It applies on a daily basis, from bidding in an auction to buying insurance. In fact, just about all transactions between people can be studied with game theory.
PN: You have picked up an amazing five World Series of Poker bracelets since 2000, including the World Championship in 2000. Does the potential size of the fields for 2005 make you feel less expecting of a sixth?
CF: It's getting harder and harder to win due to the ever increasing fields. Because of that I can't be expected to continue winning a bracelet a year. I don't expect the sixth this year, but I will get number six and more.
PN: Do you think you have a shot at getting to the top of the WSOP Bracelets list?
CF: With the growth in the number of players it would take a long time if the targets were stationary, but the leaders are also going to be playing and continue winning. The top players all had at least six bracelets each when I started playing, so I'll be happy if I can continue to be the player who won the most bracelets since I started playing.
PN: Your World Series bracelets have spanned all of the disciplines. Is it better for players to be well-rounded or focus on one particular specialty?
CF: All great poker players are good at all disciplines. It's not necessary, but I think it's important to play multiple disciplines. I've actually learned a lot about Hold'em by playing Stud and visa-versa.
PN: You barely missed the Player of the Year at last year's WSOP. Would this be important to you, along with your bracelets and the World Championship?
CF: Had they given the award previously, I would have been Player of the Year in both 2000 (two wins including the main event and four final tables), and 2002 (two wins, a second, five final tables and an all time record eight money finishes). World Series of Poker Player of the Year is a major accomplishment and I hope to earn it soon. For a full list of my WSOP accomplishments and more, please visit my website at www.ChrisFerguson.com.
PN: Has it been difficult not making the final table at any of the World Poker Tour events so far?
CF: That's a bit of a sore spot for me. I've helped out on the production end of the World Poker Tour from its inception, and am great friends with Steve Lipscomb and the rest of the team. I've played in the majority of WPT events and have yet to make the final six. I just made final tables in the first ever Monte Carlo Millions and the first ever World Series of Poker Circuit event, but I seem to be jinxed when it comes to the World Poker Tour.
PN: Speaking of that, you did very well in the first stop of the World Series of Poker Circuit (Chris made the final table at the inaugural Atlantic City event) . How do you think that the circuit will work out?
CF: The WSOP Circuit events are great tournaments and I see them growing and becoming even more popular throughout this year and next.
PN: Some tournaments are going to an all No-Limit format. Do you feel that is good for the game?
CF: No-Limit Holdem is so popular right now that I think some casinos are trying to capitalize on that by having all No-Limit tournaments. I much prefer No-Limit to Limit, but I would still like to see variety in tournament schedules.
PN: What drew you to FullTilt? Was it the people involved or was it something else?
CF: I actually founded the company that wrote FullTiltPoker.com's software. Three years ago I had a lucrative offer to endorse a major online card room, but our philosophies didn't quite match. I believed in giving as much back to our customers as possible while making sure that they had a fun and exciting time as well. I thought a site that offered the unique experience of playing and interacting with the top minds in poker would do this, so instead of endorsing another site I enlisted the help of many of my friends including Phil Ivey, Phil Gordon, Perry Friedman, Andy Bloch, Howard Lederer, Erik Seidel, John Juanda, Erick Lindgren, Clonie Gowen and Jennifer Harmon to create the unique experience that is FullTiltPoker.com. These people not only comprise an unmatchable team of top pros, they are the nicest group of players you could ever hope to meet.
PN: You play online exclusively with Full Tilt Poker. Do you enjoy chatting while you are playing or is it a distraction?
CF: I love interacting with our players. I enjoy having people coming up to me and saying hello be it online or in the real world.
PN: What is in the cards for FullTilt for the remainder of 2005?
CF: FullTiltPoker.com has a lot more great surprises in store over the next year. You can expect them to continue to be the fastest growing online card room on the Internet and, as more and more people hear about them, expect them to become the largest online card room as well.
PN: You seem to have stayed out of the book arena and have only recently ventured into online poker with FullTilt. Do you have any plans in the works to change this?
CF: I've been working on FullTiltPoker.com for years, and that's taken up most of my free time. I hope to eventually have enough time to write a book. I do however have a website, ChrisFerguson.com, with poker tips, articles and a lot of other information.
PN: What charitable causes are you a part of?
CF: All my winnings as a player on FullTiltPoker.com will be donated to "Save the Children" (www.SaveTheChildren.org). I support many other charities, but this is my main one at the moment.
PN: You have a Ph.D., as do other players. Does it take a brilliant or tremendous mind to play the game of poker?
CF: Poker players come from all walks of life. Many have Ph.D.s or Masters. Most have a college education, and some are high school dropouts, but all the top players have one thing in common. They are all extremely intelligent. One thing I learned in college is that school may make you educated but it can't make you intelligent.
PN: You are one of the most recognizable players at the table. Did you cultivate that "wild west gambler" look for poker?
CF: I looked like an obvious college student when I started playing, and I didn't really like advertising that to my opponents. By putting on a cowboy hat I suddenly looked like anything but a student. That was over ten years ago. I never imagined that the image would gain me so much recognition.
PN: How much do you find your appearance intimidating at the table?
CF: I don't think of my appearance as intimidating, but I like to think of my record in tournaments as intimidating to a lot of people.
PN: You always seem to be in control at the table. How critical is it for you, and for any player, to maintain that composure?
CF: I've always been very even-tempered. You have to be able to roll with the ups and downs of life as a poker pro, and be able to move down in limits when you're not doing well. It takes incredible discipline to make it as a pro.
PN: You have described yourself with "no particular style" at the table. How can someone adapt that strategy to their particular game?
CF: I don't think you can pin me on any one style. I try to play the style that gives my particular opponents the most difficulty whether it be loose, tight, aggressive or even passive. Doing this requires paying attention to everything that's going on at the tables whether you're in the hand or not. You need to learn as much about your opponents as quickly as possible and devise strategies for playing against each one even before the situation comes up.
PN: You seem to be a renaissance man of sorts, be it computers, dancing or card throwing. What other things outside of poker would people be surprised that you are proficient at?
CF: In college I used to be a sports fanatic, and I loved playing basketball or volleyball just about every day. Today I enjoy playing the piano and doing card tricks though I'm not a virtuoso at either. My three true loves are poker, dancing and computers.
PN: How do you get away from the game?
CF: I love to dance. When I'm not playing poker that's what I like to do most. I do all forms of partner dancing however my favorite is West Coast Swing. There aren't many places to go partner dancing when I'm out of town, which is most of the time, but I still like to go to dance clubs anyway.
PN: It seems everyone wants to be the next World Champion. What advise would you give to those heading for Las Vegas?
CF: If you want to make it as a poker player you have to love poker and work very hard at it, and you have to love working very hard at it. Very few people make it, but it's a great life but not an easy one.
PN: What does your tournament schedule look like? I know you'll be at the WSOP, but where else can people catch you playing live?
CF: I will play every day at the World Series of Poker. In addition, I expect to play just about every major televised poker tournament this year. This means spending over six full months on the road. It is a challenging and grueling schedule which I look forward to completing.
PN: What would you like your legacy to be, as a poker player and as a person?
CF: I think I'm too young to be thinking about my legacy. I would just like to leave the world in a better place than I found it. I hope to find the right way to do that in the future but now I just try to do that day by day.
PN: Thank you for your time, Chris.
CF: Thank you as well.
I would like to thank Chris for taking the time from his busy schedule for this interview.
To learn more about Chris and get his highly informative articles, poker tips and thoughts, please visit his website, www.chrisferguson.com. In addition, you can play against Chris by going to his table at www.fulltiltpoker.com.