Legends of Poker: Chris "Jesus" Ferguson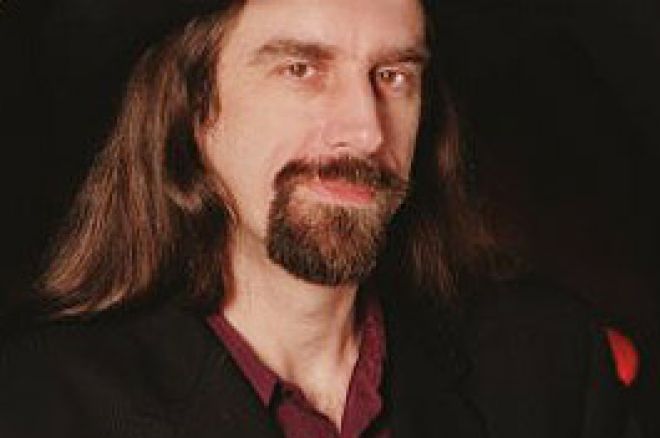 Chris Ferguson makes good copy. He's an easy target at any poker tournament, and the gentleman poker player is greeted warmly at restaurants, bars, and just about any public place. His tall figure is easily picked out by a nation of TV watching poker enthusiasts, and his long hair, full beard and black hat make him as distinctive as the original man in black, Johnny Cash. Who would have thought that this swing-dancing, computer whiz from UCLA would become so well know? Is it just the TV exposure?
At this year's (2005) World Series of Poker, Chris was gracious with his fans, as usual. When I spoke with him, a number of people walked up, shook his hand, and asked for autographs. He talked to everyone, and he has a way of speaking directly to each fan, giving them his undivided attention. That's very rare these days. It's even rarer to find a player so open to the public when they have been in a serious slump.
In fact, Chris was in such a slump, that he hadn't won a tournament in months. Well, sure, he did take 9th at the WPT $25,000 event in April, winning $132,000, and he did take 2nd in the Heads-Up tournament in March for $250,000, but you have to go all the way back to February to find a first place win. That was at the San Diego WSOP Circuit Championship where he knocked-out all comers in the $10,000 buy-in for $655,000. That's right, a slump for Chris is like a career for most players.
He was born on April 11, 1963 in Los Angeles, California to highly educated parents. Each holds a Ph.D in mathematics, and his father teaches statistics and game theory at UCLA, where Chris would spend his higher-education years.
While majoring in computer science, Chris also delved into the mathematical field of game theory. This particular field of science has applications in many aspects of our everyday lives, and a few highly respected players such as David Sklansky stress its importance in poker. However, not many players understand how broad the application can be. Sklansky, who's spent the past thirty years writing about his own mathematical views on all types of gambling, has stated he considers Chris one of the brightest poker players in the world. David throws compliments about mathematical aptitude around like manhole covers, so yes, you should be impressed.
While at UCLA, Mr. Ferguson played a little volleyball and basketball to stay in shape, but about ten years ago he found a new way to workout - dancing. He ran the UCLA ballroom dance club for three years, and finds it to be great exercise. Chris isn't alone in his love for dance, as several professional players can gracefully make their way around more than just a poker room floor, and player/author Mike Sexton was even a dance instructor at one time.
After learning poker in the fourth grade, Chris played on a regular basis through high school, always aided by his analytical mind. His concept of poker has been compared to Stu Ungar, who also was blessed with a photographic memory, but Chris has gone well beyond what Stu accomplished in live games.
Starting with short trips to Las Vegas while in college, Chris was able to grind out a little spending cash in the low-limit poker games. However, his love for computer science and the field of artificial intelligence kept him well rooted at UCLA. He also considered becoming a Professor of Game Theory, but to this point, nobody wants to pay him a million dollars a year to teach.
There have been plenty of job offers over the years, and Chris has worked as a research assistant and done consulting work for firms like the California State Lottery. However, he has made more money over the past ten years playing poker than he ever made working a regular job.
In 1995, Chris entered the $1500 Seven-Card Razz tournament at the WSOP and finished fifth. The $10,350 payday was an excellent start to his large-buy-in tournament career, and he played a number of WSOP events through the 1990's, cashing a dozen times. Then, in 2000, Chris won his first gold-bracelet by beating a very tough field in the $2500 buy-in Seven-Card Stud tournament. First place paid $151,000 and Chris was thrilled with the windfall. He took a portion of that big payday and entered the $10,000 main event a week later.
Poker is a funny game, and several future champions at the WSOP won their first gold bracelet the same year they won their second - in the main event, while their momentum and excellent play were at their highest. Chris kept the tradition alive by simply running over every table he sat at. By the time the tournament was down to the final table, Chris had over half the chips. His stack was $2.8 million of the $5.12 million total. Never before had the final table been so lopsided, and although players like author Jim McManus and Hasan Habib did their best, they really had no chance of winning the title with the mismatch in chip position.
Realistically, T.J. Cloutier had no chance of winning either. He held just $216,000 when play started that day, and after the other players had been vanquished, Chris could barely see over his mountain of chips that totaled $4.7 million. However, nobody else is T.J., and although he held just $400,000 in chips when heads-up play started, Cloutier actually took the chip lead at one point. His play was excellent, and Chris found himself holding second-best several times at the showdown, and each time it took more of his stack away.
On the final hand, T.J. got Chris to commit his entire stack while holding A-9. Cloutier happily tabled his A-Q and waited for the flop, which came deuce-king-four. The turn card was another king, but then the nature of poker kicked in. The gods took T.J. down to the river and beat him on a rock - bringing a final card nine and winning the championship for Chris.
It was a tough beat for T.J., who has yet to win the main event, but certainly it can't be said that Ferguson was not a worthy opponent, or a true champion. He has since won a total of five gold bracelets, and is 5th all time in most cashes at the WSOP (T.J. is second) with 42. He is also 10th on the all-time list of money winners with over $3,000,000.
As for Chris' so-called slump going into the 2005 WSOP, he took care of that by cashing in five events and just missing a six bracelet when he scored a $210,000 prize for second place in the $2,000 Pot Limit Omaha event. His list of tournament cashes and wins just keeps growing, and at the just completed WSOP Circuit event held by Harrah's in Las Vegas, Chris again won the $10,000 Main Event prize while pocketing $362,000.
Chris' opponents have been trying to classify his play for years, but Chris swears he has no particular "style." On this point I really disagree with him. In fact, to me, he has a very specific style: Winner. Need I say more?
Ed Note:Noble Poker has 6 handed single table tournaments that we think are easy pickins...get in on the action