Gavin Smith on Life Outside of Guelph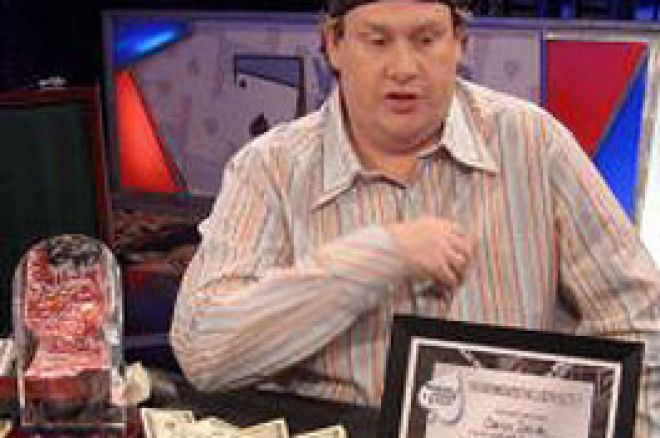 Prior to 2005, Gavin Smith was not a name readily recognized by most in the poker community. A 52nd place finish in the 2004 World Series of Poker Championship Event served notice that there was potentially a star on the rise and 2005 confirmed that status. Last year was a breakout season for the Guelph, Canada native who now resides in Las Vegas as he took the poker world by storm. He won the first event of Season Four on the World Poker Tour at the Mirage Poker Showdown and, by the end of the year, he had added another WPT final table to go along with his collection of six final tables and sixteen cashes. All totaled, he took down nearly $2 million in purses and finished eighth in the Poker Player of the Year race.
2006 has started off well for Gavin also. He has added another WPT final table to his resume (he finished fourth at the WPT World Poker Open at the Gold Strike Casino in Tunica in January) and currently is the man to catch in the race for the WPT Player of the Year. With his machine gun raising style and ultra aggressive play, he is a tough opponent to meet at the tables and is looking to make 2006 his best year yet. I recently had a chance to speak with Gavin while he was at the L. A. Poker Classic and learned more about his approach to the game and how he is dealing with the never ending stream of tournaments that the professionals face in today's poker world.
PN: How difficult is the current tournament world for someone like you?
GS: Oh, man, it's brutal. It isn't the tournaments that are the tough part, it's the constant traveling that's a part of the tournament schedule. I've been back home only once so far this year and won't be heading there again until March, when I get a whole three days off. When I'm there, I'll still be doing some work, so it won't seem like I am getting any break from poker. Even with that said, I love the action and it has been a blast.
PN: What preparations do you go through before a tournament?
GS: Basically all it takes is I wake up! (Laughs) Seriously, though, I really don't have anything that I try to do other than the basics. I try to get plenty of sleep before I play, which always puts me in the right mindset. There isn't one particular thing that I do, however.
PN: What is your basic strategy when you start a tournament?
GS: I'm not what you would call a survival player. I'm going to be playing lots of pots, normally smaller ones, and building up my stack. I want to be able to control the table, especially once we reach the middle stages of a tournament.
PN: How does your strategy change as you reach those points?
GS: Believe it or not, I'll get even more aggressive at those points. When the antes kick in, it's a time for me to get more aggressive and when we start to reach the money, I'll do the same thing. Many players don't want to bust out without getting something back for their time and money invested, so it's a prime time to attack, especially the shorter stacks who are real worried about not making it.
PN: I've noticed from watching your play that you have a highly aggressive strategy, especially at the final table. You'll raise almost every hand preflop at some points. What is the goal of this strategy?
GS: The way I look at it, I'll basically do what the people at the table will allow me to do. If they aren't going to play back at me, I'll continue playing like that. Once I meet some resistance from the other players at the table, then I'll sit back and recalculate my strategy to combat that.
My goal is to make the other players guess as to what I am doing. Out of ten hands, I may raise eight of those. Out of those eight hands, perhaps only two or three of them are what would be called quality hands. The rest are, to be honest, s**t! I want to make my opponents guess as to which two or three hands those are. It really puts players back on their heels and allows me to control the action at the table as well.
PN: How close of an edge do you push at the tables?
GS: It really depends on the stage we're at in the tournament. Early on, in what could be a coin flip situation, I don't like those odds. Early on I have to think that I've got the best of it in about a 2 to 1 situation. When we reach the middle and later stages of a tournament, then I definitely will push more of those slight edges and coin flips than I would early on.
PN: Is there a particular style at the table that is difficult for you to play against?
GS: The most difficult player I can face are those that just flat call my bets and they have position on me. Without a raise, I have a tough time determining what they are playing and it does pose a challenge to me.
PN: You kicked off the WPT season with some great performances. Now some players, especially Michael Mizrachi, are coming up to challenge you. What will it take to hold off these challengers?
GS: (Laughs) Well, Michael's not creeping up on me, that's for sure! The way I look at it, he and the other players on the Tour have to catch me. For example, Michael needs to make another final table to match my record for the year so far. I'm going to continue to put the pressure on them, however, so it's not going to be easy for anyone to get close to me in the race.
PN: Do you focus on those issues when you're in a tournament?
GS: I really don't. My goal is the tournament itself. What happens with others isn't in my control. I can only play to my best and let everything work out however it will happen.
PN: You play online at Full Tilt Poker. How does playing online help or hurt your live game?
GS: It definitely doesn't hurt my game. Anytime you get to play poker, it can only help your game. With my general style, it translates well into the online arena, where aggression is a premium.
PN: Are there any players that you don't like to have at the tables with you?
GS: I'm never intimidated by anyone that I play against. I do have to say, though, that the greats in the game do give me some issues. As far as specific players, I would have to point out some of those that have a similar style to mine, people like The Grinder (Mizrachi), Erick Lindgren and Phil Ivey.
PN: Who are the players that you have learned the most from?
GS: Erick and Phil are two guys that I enjoy talking poker with today. I have to give some credit for my early poker discussions with a couple of my friends, Grant Pittman and Jeremy Balka.
PN: Speaking of that, Canada seems to have provided the poker world with several great players. Is there something special there?
GS: I don't think there's anything special. We really don't get noticed unless we're winning tournaments! (Laughs) Really, though, if you think about it, there's only about ten Canadians that have really made a mark on the tournament scene. That isn't a huge percentage of the players that are out there today.
PN: What goals have you set for yourself in 2006?
GS: Initially I want to take down the WPT Player of the Year. That's important to me. Beyond that, I would like to get my first World Series bracelet this year as well.
PN: What about the future? Any thoughts there?
GS: The CardPlayer Magazine Player of the Year is something that I definitely want. I want to take multiple WPT championships and several World Series bracelets. I truly want people to think of me as one of the greats in the game when my name comes up.
PN: Finally, Gavin, what can we expect to see in the future outside of the tournament circuit?
GS: I am currently working on a DVD project that we hope to have released before the World Series this year. That's what I am going to be working on when I go home in March. Outside of that, I am going to be at every event possible here in 2006!
I want to thank Gavin for taking some time before the start of the L. A. Poker Classic to talk poker. The future indeed looks bright for him and he should be one of the driving forces in the game of poker as this year and the future rolls along. He does have his own website, which contains his personal poker blog as well as a forum for its members. You can check that out at gavinlive.com and you can also play against Gavin, who is one of the excellent members of Team Full Tilt, at FullTiltPoker.com.