Sexton's Corner, Vol. 15 - In the Zone, Part 2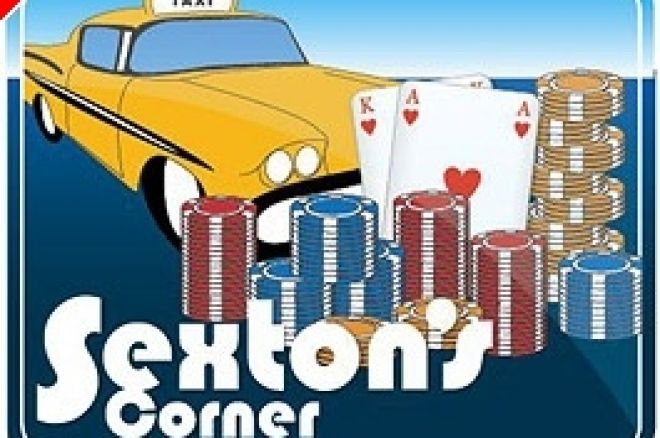 If a poker player looks through a looking glass at the rest of the world, he will see teams and individual athletes that excel in their respective sports, thus finding themselves in that winning rare territory we refer to as being… in the zone! Look at Tiger Woods in golf, Michael Jordan in his prime, Tom Brady of the New England Patriots, and so many other great athletes.
One athlete you may not have heard of is a great wrestler named Dan Gable. He never lost a match in junior high school. He never lost a match in high school. He went to Iowa State, where he was three-time NCAA and Big Eight champion. He was undefeated his senior year, and was once again in the NCAA Finals wrestling for his fourth NCAA Title No human had ever beat Gable. His last match in college would be against a guy named Larry Owings from the University of Washington. Amazingly, the NCAA wrestling championships were held that year (1969) at the University Of Washington, with a wild home crowd rooting for their guy to find a miracle and somehow defeat this living icon. This match was so exciting, ABC's Wide World Of Sports dedicated their whole show to it. The final score was 13 to 11, and Larry Owings did it… he won! He is on record as the only human being to ever defeat Dan Gable. Was Larry Owings in the zone that one night? Oh, yeah….
Interesting side note to this story: When Dan Gable lost that one match, he re-dedicated his life to never lose again. He never did, as he won World International Titles and a Gold Medal at the 1972 Munich Olympics. At the Olympics, he did what no other human being ever did: he won every match without one of his opponents scoring even one point. In freestyle wrestling, this is unheard of; it's like pitching six no-hitters in a row. He was voted the outstanding wrestler of the Olympics. Gable then made the transfer into coaching, at the University Of Iowa, where his teams went on to win 11 NCAA team championships. Before he arrived, University of Iowa never scored a point at the NCAA Wrestling Championships. Many great athletes don't have the patience to coach or teach, and can't make the transition. Dan Gable was the best wrestler and best wrestling coach of all time. It is fair to say, his whole career has definitely been in the zone!
In poker, there are great players like Doyle Brunson, Johnny Chan, and Phil Hellmuth who have had incredible careers, all of them being in the zone throughout their careers, winning 31 gold bracelets combined at the WSOP, among many other championships too numerous to mention. The beauty of poker is, on any given day, any amateur could win and beat the very best player by simply getting in the zone. So, there is still hope for all of us.
As promised, I wanted to share an amazing scene in a classic movie filmed 46 years ago, that was nominated for eight Academy Awards, and should have won twelve! In life a person can be great at anything, such as bricklaying, poker, shooting pool, or anything else, if he does it well. This movie from 1961, starring Paul Newman, Jackie Gleason, George C. Scott, and Piper Laurie, of course, is called The Hustler. Paul Newman plays Fast Eddie Felson, who over-hustles some punk in a dive poolhall on the waterfront. As a result, he gets both of his thumbs broken by a big guy named Turk Baker. Fast Eddie is on the mend and nurtured back to health by his girlfriend, Sarah. The two of them head to Central Park in New York for a picnic, with Fast Eddie's thumbs still in the casts. This scene says it all about being in the zone. This dialogue is between Fast Eddie (E) and Sarah (S):
E: Sarah, do you think I'm a loser?
S: A loser?
E: Yeah - I met this guy, Bert Gordon. He said I was a born loser.
S: Would he know?
E: He knows a lot.
S: Why would he tell you?
E: I'm not sure. He said there are people who want to lose, that are always looking for an excuse to lose.
S: What does he do, this Bert Gordon?
E: He's a gambler.
S: Is he a winner?
E: Well, he owns things.
S: Is that what makes a winner?
E: Well, what else does?
S: Does it bother you what he said?
E: Yeah… yeah… it bothers me a lot! Cause, ya see, twice, Sarah... once at Ames with Minnesota Fats and then again at Arthur's, in that cheap, crummy poolroom, now why'd I do it, Sarah? Why'd I do it? I coulda beat that guy, coulda beat 'im cold, he never woulda known. But I just hadda show 'im. Just hadda show those creeps and those punks what the game is like when it's great, when it's really great. You know, like anything can be great, anything can be great. I don't care, bricklaying can be great, if a guy knows. If he knows what he's doing and why and if he can make it come off. When I'm goin', I mean, when I'm really goin' I feel like a... like a jockey must feel. He's sittin' on his horse, he's got all that speed and that power underneath him... he's comin' into the stretch, the pressure's on 'im, and he knows... just feels... when to let it go and how much. Cause he's got everything workin' for 'im: timing, touch. It's a great feeling, boy, it's a real great feeling when you're right and you know you're right. It's like all of a sudden I got oil in my arm. The pool cue's part of me. You know, it's uh - pool cue, it's got nerves in it. It's a piece of wood, it's got nerves in it. Feel the roll of those balls, you don't have to look, you just know. You make shots that nobody's ever made before. I can play that game the way... nobody's ever played it before.
S: You're not a loser, Eddie - you're a winner. Some men in life never get to feel that way about anything! I love you, Eddy.
Robert Rossen's production of The Hustler is a dazzling cinematic triumph that aptly underscores what it is like to be in the zone. For the young poker players - if you haven't seen this classic movie, filmed 46 years ago, be sure and go rent it!
The Cab is Parked,
Tom Sexton
Tom Sexton is a featured columnist for PokerNews.com. Tom attended the University of Oklahoma on a full gymnastic scholarship, where he was captain of the team four straight years, becoming the first NCAA All-American and Big Eight Champion in OU's gymnastics history in 1968. The Sexton family is well established in poker and includes Tom's brother Mike, the World Poker Tour commentator and poker's "First Ambassador", as voted by his peers. Tom welcomes your thoughts and comments about any of his articles. His e-mail is TSStarbuck1@aol.com.