Poker & Pop Culture: Mainstream Magazines on the Poker Boom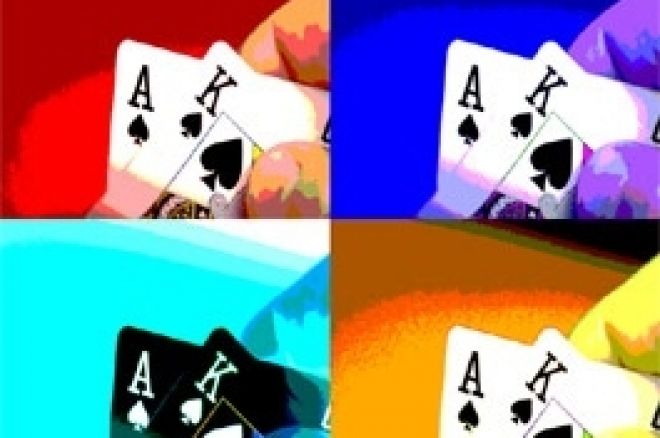 Poker's standing in popular culture was affected considerably by the so-called "boom" many observers suggest mostly resulted from three factors: the televised debut of the World Poker Tour (six years ago this week), Chris Moneymaker's victory in the 2003 World Series of Poker Main Event and its subsequent airing on ESPN, and the surge in popularity of online poker stimulated considerably by the popularity of both of those shows.
As a result, mainstream media began to focus its attention on this new phenomenon, with several popular magazines running features that sought to report on and perhaps explain some of the causes and effects of poker's burgeoning popularity. Whereas articles in publications primarily devoted to reporting on poker generally forego extraneous commentary on poker's significance, correctly assuming its relevance to its primary audience, articles about poker in mainstream magazines often make the issue of poker's significance the primary focus of their reporting. Thus might such articles provide special insight into how poker "plays" in the larger culture.
How did the mainstream media — namely, popular magazines devoted to reporting on news, politics, business, sports, and/or entertainment — choose to cover poker's newfound popularity? As a way of approaching this question, let's look at three articles from such sources, all of which differently address poker's changed cultural standing following the 2003 "boom."
Time Portrays "Poker's New Face"
The July 26, 2004 cover of Time magazine announces "It's Vegas, Baby!" with the cover story by Joel Stein offering to explain "Why America's No. 1 tourist town is hotter than ever." Also noted on the cover is a poker-related feature titled "The Winning Hand of Poker," one of several Las Vegas-related articles appearing in the issue.
The article examining poker, titled "Poker's New Face," was authored by Walter Kirn and Jeffrey Resner. Kirn is a novelist, book reviewer, and cultural critic who has written on a wide variety of issues for numerous publications. Ressner, then Time's West Coast correspondent, primarily contributed articles about Hollywood and the entertainment scene for the magazine, although also wrote about politics, business news, science, and other topics. Thus did the co-authors together bring a broad perspective to the topic of poker's cultural status during the summer of 2004.
The primary argument of "Poker's New Face" is to contrast what had once been "a gritty pastime for middle-aged men" with the new, fashionable version of poker played by "a younger generation of hard-core players." A thumbnail history of poker was offered, explaining how the game was introduced in Vegas at the Golden Nugget casino in 1949, moved downtown to experience a minor heyday in the 1960s, then was largely pushed aside in favor of blackjack and other games. By the early 1990s, say Kirn and Ressner, "tourists seemed to have lost patience with the game's sleazy Wild West flavor."
All of that changed, however, "thanks to glitzy televised tournaments" as well as "the explosion in Internet gambling." The authors interviewed Ben Affleck, fresh from his victory in the 2004 California State Poker Championship, whom they (perhaps generously) dubbed "a poker poster boy as well as an amateur poker philosopher." Affleck spoke affectionately of the game, noting that its various pleasures "appeal to something fundamental in the American psyche."
The authors then called on Howard Schwartz, proprietor of the Gambler's Book Shop in Las Vegas, who argued that "the dotcom generation loves poker" because of the way "it gives you a sense of control you don't find in other games." WPT host and poker pro Mike Sexton chimed in to suggest that "poker is seen as a competition and a sport now, not as gambling per se." Kirn and Ressner also talked to Steve Kaufman, the former rabbi and college professor who finished third in the 2000 WSOP Main Event, who opined that poker in Vegas had become "serious and professional... a careful, controlled game."
Overall, the piece was enthusiastic about poker's new credibility, not only celebrating it as a legitimate pursuit but perhaps marveling a bit at how "even educated kids play it."
Sports Illustrated Follows Poker to College
Those "educated kids" playing poker received special attention from Daniel G. Habib in his feature appearing in the May 30, 2005 issue of Sports Illustrated. Teased on the cover as a "special report" on online poker, Habib's article, "Online and Obsessed," concentrated on college students playing poker in dorm rooms and on the internet.
Habib graduated from Harvard in 2000 where he wrote for the Harvard Crimson. He then took a job with SI covering major league baseball, and in his coverage frequently demonstrated a willingness to explore non-traditional statistical indicators by which to judge player performance. Habib's interests in student life and number-crunching came together neatly in his article chronicling the ways poker was being played on American college campuses in 2005.
Habib visited three campuses for the piece — Duke University, Yale University, and Indiana University at Bloomington — and along the way encountered several students who have since become well known in the poker community as highly successful online and live players. Indeed, one of the more interesting aspects of Habib's article was the way he reported on and talked to a number of students who would subsequently emerge as top-level poker tournament players.
Habib talked to Jason Strasser at Duke, who would later go on to cash six times at the WSOP. Then at Yale he encountered Alex Jacob, Vanessa Selbst, and Ariel Schneller. In the years following the appearance of Habib's article, Jacob would win a U.S. Poker Championship (in 2006), cash 15 times at the WSOP, and amass over $2.3 million in tourney winnings. Selbst would land seven WSOP cashes, including a bracelet last summer. Schneller, too, would cash four times in the WSOP. And, of course, all of four of these players have achieved significant online success as well.
Habib spent the first two-thirds of the article providing descriptive commentary of the games played in the dorms as well as the students' online play, with the latter getting most of the attention. "In college you live wired," Strasser explained to Habib, going on to describe both the ease of game access and the importance of having an online community of fellow players with whom to exchange ideas. At the Yale game, Habib describes players "running it twice" or more, clearly impressed with the mathematical aspects of the game as discussed and followed by these top players.
"[P]oker rewards nothing so much as academic mastery," said Habib, characterizing the game as a logical fit on a college campus. He quoted Selbst characterizing poker as "one of the most intellectually stimulating" pursuits in her life, a statement not without significance given the fact that she is also described as only a month away from earning her degree in political science. (Selbst has since gone on to Yale Law School.)
Habib's article also explored a potential downside of college students playing poker online when he visited an Indiana student named "Alex" (a pseudonym) who had lost significant sums gambling, including playing online poker. Points were made about the potential risks of college students succumbing to problem gambling, with Alex's story of debt and academic probation providing an object lesson. Habib made a point to show how Alex approached poker much differently than do the successful players he visited elsewhere. "He does not play strategically, he admits," reported Habib. "He regards himself as too impatient for that."
Ultimately, Habib's article provided a balanced, detailed overview of poker on college campuses that implicitly argued that success in poker requires the same sort of academic rigor demanded of students by their professors.
Rising Stars in Rolling Stone
Finally, the June 16, 2005 issue of Rolling Stone included a feature by Ivan Solotaroff titled "Poker's New World Order" that presented a glimpse of the poker scene by focusing on a group of young phenoms. As with the Time and Sports Illustrated articles, this one, too, was teased on the magazine's cover, in this case as a report on "Poker's Crazy Geniuses." Solotaroff is a freelance journalist and author of No Success Like Failure: The American Love of Self-Destruction, Self-Aggrandizement, and Breaking Even (1994), a collection of essays the title of which perhaps gives an indication of both his interest in poker and the angle via which he chose to address it.
Most of Solotaroff's long essay concentrated on that group of young professional poker players then known as "The Crew," consisting of seven young players who for a time identified themselves as bankroll-sharing colleagues: Joe Bartholdi, Russ "Dutch" Boyd, Bobby Boyd, Scott Fischman, Brett Jungblut, Tony Lazar, and David Smyth. Even before the Rolling Stone piece, the Crew had already received attention thanks largely to Dutch Boyd's 12th-place finish in the 2003 WSOP Main Event and the two bracelets Fischman won at the 2004 WSOP.
Much like the articles in Time and SI, Solotaroff's piece emphasized the influx of younger players into the game, highlighting how this "new world order" differed from the old days of the Texas road gamblers. The first half of the article somewhat glamorized the personalities and lifestyles of the players. Solotaroff introduced the Crew as "kids with killer good looks and IQs north of 150," indirectly likening them to the rock stars presented elsewhere in the music-oriented magazine. As in the SI piece, the players' online exploits were detailed, with the high-level acumen of this "inscrutable generation of right-brain warriors" a frequent object of Solotaroff's appreciation and awe.
The article additionally emphasized a shift in perceptions about poker, noting how the game had swiftly emerged as a legitimate pursuit. Steve Lipscomb, CEO of the World Poker Tour, was quoted reflecting on the sudden "complete cultural change" then happening in poker. "And it's all happening so fast," said Lipscomb. "Two years ago, I was getting laughed out of network meetings. And when a poker pro went home for Christmas, it'd be hidden, like some family secret. Now, he's not just a household name, he's a hero of the nieces and nephews."
The second half of the article then painted a less rosy picture as Solotaroff honed in on the group's leader, Dutch Boyd, whom he describes as "a genius to some in the poker world, a con man, lunatic or savior to others." The ups and downs of Boyd's turbulent life were recounted (including treatment of the PokerSpot controversy), the toll of the players' lifestyles was given some consideration, then the article ended with questions regarding the seemingly inevitable dissolution of the Crew.
Ultimately, Solotaroff's article presented a complex commentary on the many possibilities — both good and bad — offered by the "poker life." Taken together, all three articles readily demonstrated profound changes in attitudes toward poker happening in the wake of Moneymaker, the WPT, and the sudden rise in popularity of the online game.
Get Your PokerStars Marketing Code on PokerNews.com - Be sure to enter the PokerStars marketing code when registering a new account on PokerStars.com