From the Poker Vaults: Sam Angel, Part 1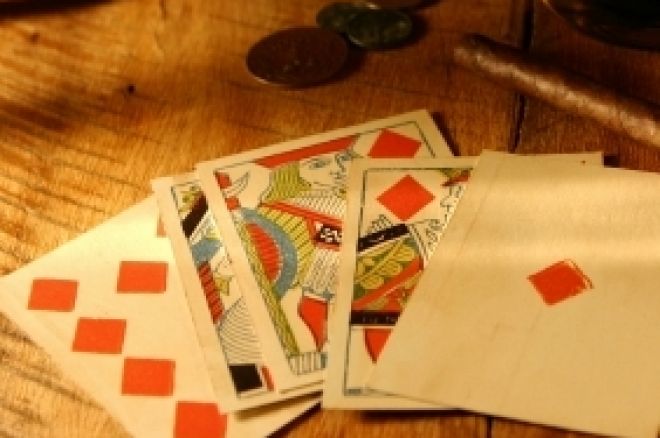 In the Las Vegas of yesteryear, a world teeming with vivid characters, none was more striking than "Suitcase" Sam Angel. Despite standing only five feet tall, his larger-than-life personality — beloved by some, despised by others — made him seem a giant. When asked about Angel, Crandell Addington emitted a bemused chuckle. "The world's full of stories about Suitcase Sam Angel. The things that that guy did…."
Nearly all of the tales about Angel's life take place after he first set foot in Las Vegas in May, 1950. Previously he'd served in the army during World War II, but his best "war stories" actually take place in Sin City. His introduction to the world of high-stakes gambling followed quickly on the heels of his arrival. Nick "The Greek" Dandalos, the famous high roller who lost millions to Johnny Moss in their legendary series of heads-up poker matches at the Horseshoe Casino in 1951, hired him to be his driver. In this capacity Angel enjoyed an intimate view of the inner workings of this mysterious man.
"He once had me load these old cardboard boxes from his garage into his trunk and drive them to a casino," Angel said. "It turned out they were full of cash. I don't know, I guess Nick felt his garage was a safer place to keep his money than a bank. In those days it probably was."
Perhaps inspired by Dandalos' exploits at the tables, Angel began playing poker for increasingly high stakes, quickly working his way up the ranks until he was sitting in some of the biggest games in town in the 1960s. His best game was razz, but he didn't back down when Texas road gamblers including Johnny Moss, Doyle Brunson, and Crandell Addington began spreading games of no-limit Texas hold'em. In fact, in 1967 at the Golden Nugget Angel sat in one of the first high-stakes games of no-limit hold'em ever to be played in Las Vegas. When that game later migrated to the Dunes, Angel moved with it, hoping he might one day play hold'em as well as the Texans did.
The learning curve for razz players attempting to master hold'em was steep — luckily, Angel had amassed a fortune selling diamond bracelets and Rolex watches to high-stakes gamblers. Perpetually on the move, he carried his merchandise in a suitcase that never left his side, hence the nickname that would stick with him his entire life. A natural salesman, he had the ability to make a connection with nearly everyone he met. He loved to laugh and to make others laugh along with him. While pronouncing his trademark greeting — "Hello, how are you?" — he always extended the last word for as long as it took to get a smile.
Angel and his suitcase became fixtures at the, as much a part of the event as the Horseshoe's threadbare carpets and weathered cocktail waitresses. He would set up shop on whichever empty table was closest to the action, hawking his wares like some peddler at a Marrakesh bazaar. His hucksterism hardly bothered the Horseshoe's owner Benny Binion. In fact, on more than one occasion Binion actually helped Angel sell his merchandise, calling out, "Sam Angel's here. Who needs some jewelry?"
Angel rarely spent the entire World Series peddling his wares. He usually entered whichever events he thought he had a reasonably good chance of winning, mostly razz and deuce-to-seven lowball. This strategy was a successful one. During the course of his WSOP career he made four final tables and won two gold bracelets, both in razz.
His success in razz tournaments hardly surprised those who played against him on a regular basis. "Sam was a good razz player, a really good razz player," confirmed Addington. "But he had a drinking habit and he had a terrible temper and of course that caused him to steam if he had a hand beat. He would go on tilt easier than anybody I ever saw."
Much of Angel's hair-trigger temper can be blamed on his fondness for alcohol. On a typical day he began drinking at noon, generally starting with a couple Heinekens before moving on to Seagram's V.O. Canadian Whisky.
"My doctor told me I can't drink anymore," he once confided to Todd Brunson.
"You're really not going to be drinking anymore, Sam?"
"Nope, and I'm not going to be drinking any less either."
As well known as he was, he became an easy mark for robbers. He once estimated that he'd gotten ripped off over 130 times in his life. In one such incident three thieves stole $130,000 worth of jewelry from his car in Las Vegas in 1984. Over time, the robberies began to put a hurt on his net worth as well as his psyche.
"Too many people know my business, and I ain't got a quarter," he lamented. "It's enough to make you cry. There was a time I made money every time I turned around in this town. I made millions and spent millions. I had the best jewelry connections in the world, and they were strictly legitimate. I never sold no hot stuff. But I became a pawn for all these bastards who robbed me and robbed me and robbed me."
With his funds decimated he began to play less and less poker. When a reporter asked him why he didn't try to rebuild his bankroll playing at the lower limits, Angel snapped at him. "If I can't afford to play the highest limit, I don't play at all."
For a man who supposedly threw a party for 1,700 during his heyday in the mid-1970s, playing low-stakes poker was an affront to his self-esteem, but for the rest of his life that was all he would ever know.
[Part 2 appears next Thursday.]
Storms Reback co-wrote All In: The (Almost) Entirely True Story of the World Series of Poker, and collaborated with Sam Farha on Farha on Omaha: Expert Strategy for Beating Cash Games and Tournaments. His column on some of the bright moments in poker history appears weekly at PokerNews.com.
Get the best PokerStars first deposit bonuses on PokerNews.com - The #1 poker resource on the internet.