From the Poker Vaults: Layne Flack, Part 1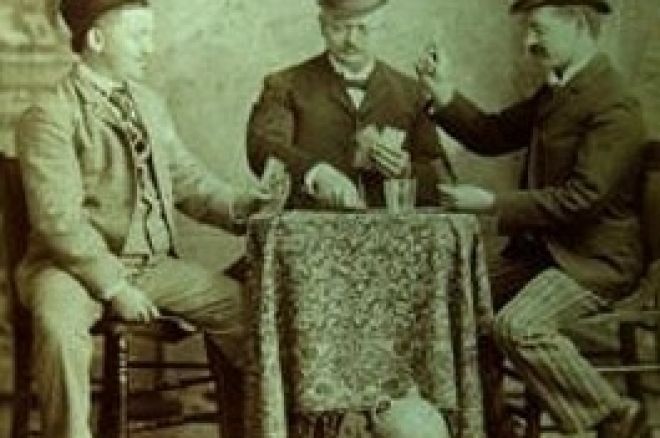 Poker is such an integral part of Layne Flack's being he often peppers his speech with Mickey McDermott-like phrases such as, "Life is like a poker game. You have to overcome the bad beats." He should know, as he has suffered just about every high (winning six gold bracelets) and low (losing his spot in the 2009 NBC Heads-Up Championship after being charged with a DUI) that the game, as well as life in general, has to offer. Flack has truly seen and done it all, and now there is only one question that remains: when is the roller-coaster ride he is on ever going to stop?
Despite being only 39 years old, Flack has been a seasoned veteran of the professional poker circuit for over two decades. His poker odyssey began in Billings, Montana when he was just 18. After managing a card room at night, he would wake up the next morning and play five-card stud all day long. After brief stints dealing and playing poker in Deadwood, South Dakota and Reno, Nevada, he returned to Montana in 1995 to help open up a new card room in Bozeman, and it was there that he received his first big break.
After watching Flack destroy a table one night, fellow Montanan Huck Seed told him that with all the talent he possessed he could be making far more money in Las Vegas. Flack was already planning to go there one day, but getting encouragement from the reigning world champion helped him turn a vague notion into an immediate plan. In 1997 he moved to Las Vegas, and, for all intents and purposes, he's never left.
"They put bars around the city when I first got here," he once lamented, "and they just won't let me out."
Flack had barely gotten settled in his new home before he bagged his first significant victory, the $1,500 No-Limit Hold'em event at the 1997 Hall of Fame Poker Classic. The following year, he finished second in the $2,000 No-Limit Hold'em event at the World Series of Poker. He was starting to make a name for himself on the professional circuit, and one of the players who took notice was none other than two-time world champion Johnny Chan.
As the legend goes, Flack had just won a tournament but jumped into a cash game immediately afterward and had lost nearly all the money he'd won when Chan advised him to get some sleep and offered to stake him in the next day's tournament. Flack took him up on the offer and went on to win the tournament.
The talent that Chan spotted soon became obvious to all. Flack won his first gold bracelet at the World Series of Poker in 1999 and two more in 2002. The year after that, he outdid himself by winning two World Series events in a row, earning himself the nickname "Back to Back." Remarkably, he no longer owns any of the five gold bracelets he won between 1999 and 2003. The first bracelet he won was stolen when his house was broken into in November, 2007. He gave the second bracelet to his father, the third to his brother, and the fourth to his other brother. The fifth bracelet he left at Ted Forrest's house, and it promptly disappeared.
Having won five gold bracelets in five years, Flack looked liked he might go on to win 10, 15, maybe even 20 bracelets, which makes it all the more shocking that over the course of the next four years he didn't win a single one. Much of the blame for this can be placed on Flack's fondness for drugs and alcohol.
Since the very outset of his career, Flack enjoyed drinking at the table and believed it actually helped his game. "I could literally be next to passing out at the table and still know everything that was going on," he said. "I would not miss a beat. My ability to read players was very good already, but you try to read a drunk person. It's not easy."
He was not the first poker player to believe that alcohol improved his game. Poker's history books are riddled with players who played better the more they drank. One was Bill Smith, the 1985 world champion, who once told a reporter, "There's not much to say. I just drink and gamble." Another is Mike Laing, a famed high-stakes player from that same era who, with tongue in cheek, once claimed to have given up drinking… with the notable exception of tequila.
While it can be argued that alcohol might have helped his game, problems arose when Flack began experimenting with drugs. His good friend Phil Hellmuth believes he can pinpoint the exact moment in time when Flack "started falling off the path." In 1999, Flack, Jack Fox, Ted Forrest, Hellmuth, and Hellmuth's wife all flew to Baden, Austria for the Poker EM. The next stop on the tour was the Aviation Club in Paris, but Flack decided to make a pit stop in Amsterdam along the way. There he got involved in what Hellmuth euphemistically calls "extracurricular activity."
Flack's partying soon took its toll on his career. He would only make two final tables at the World Series in the next four years, and his behavior grew increasingly erratic. There were whispers that he was going the way of Stu Ungar, a great talent squandered because of his personal demons.
In 2004, Flack's friends and family surprised him with an intervention. He agreed to spend a month in rehab before returning to the professional tour in September. Amazingly, in the first tournament he entered upon his return, the WPT's UltimateBet Poker Classic, he finished second, winning $500,000. But just when it seemed like he'd gotten his life back on track he and his girlfriend broke up, which, like the drug use, did nothing to help his game.
"Poker was not even a priority in my life [at that time]," he admitted. "A lot of it was based on drugs and quitting drugs and a relationship situation and just dealing with success and failure all at once. These are all things that are very hard for people to face, handle, or overcome, and to do all of them at once was very tough."
Editor's Note: Storms Reback co-wrote All In: The (Almost) Entirely True Story of the World Series of Poker, and collaborated with Sam Farha on Farha on Omaha: Expert Strategy for Beating Cash Games and Tournaments. His column on some of the bright moments in poker history appears weekly at PokerNews.com.