2009 WSOP: NLHE #36, Jordan Smith Wins First Bracelet in Marathon Final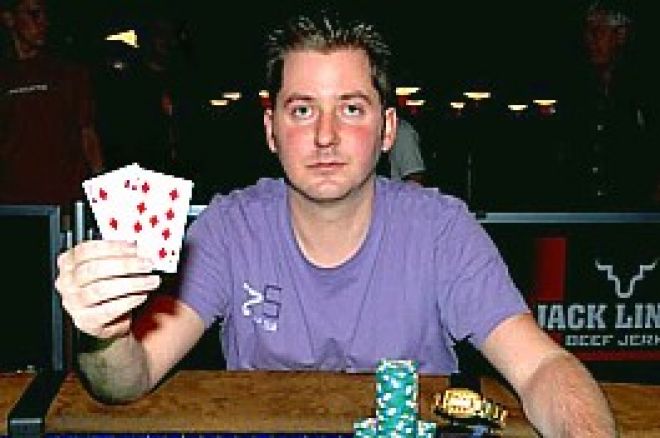 With only 17 of the 1,695 original entrants returning for Day 3 of Event #36, $2,000 No-Limit Hold'em, it looked like it might be a short affair to crown another WSOP champion. Not so much. It took a grueling seven-hour final table before Jordan Smith finally took out Ken Lennaard heads up to secure his first gold bracelet and the $586,212 top prize.
The day kicked off quickly, as the 17 survivors thinned down to a final table in fairly short order. The final table was set in just a couple of hours, but there was plenty of action along the way. Former chip leader Corwin Cole was an early elimination on Day 3, heading to the rail when his
couldn't improve against Andrew Seden's pocket aces. Cole picked up $21,008 for his 16th-place finish.
The players fell like dominoes in the early going, and when Warren Woodall busted in tenth place ($42,880), the final table was set. Woodall patiently waited for his spot before moving in preflop with
, but he ran into Jonathan Plens' pocket aces. No help on the
board, and the final nine looked like this:
Seat 1: Anthony Roux - 1,034,000
Seat 2: Joe Morneau - 996,000
Seat 3: Jonathan Plens - 1,031,000
Seat 4: Ken Lennaard - 1,312,000
Seat 5: Laurence Grondin - 1,258,000
Seat 6: Jordan Smith - 1,025,000
Seat 7: Almira Skripchenko - 1,185,000
Seat 8: Pat Atchison - 1,792,000
Seat 9: Andrew Seden - 545,000
Jonathan Plens slipped a bit at the start of the final table, and then was knocked out in ninth place ($61,081) at the hands of Joe Morneau. Morneau raised preflop from late position only to watch Plens push all in over the top. The action folded back around to Morneau, who made the call. Morneau's
was ahead of Plens'
, and when the board ran out
, Plens was finished.
Andrew Seden became the next casualty of the final table when he busted in eighth place ($67,967) at the hands of eventual champion Jordan Smith. As usual, all the chips went in preflop, and Smith showed
to Seden's
. Both players made a pair on the
flop, but Seden could improve no further on the turn or river, and his tournament was over.
Almira Skripchenko came to the final table one of two remaining women in the tournament. She busted in seventh place ($78,664) in painful fashion to Jordan Smith. Laurence Grondin raised preflop from late position, and Jordan Smith called from the button. Skripchenko moved all in from the small blind, and only Smith made the call. Smith showed
, and needed a lot of help against Skripchenko's
. He got that help right on the flop as it came down
. No king for Skripchenko on the turn or river, and she made her exit.
Pat Atchison kicked off the final table in fine fashion, quickly building one of the biggest stacks. He clashed with fellow monster stack Joe Morneau in a massive pot, then busted in sixth place just moments later. Atchison opened for a raise preflop with
, and Morneau reraised from the small blind. Atchison popped it up yet again, and then called when Morneau moved all in over the top. Morneau was in trouble with
, and got even deeper in the soup on the
flop. The
on the turn was no help, but when the
hit the river, Morneau made quads to leave Atchison crippled. Atchison shoved the last of his chips in on the next hand with
, and got one caller in Laurence Grondin, who tabled
. The
flop was no help to either player, but Grondin picked up the
on the turn to leave Atchison drawing painfully thin. The river brought the
, ending Atchison's tournament in sixth place ($95,631).
Anthony Roux raised from the small blind with
, and Joe Morneau reraised from the big blind with
. Roux moved in over the top, and Morneau called. Roux was dominated to start the hand, and got no help on the
board. He picked up $120,311 for his fifth-place finish.
Proving that anything can happen (and usually does) in no-limit hold'em, Joe Morneau went from chip leader to fourth place ($166,584) in just a few orbits. His final hand was a battle of the blinds as Jordan Smith limped from the small blind and Morneau checked his option to see the flop of
. Smith led out, and Morneau called. The turn brought the
, and Smith once again bet out. Morneau called again, and the
came on the river. Smith bet out one last time, and called with
once Morneau moved all in. Morneau held
for a smaller flush, and then there were three.
Laurence Grondin made a solid run at being the first woman to win an open event since Katja Thater took down a razz bracelet in 2007, but eventually she fell short in third place ($237,537). Grondin fired at the
flop, and Ken Lennaard check-raised. Grondin pushed all in with
for top pair, but Lennaard made the easy call with
for bottom two pair. Grondin couldn't catch another pair as the turn and river ran out
and
, and heads-up play commenced.
After an even start, Jordan Smith quickly took the chip lead in the heads-up duel. It didn't last long, as Ken Lennaard pulled back to even before Smith finally took control for good, and then put away his opponent in one last big hand. Lennaard raised preflop with
, and Smith called to see the flop of
. Lennaard bet out, Smith moved all in over the top with
, and Lennaard called with top pair and a flush draw. Smith faded the fourth diamond as the turn and river came down
and
, and Ken Lennaard was the runner-up, good for $360,439. Jordan Smith took down his first WSOP gold bracelet and the $586,212 top prize.