2009 WSOP: John-Paul Kelly Claims First Bracelet in #20 PLH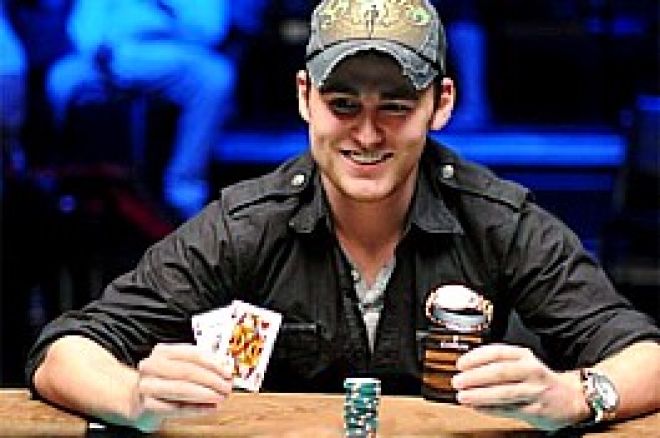 John-Paul Kelly scored one for the Brits, becoming the first English WSOP champion in nearly two years when he took down Event #20, $1,500 Pot-Limit Hold'em. Kelly's win thwarted fellow final-tablist Erik Seidel's quest for a ninth WSOP bracelet.
A total of 663 players entered the event, translating to a total prize pool of $864,045 and $194,045 for the champion. Notable players cashing in the event included John Duthie (62nd), Justin Scott (60th), Mike Sexton (37th), Joe Sebok (36th), Roland de Wolfe (34th), Mark Seif (33rd), and Kathy Liebert (32nd). The final table was set at the close of Day 2 when Phil "USCphildo" Collins took his
up against Erik Seidel's
and couldn't improve, sending him home in tenth place.
Starting final table chip counts:
Seat 6: John-Paul Kelly — 627,000
Seat 3: Jason Dewitt — 476,000
Seat 2: Erik Seidel — 337,000
Seat 4: Kyle Carlston — 320,000
Seat 1: Marc Tschirch — 268,000
Seat 5: Andrew Radel — 250,000
Seat 8: Kirk "Tony" Steward — 231,000
Seat 9: Aaron Virchis — 191,000
Seat 7: Ravi Raghavan — 145,000
Ravi "govshark2" Raghavan, a Sunday Millions winner, started the day as the short stack. He got all of his chips in against Marc Tschirch on the
flop. Raghavan had pocket sevens and the bottom end of open-ended straight draw. Tschirch had pocket jacks and the top end of the draw. The turn and river brought red fours and Ragavan was eliminated in ninth, collecting $18,634.
Andrew Radel was in good shape holding
when all his chips went into the middle on the flop of
. His opponent, John-Paul Kelly, held pocket nines. Radel survived the
on the turn, but couldn't hold on when Kelly caught the
for the set on the river. Radel received $21,082 for his eighth-place finish.
Moments later, Erik Seidel opened for 30,000 and Jason Dewitt called. Seidel checked the
flop only to get fired on by Dewitt. Seidel took his time and called. Seidel checked the
turn and Dewitt bet 80,000 into the pot. Seidel took an even longer amount of time, but again made the call. Seidel checked the
river and Dewitt bet 267,000. Seidel reluctantly called his remaining chips, only to see Dewitt turn over pocket eights for the full house. Erik Seidel finished in seventh for $24,919.
This was Seidel's 30th final table appearance at the WSOP. Seidel has cashed in the WSOP a total of 55 times and has clinched a money finish for 16 consecutive years.
With Seidel out of the way, the table got more aggressive. Most hands were decided after a three-bet preflop. Tony Steward and Marc Tschirch finally saw a flop after Steward open-raised for 35,000 from the button and Tschirch called from the big blind. Tschirch check-raised the
flop and Steward eventually pushed all in. Steward was behind with J-3 to Tschirch's K-J. The turn and river came
and
and Steward was eliminated. Tony Steward earned $30,837 for his sixth-place finish.
Aaron Virchis held on to his short stack longer than most would have predicted. But John-Paul Kelly got him to commit the rest of his stack on the flop of
. Virchis called with
to Kelly's
. Kelly caught the
on the river to seal the deal. Aaron Virchis, who cashed in this same event in 2006, cashed again with $40,048 for fifth place.
Kyle Carlston raised preflop and got reraised all in by John-Paul Kelly. Carlston turned over
only to discover he was up against Kelly's bigger suited ace with
. The board delivered
and the nut flush for Kelly. Kyle Carlston finished 154th in last year's Main Event, taking home just over $40,000. He topped his personal-best money finish with $54,711 in this event for his fourth-place finish.
Jason Dewitt was crippled in a hand against John-Paul Kelly when he flopped middle pair to Kelly's top pair. He survived an all-in on the subsequent hand. He found himself all in again in the small blind with
against Marc Tschirch holding
. The board ran out
, giving Tschirch a pair on the river to send Jason Dewitt home in third place with $78,826.
John-Paul Kelly had the chip edge on Marc Tschirch when heads-up action began, 1,677,000 to 1,172,000. Within the first few hands, Tshcirch was able to narrow the gap, but he was still at a slight disadvantage going into the final hand.
Marc Tschirch raised to 55,000 from the button and John Paul Kelly came over the top to 150,000. Tschirch called. Kelly led out for 155,000 on the flop of
and Tschirch called. Kelly bet 300,000 on the
turn; Tschirch moved all in and Kelly insta-called. Kelly flipped over the
for top pair, while Tschirch held
for a lower pair. Tschirch need a five to stay alive, but the
fell instead. Marc Tschirch cashed in last year's Main Event, but this was his first WSOP final-table finish. He collected $120,102 for his runner-up finish.
Prior to his victory in this event, the 23-year-old John-Paul Kelly had grossed over $400,000 in tournament poker in Europe and Australia. He cashed in three prior WSOP events, including a final table appearance in the 2008 Pot-Limit Omaha/Hold'em event. After the win, Kelly said "This has to be the highlight of my life, so far." When asked how he would celebrate his bracelet victory Kelly replied, "I don't know. But it will probably involve a lot of alcohol."