The PokerNews Profile: Greg 'FBT' Mueller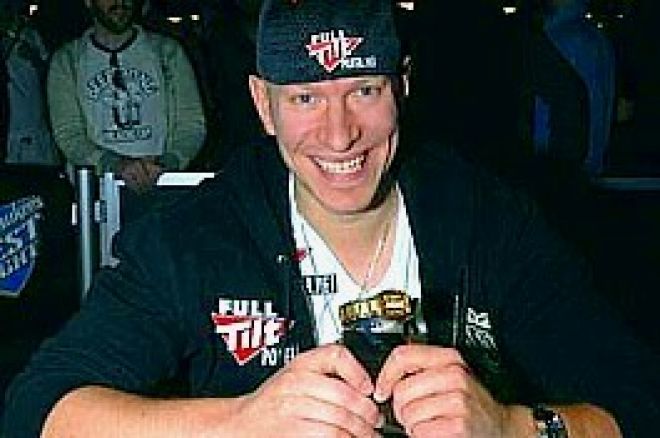 For a guy who spends a lot of his time playing poker in a Full Tilt jersey, it may come as a surprise that Greg Mueller's nickname, "Full Blown Tilt" ("FBT" for short), doesn't really have anything to do with how he carries himself at the poker table. Standing a full 6'5", he's an imposing physical presence in any game, but Mueller is more likely to be found sitting backwards in his chair and enjoying a lengthy massage than launching into a verbal tirade. Instead, the "FBT" moniker applies to his tendency to tilt off the felt—be it waiting in line, dealing with a delayed flight, or getting stuck in traffic.
Greg Mueller grew up in Vancouver, British Columbia. Like any good Canadian, he was obsessed with hockey and played throughout his childhood. After high school, Mueller decided not to attend college and instead went straight into professional hockey, landing a contract with a German team in the early 1990s. Mueller relocated to Europe, brushed up on his German, and commenced a life largely spent on the road. It was on those tour buses that shuttled him long distances between games where he first learned how to play poker. During his travels, Mueller met a professional player and on his one day off per week, they'd hit up the casinos together. Though Mueller dreamed of one day playing in the NHL, he ultimately retired from hockey after nine seasons in Germany.
Mueller returned home to Canada in 1999 and decided to make poker his second career. Limit hold'em was his best game, and Mueller was able to earn a living at the cash tables. As he moved up in limits and the poker boom unleashed bringing no-limit hold'em to the forefront, Mueller took it up as well, finding success in both ring games and smaller buy-in tournaments. In 2003, he entered several events at the L.A. Poker Classic and came away with two cashes and one final table — a 23rd-place finish in the $1,500 Seven Card Stud event and a 5th-place finish in the $1,500 No-Limit Hold'em event, where the final table was stacked with veterans such as Amir Vahedi, Blair Rodman, and Freddy Deeb. Mueller was hooked and he made his first trip out to the World Series of Poker that summer, finishing 35th in the $1,500 No-Limit Hold'em Event.
It wasn't until 2005, though, that Mueller began to truly make his mark on the world of tournament poker. He cashed four times at the '05 WSOP, three of them coming in limit hold'em tournaments including the final table of the $5,000 Limit Hold'em event where he finished ninth. Later that year, the international tournament circuit made a stop on his home turf with the British Columbia Poker Championships, with Mueller logging a 21st-place finish in the $1,500 limit hold'em event and a 17th-place finish in the $2,500 No-Limit Hold'em Main Event.
Greg Mueller soon began playing on the World Poker Tour and made his first televised WPT final-table appearance at the 2006 World Poker Challenge in Reno, NV. Mueller ended up finishing fourth for over $142,285 at a final table that included Barry Greenstein and Tom Schneider. He made another two WSOP cashes in '06 and another two WPT cashes in '07, including another deep run in Reno that ended with a 17th-place finish. Mueller signed with Full Tilt Poker as a "red pro" and immediately went on another tear at the 2007 WSOP, cashing five times, making two final tables, and coming achingly close to his first WSOP bracelet with his runner-up finish to Steve Billirakis in the $5,000 Mixed Hold'em event. Mueller came back to the WSOP with a vengeance in 2008, scoring four more in-the-money finishes and one more case of heartbreak. Once again, Mueller was one card away from a WSOP bracelet, but had to settle for second again in the $5,000 No-Limit Hold'em Shootout, as Phil Tom took home the gold that night.
It's safe to say that Mueller was more than a little hungry for a bracelet when he arrived at the 2009 WSOP. His series started off right with a 7th-place finish in the $10,000 World Championship Seven-Card Stud event and only two weeks later, he'd finally get the monkey off his back. Mueller won his first WSOP bracelet in the $10,000 World Championship Limit Hold'em event, defeating an elite field to come away with a $460,841 score. Fittingly enough, Mueller won his first bracelet on the same night the Stanley Cup visited the WSOP in conjunction with a charity shootout featuring some of the NHL's biggest stars. Then, surprising even himself, Mueller won his second bracelet 11 days later in the $1,500 Limit Hold'em Shootout. As WSOP Commissioner Jeffrey Pollack presented Mueller with his bracelet, he remarked that, "[N]ow there's no question that Greg Mueller is the top limit hold'em tournament player in the world."
With his two WSOP victories this summer, Mueller upped his lifetime tournament earnings to just under $1.8 million. He continues to live in Vancouver, B.C.