2009 WSOP: Day 1D Advance Sellout Leaves Hundreds Out of Main Event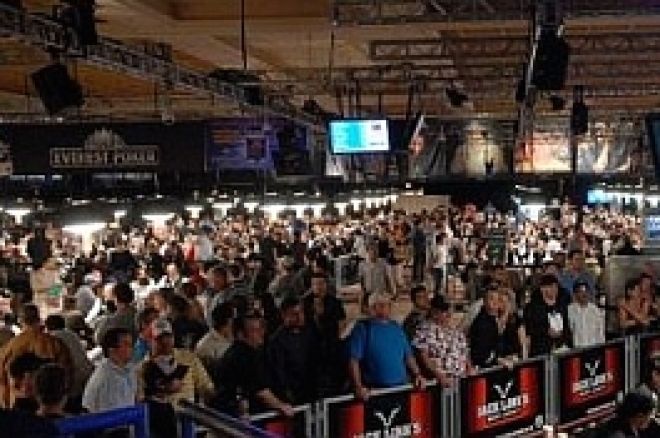 The gambling nature of poker players, betting that despite waiting until the last minute to register for the 2009 World Series of Poker's Main Event, came back to bite them on Monday as several hundred players were shut out of the final Day 1d session once the WSOP announced a sellout. The angry players, including several recognizable, "name" players, demanded accommodation despite the declared lack of space at the Rio All-Suite Hotel & Casino, where the event was played, and despite an official announcement that its official – and then extended — occupancy of some 2,809 players for Day 1d had been reached.
Nearly 20 Harrah's and WSOP officials quickly rearranged a meeting/conference in the large Rio Convention Center hall formerly housing the PokerPalooza to address affected players, though the meeting was not, as many shut-out players had hoped, to learn that the WSOP had found new way to house the late entrants. Instead, WSOP Commissioner Jeffrey Pollack offered profuse apologies for the shut-out situation, but he and other officials noted that none of the other plans floated by frustrated players were workable.
Among those plans were to have a separate starting session begin later on Tuesday, allowing all blocked-out players to enter, and then merging them into the Day 2B group later in the week. A second plan floated by players involved an impromptu Day 1E session to be held on Wednesday, but again, space considerations prevented that option from moving forward in a serious manner. Survivors from the proposed Day 1E would still have had to have been added in to the already large Day 2b group, and even with groups from Days 1c and 1d playing five levels each on their opening days – another change necessitated by the heavily imbalanced starting-session turnouts – the logistics proved impossible for WSOP staff to manage.
The players' own heavy preference in playing the final of the four starting sessions was the largest contributing factor to the shutout, as only 1,116 players registered for Day 1a play, followed by a paltry 873 on Day 1b, which was barely a third of the available space. The two weak turnouts, followed by a less-than-2008 Day 1c crowd of 1,696, assured that a collision between space availability and player demand would occur on Day 1d.
Despite the shutout of several hundred players, the 2009 WSOP Main Event will post these basic numbers:
Players: 6,494 players
Total Purse: $61,043,600
First Place: $8,548,435
Total Players Cashing: 648
Update: WSOP Commissioner Jeffrey Pollack later sat down with PokerNews' own Gloria Balding to discuss the Day 1D sellout: