Yevgeniy "Jovial Gent" Timoshenko Wins the PokerStars WCOOP Main Event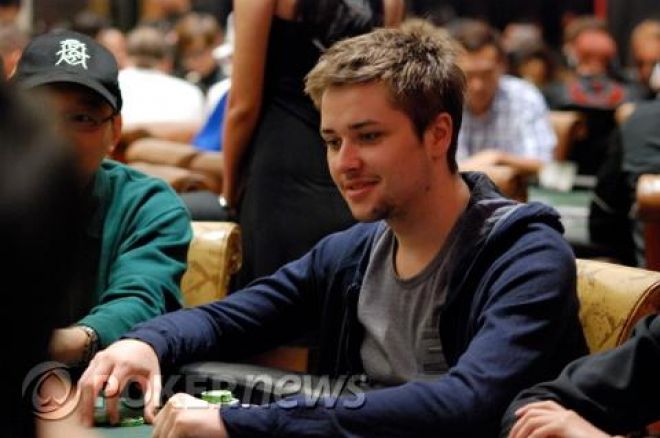 The 2009 World Championship of Online Poker on PokerStars came to a close on Monday as day two of the main event came to a conclusion with Yevgeniy "Jovial Gent" Timoshenko taking the world's most prestigious online title.
The $5,200 tournament saw 2,144 participants enter to create a total prize pool of $10,720,000 and a first-place payday of $1,715,200. The chip leader entering the final table was none other than Dan "djk123" Kelly, fresh off his win the night before in the high-roller H.O.R.S.E. event.
With four players remaining, the key hand of the final table occurred between Kelly and Yevgeniy "Jovial Gent" Timoshenko, the chip leader at this point. The two got into a raising war preflop that led to Kelly five-betting all-in with
. Timoshenko called with
and flopped a third king. No miracle came for "djk123" and his incredible 2009 WCOOP ended with a fourth-place finish in the Main Event for $643,200. Timoshenko took a sizable chip lead and extended it even further when he busted "reddeevil" in third place. That left "Udon Wannit" and Timoshenko to duke it out for the Main Event bracelet.
With over a 3:1 chip lead, Timoshenko made quick work of "Udon Wannit" in a heads-up battle he won in just 18 hands. Timoshenko called a raise out of the big blind and the flop ran out
. Yevgeniy put in a check-raise and "Udon Wannit" three-bet all-in with
, which was in dire straits against Timoshenko's
. No bad beat came and Timoshenko can relish in his WCOOP Main Event win for $1,715,200. As if he hadn't won enough already. Timoshenko also won the Full Tilt $1K Monday less than an hour later for $75,000. Not a bad payday for the young poker professional.

PokerStars WCOOP Main Event - $5,200 N0-Limit Hold'em [2-day]
Buy-in: $5,000 + $200
Prize Pool: $10,720,000
Entrants: 2,144

1. Yevgeniy "Jovial Gent" Timoshenko - $1,715,200
2. Tyler "Udon Wannit" Kenney - $1,286,400
3. reddeevil - $933,712
4. Dan "djk123" Kelly - $643,200
5. Xaston - $482,400
6. Ben "Chong94" LeFew - $375,200
7. Mudvaynes - $268,000
8. Supa4real - $182,240
9. Mer "PeachyMer" Brit - $96,480

Notable Finishes: Clayton "slammedfire" Mozdzen (10th - $75,040), Vikash "vishnu24" Dhorasoo (11th - $75,040), Shawn "buck21" Buchanan (15th - $58,960), Tom "tommyboy83" Koral (20th - $35,376), Hunter "HEMIpowerSWT" Frey (21st - $35,376), Scott "xmrstyle" Bohlman (22nd - $35,376), Isaac "philivey2694" Haxton (31st - $30,016).

If you're missing the WCOOP already, PokerStars.TV has final table recaps, round-up shows, and more. Check out this video of the $10,000 HORSE final table below.


Watch WCOOP 2009: Event 44 - $10,300 HORSE on PokerStars.tv

Even though the WCOOP is over, the tournaments never stop on PokerStars. Sign up and grind your way to poker glory.