PokerNews Op/Ed: The Watchers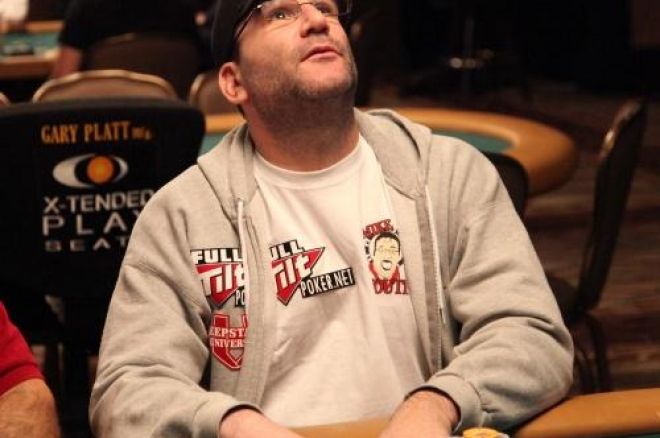 Amid harsh economic times, financially strapped people find creative and inexpensive ways to entertain themselves. Observing online poker is one of those activities. It's so cheap, it's free. At one time, watching online poker was a fixation for stalkers, but it has now become a widespread leisure activity that you can do at no charge.
A friend from college recently told me that he downloaded Full Tilt's software to watch Phil Ivey and Gus Hansen at the nosebleed tables. Many of my friends outside of poker told me that they occasionally follow the high-stakes tables out of curiosity. It's sort of like being a tourist at the Bellagio, walking into the poker room, and pressing your face to the glass windows of Bobby's Room to glimpse legendary participants in the Big Game. As poker players, we all have a secret dream in which we crush the highest stakes and beat the sharks for millions. That's why we watch the nosebleed stakes either live or online. We live vicariously through those players and we all wish we could be them. Heck, even my friends who are pros often keep a keen eye on who's playing at the $500/$1,000 no-limit tables.
It had been a while since I hung out on the rail at an online poker site. During the dawn of Internet poker, sweating the high-stakes action was reserved for trolls and broke players begging for spare change. In addition, watching online poker is not a cool or macho hobby like rock climbing or white-water rafting.
Mike Matusow changed everything. Back in the early days on Full Tilt, before anyone had heard about Patrik Antonius, and while "durrrr" was worrying about pop quizzes in high school, Matusow was a regular at the $50/$100 no-limit tables — the highest stakes on the site at that time. The emotionally volatile Matusow attracted a boisterous crowd of virtual railbirds. His supporters rooted for their hero while his haters anxiously waited for him to fail. The chat box was a free-for-all with a steaming Matusow jawing simultaneously with railbirds and his opponents.
Matusow was constantly pestered for cash by broke fans. Sometimes he came up with obscure trivia questions for which the first correct answer would win a fan a $5 transfer from Matusow. The rail went berserk like starved pigeons pecking at the ground in search of the last crumb.
Those evenings with Matusow held high entertainment value, but most of the time, you were embarrassed to say you willingly watched other people play online poker. I was even more embarrassed as a tournament reporter who got paid to watch tournaments in real life, so it would be absurd for me to sit home and watch online poker without compensation during what little spare time I had. Yet, that's what I found myself doing over the years. Watching online poker had become a guilty pleasure.
The "durrrr" Challenge seemed like an exciting concept — at the time. Tom "durrrr" Dwan offered to take on all challengers (minus his buddy OMGClayAiken), and Patrik Antonius was the first player to accept the terms. I was among the school of people who thought we had found a post-modern version of the infamous heads-up match between Johnny Moss and Nick the Greek, who originally played at The Horseshoe in Las Vegas almost 60 years ago.
If Antonius and Dwan had made a concerted effort to play each other, the "durrrr" Challenge really could have been a defining event in poker history. I expected the two to play for a week straight with 10-minute breaks every 24 hours. I wanted to be glued to my laptop during marathon sessions that lasted for three days straight as the outcome of the "durrrr" Challenge came down to the wire in the final hands. Alas, none of those scenarios ever happened during a majority of boring lackluster sessions. The two played sporadically, seldom more than 1,000 hands at a time. They both logged time at the online tables — just not against each other at the "durrrr" Challenge tables. The two never finished by the time the WSOP rolled around, and it was only this week that they surpassed the halfway mark of their 50,000-hand contest.
The "durrrr" Challenge reminded me of a big-budget Hollywood film (with A-list stars) that went nowhere. Lots of glitz and promotion, but when it came down to it, the result was a waste of time and money. To draw another comparison, I hoped that the "durrrr" Challenge would be a bloody UFC cage fight. Instead we got two boxers dancing around the ring trying not to get hit.
Antonius and Dwan are more interested in fleecing the new fish that wander into their waters than playing against each other. As a result, the "durrrr Challenge" has become an undesirable chore. They'd rather follow the money than settle a pissing match. Ergo, although initially an intriguing concept, the "durrrr" Challenge has bombed.
A couple of weeks ago, I was in the middle of a nasty bout of insomnia. I spent many post-midnight hours sweating the final tables of different WCOOP events on PokerStars. As lame as this sounds, the benefits of hanging out on the rail included the chance to watch two of the top online players in the game: WCOOP Main Event winner Yevgeniy "Jovial Gent" Timoshenko and Bertrand "ElkY" Grospellier.
"ElkY" unleashed a monster run over three-days during which this French pro won two WCOOP bracelets and $500,000. His most amazing feat? Fading a field of 9,220 players to win his well-deserved second bracelet in 2009.
I had fun railbirding the $25,000 buy-in heads-up high-roller event because the final eight included many of the preeminent heads-up specialists in the world: Peter Eastgate (Denmark's 2008 World Champion), Olivier "Adonis12″ Busquet (New York City resident who recently won the WPT Borgata Poker Open), Alexander "joiso" Kostritsyn (one of the premier Russian players), and Sorel "zangbezan24″ Mizzi (Canada's pride and joy). Despite the stiff competition, a young pro from Massachusetts, Jonathan "Iftarii" Jaffe, advanced to the finals against Busquet. An all-American heads-up showdown was set and when the dust settled, Jaffe snagged first place and the bracelet.
During the WCOOP Main Event, I silently watched in the shadows as Timoshenko destroyed the final table. He held a big stack and relentlessly pounded his opponents if he sensed the slightest weakness. When I watched the final-table replay on PokerStars.tv, I was opened up to a different world because the broadcast featured hole cards. I quickly realized that Timoshenko and Daniel "djk123" Kelly (WCOOP Player of the Year with two bracelets) played a lot looser and more aggressively than I had originally thought – which made their feats at the final table even more impressive.
PokerStars.tv is sort of like ESPN for its poker tournaments with replays of the WCOOP and Sunday Million final tables. British commentator Nick Wealthall's voice-overs elevate the level of class and sophistication of the recaps. The added component of the hole cards makes the replays both interesting and educational. You see plenty of expert moves, and you see a lot of good examples of how not to play a hand.
Then there's 2 Months, 2 Million, which is right up my alley because it is a reality show about pros playing online poker. The most recent episode featured one of the heroes, Jay Rosenkrantz, picking up a crucial tell against David "Viffer" Peat. If you don't know who Peat is, he once lost a pot in a no-limit cash game to British pro John Duthie when he failed to bluff Duthie who made a truly sick hero call with queen-high against Peat's jack-high. Anyway, Rosenkrantz noticed a pattern — pot-sized bets from Peat with marginal-to-zero holdings. Rosenkrantz put that vital information to use and waited to ambush Peat. Unlike in "Rounders" when Mike McD tipped off Teddy KGB that he had picked up one of his tells, Rosenkrantz did not say a word about the tell and mercilessly fleeced his opponent over several hands. The result? Grand larceny. Rosenkrantz happily collected a $316,000 pot while Peat did not take the results too well.
"Die in a grease fire!" he barked.
Those final words are undoubtedly not as eloquent as Nick the Greek's admission of defeat when he uttered, "Mr. Moss, I have to let you go."
Read more of Dr. Pauly's work at TaoPoker.com, and follow us on Twitter while you're at it.