The Nightly Turbo: Festa al Lago Update, Ultimate Bet Germany, and Ivey being Ivey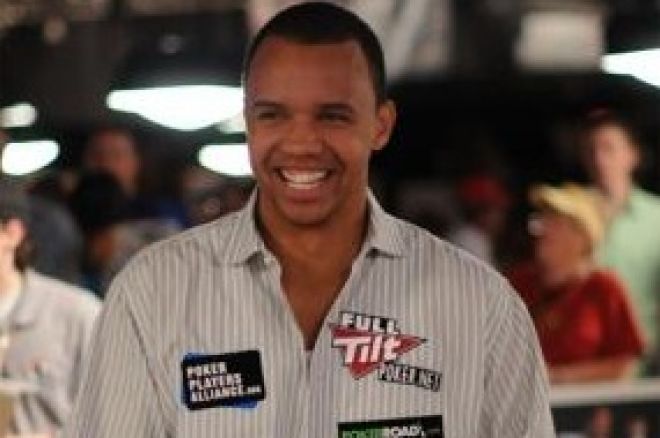 Welcome to The Nightly Turbo. The day's top poker news stories all in one place, saving you not only time, but money since you won't be timing out with aces while wildly googling.
In Case You Missed It
From time to time, we like to bring you nuggets of wisdom from some of our favorite movies that apply to poker. It should be no surprise, however, that a quote from "Rounders" would come up at some point. From the Big Screen to the Final Table: Rounders is bringing you that infamous quote and how it pertains to your game.
The European Poker Tour Warsaw Day 1b saw 115 players take to the felt, bringing the total number of entrants to 203. Although, Antony Lellouche ended the day as chip leader, he'll start Day 2 in second place on the leaderboard behind Carter Phillips. Day 2 is underway, and our Live Reporting Team has the updates, but if you want to know how Day 1b went, check out our reacap.
We sat down with Justin Bonomo recently and discussed everything from how he got his start in poker to Magic the Gathering, and whether he would like to take on Patrik Antonius or the Black Lotus. Check out Off the Felt with Justin Bonomo for the interview.
Time's up for the "2M2MM" guys. Did they reach their goal? If you missed last night's episode, you better read 2 Months, 2 Million: Leaving Las Vegas to find out.
Been keeping up with the new poker game shows on television? So have we. Get a full comparison of Full Tilt's "Face the Ace" and the "PokerStars Million Dollar Challenge" here.
Guten Tag UltimateBet
UltimateBet recently launched UltimateBet.de, all German, all the time. UltimateBet.de will be the leading source for information and news regarding UB's new live tournament series. The live poker tournaments will be held in Germany and the Czech Republic.
The first live event will be held on Oct. 24 in Cologne, Germany. This tournament is exclusive to UltimateBet account holders and the winner will win a Mercedes Smart car.
"We want our German players to feel as welcomed and as much a part of the UB community as their North American poker peers, and our live events will help create familiarity with the UB brand and the company that we are today, with an emphasis on security, safety and the welfare of our players," said UltimateBet's Marketing Manager for Germany, Stephan Reschke.
The venue for the tournaments will change each weekend and a monthly $10,000-guarantee tournament will be held at the Casino Flamingo on the German/Czech Republic border. UB hopes these live events will build a greater relationship with northern European players (let's hope Hellmuth isn't around) and the events give the players a chance to get to know each other face-to-face rather than playing only online.
Sign up for an UltimateBet account today for some great offers, whether you're from Europe or not.
Festa al Lago Day 1
Day 1 of the World Poker Tour Festa al Lago ended with some very familiar names at the top of the chip leaderboard, but before we tell you who has how many chips, we're going to make you sweat a little.
There is only one Day 1 flight for this $15,000 buy-in tournament, unlike many others that have two or more. The Bellagio, however, is extending late registration for players through 5 p.m. on Day 2. Yesterday, 244 players registered and that number is expected to increase today.
Joe Sebok, Daniel Negreanu, Antonio Esfandiari, JC Tran, and 44 other players hit the rail on Day 1. We know Lady Luck can be a biotch, but maybe a few of them could have benefited from starting on Day 2.
Mike "The Mouth" Matusow is on top of the chip leaderboard right now with 224,200 chips, but Mark Seif is hot on his heels with 222,425. Jason Somerville follows in third place with 213,350 and Jonathan Little rounds out the top ten with 162,575 chips.
Day 2 is underway and you can follow the action at WPT.com.
Ivey's Star Power Rising
Phil Ivey has been breaking barriers in poker his entire life, but now he is breaking barriers for poker by appearing on the cover of the Nov. 2 issue of ESPN The Magazine
The article takes readers on a four-day, three-night journey around the globe with author Chad Millman chronicling Ivey and his entourage as they gamble, gamble and gamble some more.
At one point, Millman recounts a quick chat Ivey has in the back of a limo. "Hi, this is Phil Ivey," he says into his phone, from the back of a limo sent by Casino de Montréal. "I need you to transfer $1 million from my account, please."
He turns the $1 million into $2.5 in 20 minutes.
You need to be an ESPN Insider to read the article, but trust us, it's well worth it.
Sorel Mizzi Raves On
Day 2 of the PokerStars European Poker Tour Warsaw is in the books, and although we don't have a full recap of the day for you yet, we do have Gloria Balding checking in with Canadian Poker Pro Sorel Mizzi who finished the day with just under 100,000.
The two discuss Mizzi's fashion sense, how he built his stack, and his propensity for swapping clothes with fellow poker player John Tabatabai. Here's hoping they don't swap underpants.
For more videos from the PokerStars EPT and complete live update coverage check in tomorrow.
Love of hate the Turbo, let us know by leaving us comments below. Also, be sure to fire questions over to editor@pokernews.com to possibly have them answered in print.