The Online Railbird Report: Enter Isildur1, Sahamies Wins $1 Million in One Night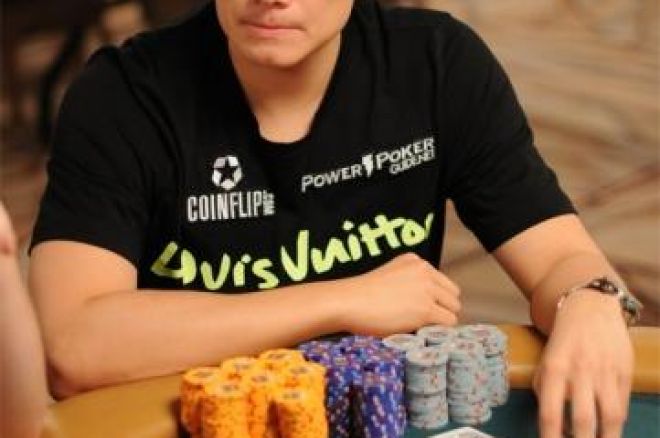 A new screen name at the high-stakes tables is always a cause for celebration among the regular crowd, and this week Sweden's "Isildur1" stepped up to challenge the likes of Cole South, Brian Hastings, Haseeb Qureshi and Patrik Antonius to heads-up no-limit hold'em matches at stakes ranging from $100/200 to $500/1,000. Meanwhile, the action at the $2,000/4,000 7-Game tables continued to thrive, with Antonius and Ilari "Ziigmund" Sahamies booking near-seven-figure wins while Richard Ashby weathered more than a million dollars in losses after a more than 30-hour session.
Isildur1 Challenges Griffin, Hastings, Antonius
He's extremely aggressive, he's from the kingdom of Sweden, and like "martonas" before him, he's a high-stakes mystery man. Isildur1 popped up on Full Tilt Poker last Friday night and over the course of 24 hours and nearly 3,500 hands pulled $347,000 out of the online poker economy. The vast majority of his profits that night came from Haseeb Qureshi, who dropped $345k to him during a 750-hand $100/200 pot-limit Omaha match across four tables.
When he returned to action the following day, Isildur1 didn't fare nearly as well against Ashton "theASHMAN103" Griffin, losing $40,000 in only two hands of $200/400 no-limit hold'em. Isildur1 moved on to play Brian Hastings at $200/400 heads-up no-limit hold'em and dropped $135,000 before chasing his losses at the $300/600 level where he lost an additional $131,000. Next up was THENUTHUNTER who took $106,000 off Isildur1 at $300/600 PLO followed by Patrik Antonius, who challenged him to a $500/1,000 match. The highest-limit session of the night turned out to be the only profitable one for Isildur1, who took $23,000 off Antonius.
Playing $200/400 no-limit hold'em against Hastings sent Isidur1 chasing his losses at the $300/600 level and above. Hastings opened from the button for $1,200, Isildur1 raised to $4,800, Hastings four-bet to $11,200, and Isildur1 made the call. The flop came down
4h]
and Isildur1 checked to Hastings who bet $7,800,about a third of the pot. Isildu1 raised to $32,600 only to have Hastings three-bet shove for his remaining $116,154. Isildur1 made the call, turning over
for the overpair while Hastings'
gave him an open-ended straight draw. He filled it when the
hit the turn and raked in the $144,789 pot once the
fell on the river.
Finland Dominates the $2,000/4,000 7-Game
Several tables of $2,000/4,000 7-Game ran on Full Tilt Poker nearly every day this week, with Gus Hansen, David Benyamine, "EasyPeazy", Ilari "Ziigmund" Sahamies, "DIN_FRU", Daniel "FakeSky" Alaei, "rafiboy", Patrik Antonius, David Oppenheim, Chau Giang, Matt Hawrilenko, Cole South and John Juanda all stepping into the fray. Pulling in the largest profit from Monday's games was Patrik Antonius, who finished over $800,000 to the good. Down as much as $1 million at one point, Richard Ashby managed to rally back, ending his session with a $530,000 loss after playing for well over 24 straight hours. Also sustaining heavy losses was David Benyamine, who dropped $434,000 over the course of the evening.
On Tuesday, it was "Ziigmund's" turn to shine, the Finnish superstar raking in over a $800,000 in profits from the $2,000/4,000 7-Game, then pulling in $200,000 from a heads-up pot-limit Omaha bout with Phil Ivey to bring his total for the night to a cool million. Once again, David Benyamine was the primary donator, dropping another $750,000. Benyamine played three $185k+ pots against Sahamies, losing every one of them, including a $247,000 no-limit hold'em pot where Benyamine's entire stack went in the middle with pocket tens against Sahamies' jacks and this $191,000 pot-limit Omaha monsterpotten.
Playing six-handed, Antonius opened for $3,500, Benyamine called and Sahamies called on the button. Antonius checked the
flop over to Benyamine, who bet $10,000. Sahamies called and Antonius folded. The turn came the
and Benyamine led out for $32,000. Sahamies moved all in for $108,000 and change, Benyamine making the call with
for a wrap draw. Sahamies flopped top two pair with
and they held up on the
river, Sahamies taking down the $191,556 pot.
Phil Ivey Draws a Crowd, Takes a Hit at $30,000 Cap No-Limit Hold'em
If he sits in, they will come, and when Phil Ivey bought in to a $500/$1,000 no-limit hold'em game with a $30,000 cap on Full Tilt, a slew of $25/50 and $50/100 regulars took advantage of the smaller stakes and filled the table along with many nosebleed-stakes regulars. Yevgeniy "bballer88" Timoshenko, "Observer84," "Himan33," Cole South, "kmoneyk10," Hac "trex313" Dang," R-Quaresma," "458854," Joao Barbosa, "THENUTHUNTER," "POKERBLUFFS," John Juanda, and psychobenny all joined in,"| Scubba |" coming away with the lion's share of the $377,000 Ivey dropped in the game. With each player only allowed to put $30,000 in the pot per hand, the night often seemed like a long string of coinflips, the vast majority of which Ivey lost. Even when Ivey got his $30k in the middle pre-flop with
against | Scubba |'s
, Ivey couldn't catch a break on the flop, which came down a juicy
, giving his opponent middle pair and the nut flush draw. Ivey blanked out on the turn and river, | Scubba | collecting the $60,000 pot.
Chat of the Week: Gus Hansen and David Oppenheim
David Oppenheim and Gus Hansen locked horns in an Omaha 8-or-better hand, Oppenheim showing down only a pair of twos for high after missing all his draws. Hansen had no low, but scooped the pot with ten and sixes for high and earned a choice reply from Oppenheim in this post-hand chatter.
Gus Hansen: if it is any consolation Oppey you pålayed it great
David Oppenheim: if its any consolation gus im quite sure you have homosexual tendenciees
Who's Up? Who's Down?
This week's biggest winners (10/23-10/29): Ilari "Ziigmund" Sahamies (+$947,000), Gus Hansen (+$827,000), Patrik Antonius (+$610,000)
In the red: Richard Ashby (-$1,025,000), David Benyamine (-$744,000), Isildur1 (-$723,000)
The biggest games online unfold on Full Tilt Poker every day. Open up an account and check out the action for yourself.