The Nightly Turbo: Charity Poker, Absolute Poker's New Look, and More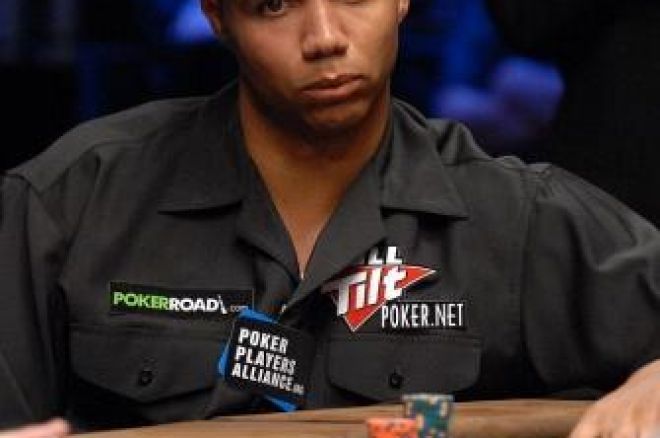 You should be playing poker, not searching for news. That's why we're here. If it's going on in poker, we'll probably be telling you about it.
In Case You Missed It
A lot can be learned at the poker table and on the tournament trail. Some things are poker-related and some things — are well — not. We're bringing you the Top Five Things You Never Thought You'd Learn From Playing Poker.
Annette Obrestad may have an addiction other than poker. We sat down with her to talk about it and some other things in the newest edition of Off the Felt.
Sometimes, we like to branch out a little. Talking poker all the time is fun, but when a whale is suing a major casino and a billionaire investor is in a bidding war for a bankrupt Las Vegas resort, we figured you might want to know about it. Inside Gaming has both stories.
Million Dollar Nosebleed Action
Only days after losing the biggest pot in online poker history, "Isildur1" won the second largest pot in online poker history by beating of all people, Phil Ivey.
The two were playing $500/$1,000 pot-limit Omaha with Isildur1 with about $640K behind him and Ivey with $564K. The million-dollar hand went a little something like this:
A preflop raise war resulted in $54,000 in the pot before the first three cards hit the board. The
and
came on the flop, and both players checked. Isildur1 checked the
on the turn, prompting Ivey to bet $41,000. Not to be outdone, Isildur1 made it $177,000, and Ivey called. The
fell on the river and the mysterious Swede made it $408,000 to go. Ivey made the call, bringing the pot to over $1 million. Ivey was not on the receiving end of this one though. Isildur1 had flopped kings full of jacks, and Ivey disgustedly mucked. OK, we're not sure he mucked disgustedly, but we sure would have.
Thinking about taking on the mystery man? You need to build a bankroll first. Start by signing up for a Full Tilt Poker account and take advantage of the PokerNews bonuses too.
Make sure you're following us on Twitter. We'd hate for you to miss all the up-to-the-minute news we're throwing your way.
Full Tilt $1K Monday
What's better than Monday Night Football and a little poker? Maybe winning $87,750, and if MuckeDBoy won the Full Tilt $1k Monday while watching MNF, well then, he pretty much accomplished one of our dream scenarios for a Monday.
Full Tilt $1K Monday Results $300,000 Guarantee
Buyin: $1,000 + $60
Prize Pool: $351,000
Entrants: 351
1. MuckeDBoy - $87,750
2. Travis "TravestyFund" Rice - $56,160
3. Nick "FU_15" Maimone - $42,120
4. S_Dot111 - $32,467.50
5. bowser125 - $24,570
6. WMACHINE - $17,550
7. Big Geminii - $11,407.50
8. DevilTruck - $8,775
9. Keven "Stamdogg" Stammen - $7,020
Notable Finishes: Tim "Tmay420" West (11th — $4,387.50), Russell "rdcrsn" Carson (16th — $3,454), Stian "JohnnyBelow" Stabell (19th — $1,930.50), Amit "Amak316" Makhija (30th — $1,579.50)
You can't have a MuckeDBoy Monday if you aren't playing. Sign up for a Full Tilt Poker account now.
A Time for Giving
It doesn't have to be the holiday season for poker players to be in a giving mood, but it doesn't hurt either and since Thanksgiving is a few days away, we figured we'd use that as ammo to get you to help out a good cause.
The casino-themed "Las Vegas Meets LA" gala is being held on Dec. 5 to help raise money for the Starlight Children's Foundation. The event is being held at the Marrakesh House, home of filmmaker Chris Paine, and will have roulette, blackjack, and poker. Prizes include stays at hotels in London, Cabo San Lucas, and New York City Also up for grabs are spa certificates, golf clubs and a tour of the set of the CBS show Numb3rs.
The Starlight Children's Foundation works to improve the quality of life for children with chronic and life-threatening illnesses. General admission to the Las Vegas Meets LA event is $75 and the buy-in for the poker tournament is $200. The event will be hosted by Dr. Clarence Coleman, M.D. and Alimi Ballard, who plays FBI agent David Sinclair on Numb3rs.
Break in the Oscarsson Murder
Andreas Oscarsson, owner of PokerListings, was killed this summer while at his parents home in Trollhättan, Sweden. The murder was a shock to the entire poker community, and we're just now finding out that it could be connected to blackmail. Oscarsson was scheduled to appear in court and testify in a trial involving a man accused of blackmail who had connections to the Swedish Hell's Angels.
According to CoinFlip, the prosecutor for the case said the 44-year-old demanded approximately $2 million from Oscarsson as "compensation" for a loss in value. Reportedly, he had also contacted the ex-president of Hell's Angels Sweden,Thomas Möller, to help him pressure Oscarsson. It isn't clear who the 44-year-old was working for.
Read more at CoinFlip.com.
Absolutely Improved
Some of you may have logged on to Absolute Poker recently and spotted some changes in the Lobby. The site's designers are trying to make things easier for customers and improve their experience.
New icons will make games easier for players to find. Six new icons have been introduced for ring games: jackpot, turbo, deep stack, 50 min BB, 72 action tables, and antes.
The ring games section isn't the only one to get a face lift. The tournament section also got a makeover with new icons that make searching for tournaments easier than before. You will now see rebuy, deep stack, turbo, ultra turbo, bounty, 4-max, 6-max, and heads-up icons when searching for tournaments.
With all these new changes, we don't know why you haven't signed up for an Absolute Poker account yet. Go ahead. Sign up. New things are always fun to play with.