The World Series of Poker: Phil Ivey Eliminated in 7th Place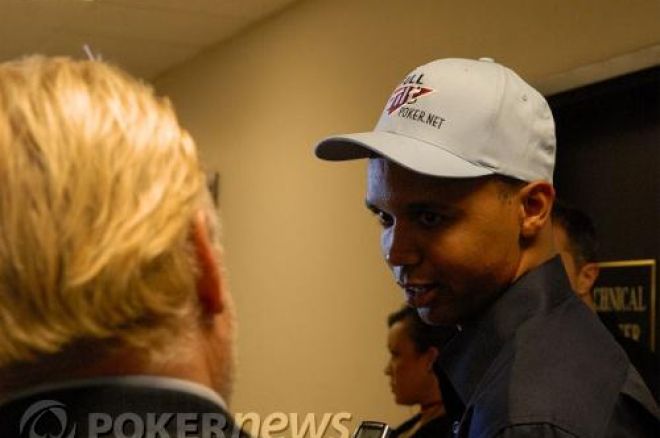 In dramatic fashion Phil Ivey was eliminated from the World Series of Poker by Maryland logger, Darvin Moon. Unable to get any traction during most of the final table, the final nail in the coffin came with a queen on the flop catapulting Darvin Moon's ace-queen ahead of Ivey's ace-king. Noted poker author, Nolan Dalla was one of the only members of the media to speak with Phil following his elimination, and we have the full transcript for you below.
How did the difficulty of this final table compare to other final tables you have made and high-stakes games you have played?
Yeah, it was tough because I was handicapped by my chip count. So, I was kind of waiting for something good to happen. I mean, I bluffed a couple of hands. But there was nothing really I could do. The last hand obviously, was a little unlucky. I did have ace-eight against two fours (earlier) also, where I lost that pot. And then, I just got grinded down. I held off and stayed even for a little bit. And then, I got it in with ace-king and lost it. There was not really much I could do.
Is there any satisfaction you can take from this, after making it to the final table of the WSOP Main Event final table for the first time? Or was it simply about winning and nothing else?
It is definitely just about winning. So, it's disappointing I did not win. But I am happy with the way I played. I think I made pretty good decisions with the amount of chips that I had. And, I think I gave myself as much possibility of winning it as I could. There were a couple of things I would do different. There was a hand that came up earlier where Jeff Shulman opened for $1.2 million, and I moved all-in. I had two kings that hand. Joe Cada had two tens. If Jeff Shulman would not have opened (with the raise), then I probably would have raised and been able to double up right away. So, there were a couple of things that could have gone differently. But they didn't. That's poker. I think I will be back within a couple of years, so I am not too worried about it.
While you were playing, could you feel the energy of the crowd? I think you could tell than many people were cheering for you. Could you feel that support?
Yeah, absolutely. It was an amazing experience. Poker has come so far. I mean, when I first started playing, I would tell people I play poker for a living and they would look at me like I was crazy. So, to see this – it's really mind-boggling.
When is the next time we will see Phil Ivey at the WSOP Main Event final table?
Next year, probably (smiling).
Follow PokerNews' coverage of the World Series of Poker in our Live Reporting pages and be sure to follow us on Twitter for up-to-the-minute news.