Top Ten Poker Stories of the 2009: #3, The "durrrr" Challenge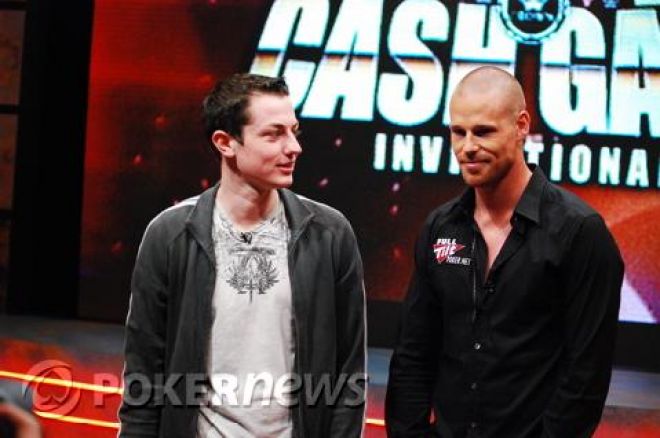 Tom "durrrr" Dwan unleashed a challenge during an interview for the cover of the February 2009 issue of Bluff Magazine. Dwan would take on any opponent (except his close friend Phil "OMGClayAiken" Galfond) at four simultaneous tables of online no-limit hold'em or pot-limit Omaha at minimum stakes of $200/$400. If at the end of 50,000 hands of play Dwan was up any amount, even as little as a dollar, he would win $500,000. If his opponent was up, Dwan would pay him $1.5 million. With those tasty 3-1 odds on the table, Patrik Antonius, David Benyamine and Phil Ivey all jumped at the opportunity. Benyamine and Ivey would have a long wait however, as Dwan's match with Antonius is still ongoing, a full ten months after it began.
The first "durrrr" Challenge began on February 18, 2009, with a 1,541-hand session during which Dwan won $134,911 from Antonius. Since then, they've met an additional 45 times, completing 29,764 of their 50,000 hands at $200/$400 pot-limit Omaha. The score remained relatively even throughout the first 12,000 hands before Patrik Antonius began slowly pulling out to a $500,000 lead. However, the next 6,000 hands saw Dwan dominate the action, his upswing taking him out of the red and into the black. During the longest and by far most volatile session of the challenge on June 19, Dwan was up as much as $1.2 million on Antonius, before ending the 15-hour session with an overall lead of $726,000.
Since then, their meetings have been far more sporadic. After a two-month break, they played two sessions on August 24 and 25, then took another hiatus until early October when they reunited for a quick session. They have met only three more times since then, their nosebleed-stakes heads-up matches with "Isildur1" taking priority. With Isildur1 on a break from the tables and Dwan back in bankroll-building mode, the Challenge finally resumed on Dec. 22, Dwan picking up another $225,000 to expand his total lead to $937,271.
There are still another 20,236 hands to go in the Antonius-Dwan installment of the "durrrr" Challenge, and predicting if or when these two will ever finish their match is as futile as lighting a match in a hurricane. Many saw the "durrrr" Challenge as a bust—suffering from its own over-exposure and inflated hype as it turned out to be a long, slow burn rather than a sizzling head-to-head battle played out over only a few days or weeks. But like a long-running sitcom, people are still tuning in week after week in anticipation of that epic season finale. And whenever it does happen, we're sure to be there with a front-row seat and a bag of popcorn.
Follow us on Twitter for up-to-the-minute news, and also become our fan on Facebook.