Inside Gaming: Harrah's Goes Hollywood, UK Payment Processor Anticipates Change in U.S. Regulations, and More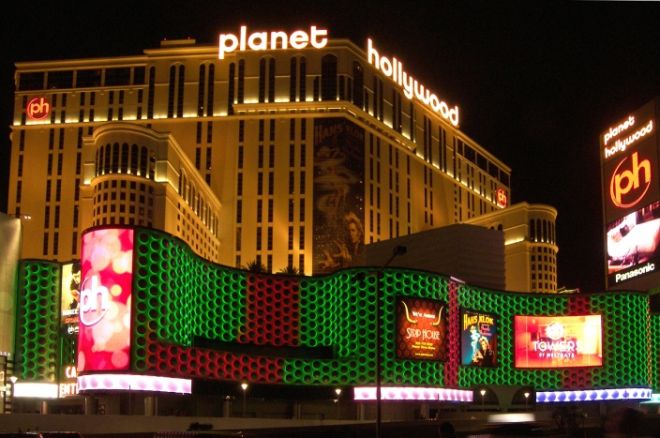 While you've been working at the poker tables, others have been busy at the boardroom table. Good thing PokerNews is skilled at multitabling. Every Friday, we'll get you up to speed on what's new in the gaming business. Here's what industry honchos have been working on recently:
Harrah's Gets One Step Closer to Acquiring Planet Hollywood Casino
In a hearing last week, the Nevada Gaming Control Board gave preliminary approval to Harrah's to buy the Planet Hollywood Casino. In September 2009, Harrah's paid $70 million to acquire over $300 million in Planet Hollywood's debt and took control of the hotel property in January 2010. The next phase of the deal will give Harrah's complete ownership of Planet Hollywood, including its gaming operations. Unfortunately for Harrah's, that also means accepting another $554 million of Planet Hollywood debt.
Gaming Control Board Chairman Dennis Neilander explained that allowing Harrah's to assume control of Planet Hollywood would save as many jobs as possible and prevent the failing casino from being forced to restructure or file for bankruptcy.
The acquisition of Planet Hollywood's 35 acres will further extend Harrah's control of the east side of the Las Vegas strip. The casino giant already owns strip properties Harrah's Las Vegas, Imperial Palace, the Flamingo, Bill's Gamblin' Hall, Bally's and Paris Las Vegas.
Harrah's is tentatively scheduled to take over control of Planet Hollywood's gaming operations on Feb. 18, one day after the Gaming Commission is expected to grant final approval. At that time, all Planet Hollywood employees will become Harrah's employees. Harrah's execs have said they plan to retain at least 95 percent of Planet Hollywood's 2,300 current staff members. Marilyn Winn, president of the Bally's and Paris Las Vegas casinos, will also serve as new president of Planet Hollywood.
U.K. Online Gambling Payment Processor Stakes Its Claim on U.S. Market
UC Group, Ltd., a U.K. online payment processing service, has been hard at work in the U.S. advocating for the legalization and regulation of online gambling. The group must be feeling hopeful because on Tuesday it announced the launch of a U.S. subsidiary, SecureTrading Inc. The company will be in place to process online gambling transactions for U.S. customers as soon as Congress reverses the Unlawful Internet Gaming Enforcement Act.
"Momentum for regulating Internet gambling in the U.S. has been building for some time," said SecureTrading's Chairman, Chris Thom in a recent press release. "As Congress prepares to take the final step, SecureTrading Inc.'s turnkey system is primed to enable our customers to go live the moment Internet gambling is regulated."
The company is already set up to comply with the requirements likely to be imposed by congressional regulations. The UC Group uses a payment processing system with checks in place to verify that customers are of legal gambling age and are in locations where such transactions are permitted.
SecureTrading Inc. will offer U.S. customers the same protections. Problem gamblers will have a variety of self-exclusion options, as well as the ability to seek real-time online help for gambling addiction. The company also takes anti-fraud and anti-money laundering precautions and has tools to facilitate tax reporting and collection.
UC Group, Ltd.'s U.S. operations will be directed by three former MasterCard Inc. executives with extensive banking resumes who could add clout to the fight against the UIGEA. SecureTrading Inc.'s Chairman, Chris Thom, was a senior executive at HSBC before spending 11 years as MasterCard's Chief Risk Officer. Chief Operating Officer Ted Friedman was MasterCard's Global Head of Credit Products. T.J. Sharkey, who will serve as Head of Customer Sales and Support, was also an executive at MasterCard for 17 years.
RealDealPoker.com Believes in Its New System 10,000 Percent
RealDealPoker.com, a new online poker site with a March 2010 launch date, claims to allow users to "play poker online and not online poker." Rather than using random number generators to deal cards, the site will use the patented Cut N' Shuffle system developed by Gioia International, Ltd. Designed by former IRS field agent Gene Gioia, the Cut N' Shuffle system uses a machine to shuffle a physical deck of cards and produce both digital and video recordings. The digital results are translated into a secured data file that is used to generate the deck for each hand of poker on the site. In every hand, the player with the dealer button chooses where to cut the digital deck to determine where the deal begins.
Video recordings of each shuffle can be used by auditors to verify the accuracy of the digital results. To demonstrate its trust in the system and, of course, to generate some good press, RealDealPoker.com is offering players a 100:1 guarantee. The site will allow players to request an independent audit of any game for a small set fee. If any irregularities are found the players involved in the hands will receive complete refunds. In addition, the player who requested the audit will be credited 100 times the cost of the audit. We'll have to wait until the site launches in March to see how players react to the live shuffle system and the potential delays caused by requiring one player cut the deck before every hand.
Follow us on Twitter for up-to-the-minute news, and also become our fan on Facebook.