The Nightly Turbo: Team PartyPoker's Newest Members, Tony Parker's Newest Sponsor, and More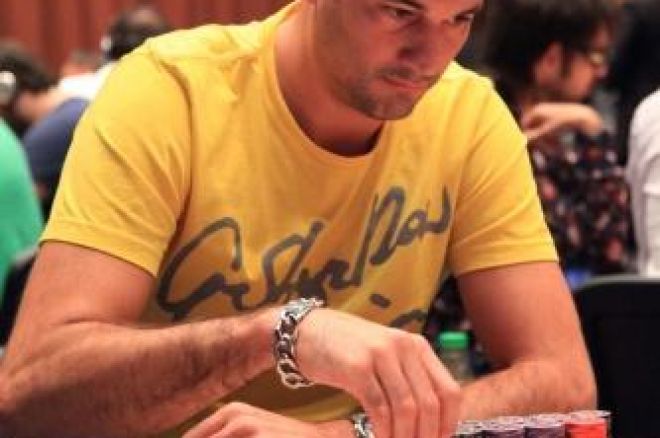 It feels like signing day. In tonight's Nightly Turbo, we will bring you the news on Team PartyPoker's newest members and BetClic's newest ambassador, poker poker being recognized as a game of skill, and more.
Wondering who made it through to Day 2 at the Latin American Poker Tour? This recap has you covered.
Looking for a place to play you favorite casino games? There are plenty of sites for that. We've redesigned Casino.PokerNews.com and we're bringing you all kinds of bonus offers for signing up.
The Main Event of the inaugural U.S. stop on the PokerStars North American Poker Tour is in the books. There can only be one "first winner of the NAPT Las Vegas." Find out who it was here.
The live tournament circuit is in full swing with stops in Las Vegas, Copenhagen, Uruguay, and LA going on, but that hasn't deterred the action in the nosebleeds. The Online Railbird Report has all the action.
Invited to the Party
PartyPoker has added two new members to its team. Dragan Galic and football legend Fancesco Totti have both signed deals to represent PartyPoker as ambassadors for the site.
Galic is a 35-year-old professional poker player with over $900,000 in live tournament earnings. He recently won the Casino Austria Poker Tour, finished fifth in last years European Poker Tour San Remo, and is in contention of the European Player-of-the-Year title.
Totti is an Italian football player who plays for A.S. Roma in Serie A. He is famous for his cucchiaio goalscoring technique, which inspired the title for his autobiography, Tutto Totti: Mo je faccio er cucchiaio. It translates to "I'll chip him," maybe he had a premonition about a poker career in his future.
Play with Galic and Totti on PartyPoker today. Sign up for an account with PokerNews and take advantage of our $50 free with no deposit bonus.
LAPT Punta del Este
Lynn Gilmartin takes you on a little tour of Punta del Este, Uruguay. If you missed the Latin American Poker Tour stop this year, this video should make you want to book your travel now for next year.
Our Twitter feed brings you the latest news; are you following us yet?
Poker Is a Game of Skill
The International Mind Sports Association has announced its intention to add the International Federation of Poker as a member at its upcoming meeting in April. By doing this, it means that the International Olympic Committee will automatically accept poker on its list of skill games. This list includes chess, bridge and checkers.
This doesn't mean that the IOC is going to be adding a poker tournament to the next Olympic Games, but it does make the "poker is a game of skill" argument harder to fight.
"Poker is not like other casino games. It's a social game where people are playing against each other, not the house, and a game where skill plays a bigger role than luck. There are 120 to 150 million poker players in the world and we deserve this recognition," said IFP President, Anthony Holden.
Read more at CoinFlip.com.
Tony Parker's Newest Sponsor
One of the leading sportsbooks, BetClic, recently announced the signing of one of the biggest names in basketball. San Antonio Spurs point guard Tony Parker has signed a three-year deal with the sportsbook giant.
Parker joins Marcel Desailly, Stefan Effenberg, Kiko Narvaez, and other sports stars as an ambassador of the site.
"A great adventure begins. BetClic is a leading company with big ambitions and I am very happy to contribute to its development in the sport during the coming years," said Parker about his new sponsor.
FR.PokerNews.com has more.
LAPC News
The LA Poker Classic is in the homestretch. The Main Event begins on Friday, but winners of side events are being decided daily. Take the $10,000 Heads-Up Championship for example; 39 players entered the event creating a prize pool of just over $300,000.
Top honors of that event went to Christopher Moore, who will be taking home $147,200 plus a $10,000 seat in the Main Event. Moore took on Vivek Rajkumar for the title, and if you think you've seen this match up before, it's not deja vu, the two met last year at the LAPC in the same event for the title as well.
$10k Heads-Up Championship Results
1 Christopher Moore - $147,200 (and a $10,000 Main Event seat)
2 Vivek Rajkumar - $78,600
3 Aaron Jones - $47,160
4 Michael Binger - $31,440
LAPCNews.com has all the coverage from the poker room at the Commerce Casino.