Annie Duke Claims NBC National Heads-Up Poker Championship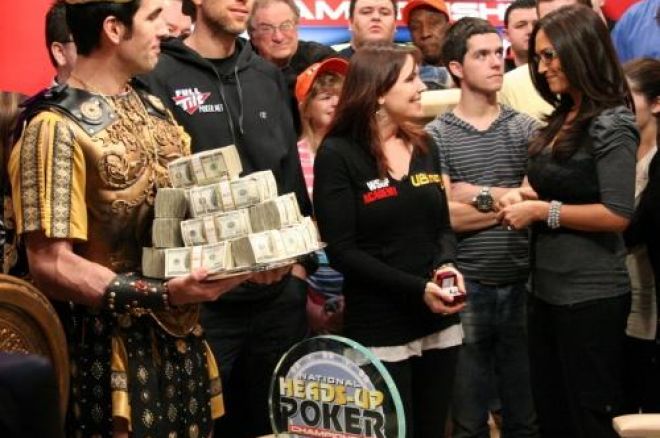 After three long days, the NBC Heads-Up Poker Championship has concluded with Annie Duke taking down the coveted title and $500,000.
Annie Duke didn't have an easy road to the winner's circle of the 2010 National Heads-Up Championship. Over the past two days, she was involved in some of the longest, most dramatic matches seen during the tournament. Duke, in dramatic fashion finally fought her way to victory, beating a very tough Erik Seidel.
Duke started out the first round by beating her good friend Andy Bloch. She bested Darvin Moon in the Round of 32 before playing an epic match against 2007 NBC Heads-Up Poker Champion Paul Wasicka in the Round of 16. In that match, Duke was all-in and at risk of elimination with ace-ten against Wasicka's pocket aces and rivered a straight.
Sunday she started by playing a marathon match against Jerry Yang in which Yang doubled up against her on numerous occasions before finally running out of luck in the quarterfinal round. The semifinal match against Dennis Phillips wasn't any easier.
Then, Duke played three more long matches against her good friend Seidel who, after never making it out of the first round in his previous five appearances, didn't offer any quarter at the final table.
After the match, two centurions escorted Caesar and Cleopatra into the tournament room to present Duke with the winner's trophy and her $500,000 first-place prize. Seidel graciously stood by her side, $250,000 richer himself.
The NBC National Heads-Up Poker Championship will begin airing episodes on April 18 with the finals airing on May 23.
Follow us on Twitter for up-to-the-minute news, and also become our fan on Facebook.