The Online Railbird Report: Wild Weekend for Dwan, Sahamies and Isildur1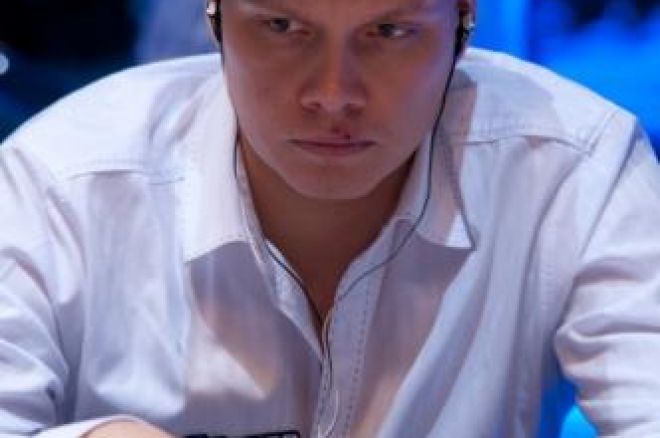 Full Tilt Poker hosted some huge action this weekend, largely driven by the presence of everyone's favorite online poker punching bag "Isildur1." There were epic heads-up matches, swingy six-max games, and as many as eight tables of $300/$600 pot-limit Omaha running at once. It's truly amazing what the return of Isildur1 has done for the high-stakes online scene. Everyone wants a piece of the Scandi phenom and many seem to be willing to put their bankrolls on the line to do so.
Mr. Sahamies' wild ride
It was a stormy Monday indeed for Ilari "Ziigmund" Sahamies. The Finn dropped more than $1 million to Isildur1 in one of the most volatile heads-up matches we've watched in weeks. They started off at the $300/$600 pot-limit Omaha tables, Sahamies losing about $710,000 over the course of 699 hands. Sahamies hoped to recover his losses more quickly by raising the stakes to $500/$1,000, but Isildur1 got the best of him yet again, banking an additional $330,000.
Four pots eclipsed the $200k mark, the largest coming in at $423,000 when Isildur1 flopped top set and snapped off Sahamies' aces. One of the more interesting confrontations, however, came when Isildur1 sniffed out a huge bluff in this $253,000 pot.
Playing $300/$600 PLO, Sahamies opened for $1,800, Isildur1 three-bet to $5,400, Sahamies made it $16,200 to go and Isildur1 called. Isildur1 check-called Sahamies' $32,400 bet on the
flop, then checked again when the
hit the turn. With $78,407 behind and over $97,000 already in the pot, Sahamies shipped the rest of his stack in and Isildur1 looked him up. Isildur1 turned top two pair with
while Sahamies had only one pair with
The
on the river sealed up the hand for Isildur1 and he collected $253,293.
Hastings scores another half million from Isildur1
"Give my money for Hastings, gg" wrote Ilari Sahamies in broken English as he signed off from his heads-up match with Isildur1. Well, Ziigmund must have psychic powers the likes of which we'd never previously imagined, because Isildur1 did just that, dropping over half a million to his nemesis Brian Hastings.
Earlier in the day, Isildur1 played Cole South for 1,124 hands of $300/$600 pot-limit Omaha across six tables. South ended the match with an $82,477 win. His CardRunners colleague Hastings was next in line. He and Isildur1 faced off for 454 hands of $300/$600 PLO before kicking the stakes up to $500/$1,000 for another 840 hands. Hastings ended the match more than $542,000 in the black, bringing his total lifetime winnings over Isildur1 up to a staggering $3.73 million-- by far the most Isildur1 has lost to a single opponent.
Isildur1's largest pot against Hastings came in at $309,000. Isildur1 opened for $1,800 and Hastings made the call. Hastings checked the
flop over to Isildur1, who bet $3,600. Hastings check-raised to $12,000, only to have Isildur1 come back over the top for $39,600. Hastings re-popped it to $122,400, Isildur1 moved all-in for $202,184, and Hastings called off the $152,997 he had behind.
Hastings

Isildur1
Isildur1 was ahead with top set but Hastings had a slew of outs with a wrap draw. He caught one of them, the
, on the turn, making him a ten-high straight. Isildur1 needed to pair the board on the river, but the
fell, Hastings earning the $309,594 pot.
Total durrrrmination
Tom "durrrr" Dwan hit his stride in a major way this week, winning over $1.3 million on Saturday alone. Dwan's seven-figure profit came at the expense of several of his high-stakes rivals; "PixKim" lost close to $1 million and Di "Urindanger" Dang dropped over $300,000 while Sahamies, Hastings, and Sami "LarsLuzak" Kelopuro each lost around $250,000. With this score, Dwan has recovered nearly all of the $5.5 million he lost to Isildur1 at the end of 2009. He's now up $4.9 million in online play since December 1, and $2.42 million since New Year's Day.
What's a $1.3 million win without one super-tasty monsterpotten? One of the largest pots played this year unfolded while Dwan was playing three-handed $300/$600 pot-limit Omaha with PixKim and Patrik Antonius. Antonius opened for $2,400 on the button, Dwan made it $8,100 to go from the small blind, and PixKim came over the top for $27,000 total. Antonius flat-called and Dwan reraised to $108,300. PixKim moved all in for $352,200, Antonius called all-in for $69,547, and Dwan called as well for his remaining $186,000 and change. The hands?
Dwan

Antonius

PixKim
Dwan had the most pre-flop equity with a 41% shot to win compared to 29% each for his two opponents. However, Antonius took the lead on the
flop when he hit a flush draw. The board paired on the turn with the
making the most likely outcome a chop between Dwan and PixKim, but like the work of the finger of God himself, the
landed on the river, making Dwan tens full. He took down the pot, worth $423,419.
Who's up? Who's down?
This week's biggest winners (3/2/-3/8): Tom "durrrr" Dwan (+$1.7 million), Isildur1 (+$1.05 million), Alexander "PostflopAction" Kostritsyn (+$507,000)
In the red: Patrik Antonius (-$1.2 million), PixKim (-$981,000), Cole South (-$966,000)
Top earners, 2010 to date: Alexander "PostflopAction" Kostritsyn (+$3.03 million), Cole South (+$2.54 million), Tom "durrrr" Dwan (+$2.42 million)
Looking to get unstuck: Patrik Antonius (-$3.25 million), Brian Townsend (-$2.32 million), Matatuk (-$1.24 million)
The highest-stakes action on the internet all unfolds on Full Tilt Poker. Open up an account today and see for yourself.